Color Atlas of Anatomy: Review
'Is that string-like thing a nerve, or the superstar of the latest Alien movie? Or maybe it's just a piece of fat…'
Sounds familiar, right? You've probably had this conversation with yourself many a time as you stood beside a cadaver or a prosection in your anatomy class. It all looks the same to the untrained eye. Well, don't fear.here's a saviour ready to help you solve this tangled mess, and it's called the 'Color Atlas of Anatomy'.
Filled to the brim with real cadaveric photos depicting every anatomical structure that you could think of, this resource allows you to bridge the gap between 'book smarts' and 'life smarts' (a real human body is quite different than what you see in your typical anatomy atlas!). However, this atlas is only ONE learning resource, thus it is far from perfect. In this review, we'll aim to show you the good, the bad, and the ugly of Rohen's 'Color Atlas of Anatomy: A Photographic Study of the Human Body', allowing you to form your own opinion about it and whether or not it could benefit your particular learning needs.
Color Atlas of Anatomy 7th Edition
Format
Published by Lippincott Williams & Wilkins and written by Johannes W. Rohen, this atlas has helped many anatomy enthusiasts since the very first edition appeared in 1983. It has expanded and improved with every edition in order to keep up with the ever changing world of anatomy and teaching, with the seventh edition hitting the shelves in 2010.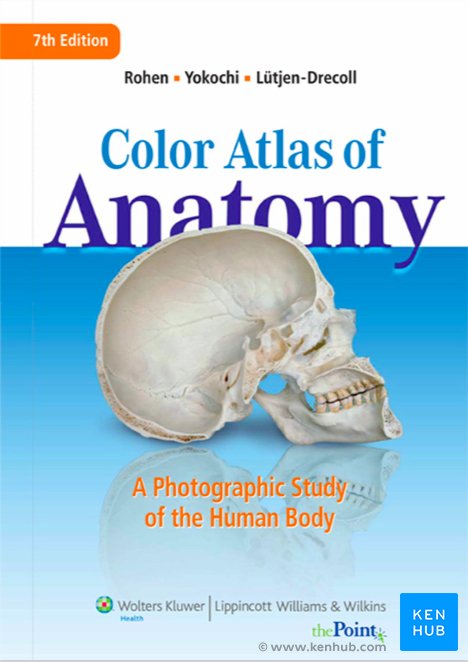 If you strip it down to its bare bones, you can see that 'Color Atlas of Anatomy 7th edition' is divided into chapters representing regions, as follows:
Chapter 1 - General anatomy
Chapter 2 - Head and neck
Chapter 3 - Trunk
Chapter 4 - Thoracic organs
Chapter 5 - Abdominal organs
Chapter 6 - Retroperitoneal organs
Chapter 7 - Upper limb
Chapter 8 - Lower limb
In turn, each chapter is divided into more sub-sections, each representing either a particular region, organ, or in the case of limbs, bones, ligaments, muscles and so on.
At a glance, 'Color Atlas of Anatomy 7th edition' is just the 'same old, same old' anatomy atlas. However, it has one crucial difference - real human cadavers. In fact, this realism is the secret weapon of this atlas. Using clearly labelled images supported by schematic illustrations and even clinical images, this atlas will make your anatomy studies as close to reality as possible. In fact, one of the best things about this resource is that, the photographed cadavers are freshly dissected. Why is this essential? Because it allows you to better differentiate that stubborn artery trying to hide as a nerve!
Versions
Nowadays, keeping up with technology is essential if you want to sell a book, and this atlas doesn't drop the ball. 'Color Atlas of Anatomy' satisfies physical book lovers with a hardcover version,and technology geeks with an eBook. The price ranges considerably, anywhere from $90 USD if you want a sparkling, brand new one, all the way down to approximately $28 USD for a used one (discounts affect the price too).
Resources
This anatomy learning tool doesn't show up empty handed, either. Consisting of even more images (image bank), additional explanations of various structures and even an interacting atlas, the extra online resources that accompany this atlas are ready to break through any remaining barriers to your learning. Essentially, they bring you one step closer to becoming an anatomy wizz!
Pros
Cadaveric illustrations - These are the icing on the cake when it comes to this atlas. Why are anatomy enthusiasts obsessed with them? Because they prepare you for your exam in ways that illustrations cannot, by showing you exactly what you will be dealing with. So, why choose 'Color Atlas of Anatomy" over your typical anatomy atlas? It's simple - your exam will likely involve identification of structures on a cadaver, so you might as well make your life easier by learning in the same format you will be getting examined on.  On top of that, cadaveric anatomy in general is the closest learning method to reality; only surgery itself beats learning on cadavers. You know all those veins, arteries, nerves, organs, and muscles in your anatomy atlas? Well, they are only a representation. In reality, they may present with different colours, shapes, and textures. For example, muscles are not bright red as they are depicted in anatomical illustrations, and nerves are not yellow but actually more white.. A cadaver, on the other hand, shows you the real living body from which all of these somewhat inaccurate illustrative representations have stemmed. Illustrations are certainly wonderful for simplifying anatomy, but they won't accurately prepare you for a cadaveric exam. If you use cadavers in your anatomy classes, you probably know how easy it is to confuse structures based on their apparent visual similarity, for instance a nerve and fat, or even an artery and a vein. Therefore, using a textbook with photographs of cadavers will help train you to see these subtle differences. After all, you don't want to have your scalpel next to a nerve thinking its a piece of fat when you are in the operating room…
Schematics - Cadaveric illustrations can be powerful learning tools, but it can take a while to become accustomed to them. It's easy to feel swamped by all the labels and seemingly minute visual differences between structures.. Luckily, this atlas has got you covered in this instance, too. Before twisting, turning, and showing you in detail the deepest anatomical layer that you never even imagined could exist in something so small as your little finger, 'Color Atlas of Anatomy' provides you with a very simple schematic drawing that acts to illustrate the big picture. You just need to layer the information from the cadaver onto this schematic and you're good to go. 
Multiple illustration types - Broad schematics are good, cadaveric illustrations are great, and having them in the same book is amazing. But there's more! 'Color Atlas of Anatomy 7th edition' also contains radiological images such as MRIs, X-rays, CTs and angiographies for selected topics.
Concise explanations and tables - Medical students and anatomy enthusiasts love these so much, you'd think they are their source of oxygen. Actually, it makes sense - they distill enormous amounts of information down to a few words or sentences, meaning less time spent learning and quicker understanding - what's not to like? Luckily, you can find short explanations and tables dotted throughout this atlas too, putting information into context and giving you the 'bottom line', without any 'ifs', 'buts', or yawns (at least not huge ones. We are talking about anatomy after all…).
Online resources - Let's be honest, who doesn't want freebies included with their purchases? For this atlas, such content comes online in the form of additional text and explanations, illustrations, and an interactive atlas, all of which contribute in bringing this anatomy learning resource to the tech hungry audience of the 21st century.
Cons
Anything that has advantages also has disadvantages, otherwise it would be called perfection and that as we know is impossible or extremely hard to come by. 'Color Atlas of Anatomy 7th edition' is no different, with a fair share of downfalls that should not be overlooked:
Access to resources - You know all of those extra online resources that you receive with the book? They're just an illusion unless you actually buy the book in the first place. You need to reach into your pocket and spend the money on the book before you can access any of these helpful goodies. Pretty annoying if you only want access to the online resources.
Price - 'Color Atlas of Anatomy 7th edition' is definitely not the most expensive anatomy learning atlas out there, but it is certainly not the cheapest either. Forcing you to dig a $90 USD hole in your pocket for a brand new one, you may ask yourself whether the investment is worth it for a resource that you'll probably only use for a limited amount of time...
One-trick pony - There is no denying that this specific anatomy atlas is doing one job, but it does it extremely well - teaches you human anatomy as you'd view it in real life via the medium of fresh cadaveric dissections. However, at the end of the day, this is quite limited in scope. For example, there are no summaries included, the explanations are not as sufficient as they could be and there are no review questions available for you to test your knowledge.What's the outcome? You need extra resources, which equals more money being spent in the long run.
Back-breaking - 'Color Atlas of Anatomy 7th edition' can be found as an eBook, but the majority of anatomy students prefer to buy the physical book, which is not a feather. Being a hardback with approximately 556 pages and weighing approximately 2.5 kgs, your vertebras will feel every single gram of it if you carry this book around all day. 
Daunting and confusing - You've probably heard that you need to be able to walk before you can run. While some people will be perfectly happy with the style presented in this atlas, others will find it quite daunting and confusing if they start using it from the get-go. If you look on a cadaver, the structures are not as distinct as in a typical anatomy atlas containing illustrations. There are so many identical looking colours, structures, and appearances, that you might be looking at ten different images and seeing the same thing in all of them - a jumbled mess! This can put a lot of people off from learning anatomy, especially beginners. In this situation, an illustrative atlas might be more beneficial as a starting point to gently ease you into the subject.
Labels - If you experience the challenges described above, it would probably be an absolute nightmare to find yourself faced with something like this:
Quite a lot to take in and rather confusing, don't you think? Your eyes just want to jump from label to label, having a very hard time concentrating onto a particular feature. In the end, you just want to use a learning resource that helps you to actually understand anatomy by breaking the subject down into clear and manageable chunks.
Fortunately, there are other alternatives to simplify your learning. Let's take the example of the 'external carotid artery' (label number 36 on the right-hand side). Instead of wading through the above maze, take a look at how clear everything becomes and how quickly you can identify the 'external carotid artery' on the cross section image from Kenhub below.
Color Atlas of Anatomy vs. Kenhub
As you can see, while 'Color Atlas of Anatomy 7th edition' is exceptional at accomplishing one task, it still has several drawbacks, just like any other learning resource out there. Therefore, you need additional resources that can help you complete your anatomy learning.
One such resource is Kenhub, a fully integrated, online learning platform that is ready to give you a hand. Here's how it compares to 'Color Atlas of Anatomy':
As you can see, Kenhub is far from a one-trick pony, providing you with a personalized learning experience that will suit your needs to a T. By teaching you with a combination of videos, quizzes and articles (found at the bottom of every study unit), Kenhub gives you the opportunity to explore your chosen study subject from any angle, leaving no stone unturned and clarifying any confusions you might have experienced with other anatomy resources. In addition, it also makes your life super easy by offering you complete portability on your tablet, laptop, and phone. How can you take advantage of having Kenhub always in your pocket? By doing absolutely nothing! Exactly, the entire platform is automatically adapted to work on your portable devices, you just to click here and try it out for yourself! (P.S. you will also receive a lot of learning strategies that will help you crush anatomy once and for all).
At the end of the day, 'Color Atlas of Anatomy' is indeed an excellent atlas that can help you learn anatomy the way it should be done - using real human beings that portray real anatomical structures and not merely an artist's representation. However, it still has its shortcomings, as we have discussed. Ultimately, the most important thing is to take a step back and decide for yourself exactly what you need to learn and which format will allow you to connect with the information the best. From here, you can decide which learning resource is best able to accomodate your needs. There are a lot of resources out there, so dive in and get researching - just make sure to do so with a discerning eye!
 
Summary
Strengths of 'Color Atlas of Anatomy':
Real and freshly dissected human cadaveric illustrations
Schematic drawing offering you the bigger picture at a glance
Multiplace types of illustrations, including radiological ones
Concise explanations and tables that distill down the information
Online resources in the form of additional explanations, illustrations, and an interactive atlas
Weaknesses of 'Color Atlas of Anatomy':
Access to extra resources requires you to purchase the book in the first place
Price
Apart from excellent cadaveric illustrations, its scope is limited
Back-breaking
Daunting and confusing, since everything looks almost identical
Multiple labels per each illustration
© Unless stated otherwise, all content, including illustrations are exclusive property of Kenhub GmbH, and are protected by German and international copyright laws. All rights reserved.