Upper limb anatomy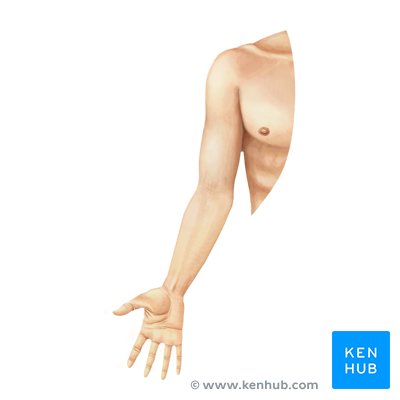 Ever wondered what the differences are between us humans and animals regarding the upper limb? One of them is certainly our ability to high five each other when we ace our anatomy exam. Of course, there are many more functions and movements that our upper extremity offers to us, and this is all due to its perfect anatomy that is designed to allow a large degree of mobility.
This topic page will briefly discuss the upper extremity anatomy in order to introduce you to the main regions of the upper limb, which includes: the shoulder, arm, elbow, forearm and hand. 
Key facts about the upper extremity
Shoulder
Glenohumeral joint: humerus, scapula, clavicle
Muscles:
- Superficial: deltoid, trapezius
- Deep: Supraspinatus, Infraspinatus, Teres minor, Subscapularis (rotator cuff) muscles
Mnemonic: Rotator cuff SITS on the shoulder

Arm
Bones: humerus
Nerves: they all originate from the brachial plexus
Arteries: branches of the brachial artery
Muscles:
- Anterior compartment: coracobrachialis, brachialis, biceps brachii muscles
- Posterior compartment: triceps brachii 

Elbow
Bones: humerus, radius, ulna
Movements: flexion, extension, pronation, supination

Forearm
Bones: radius, ulna
Nerves: radial, ulnar, median nerves
Arteries: branches of the radial and ulnar arteries
Muscles:
- Anterior compartment: superficial, intermediate, deep layers
- Posterior compartment: superficial, deep layers

Hand
Bones: scaphoid, lunate, triquetrum, pisiform, trapezium, trapezoid, capitate, hamate, metacarpals (5), phalanges (proximal, middle, distal)
Nerves: radial, ulnar, median nerves
Arteries: terminal branches of the radial and ulnar arteries
Muscles: thenar, hypothenar, metacarpal muscle groups

Upper limb anatomy: want to learn more about it?
Our engaging videos, interactive quizzes, in-depth articles and HD atlas are here to get you top results faster.
What do you prefer to learn with?
"I would honestly say that Kenhub cut my study time in half." – Read more.
Kim Bengochea, Regis University, Denver

© Unless stated otherwise, all content, including illustrations are exclusive property of Kenhub GmbH, and are protected by German and international copyright laws. All rights reserved.