Free anatomy quizzes and labeling worksheets: Learn anatomy faster!
Here at Kenhub, we're big advocates of using anatomy quizzes to learn about the structures of the human body. Quizzes are a great tool to add into your anatomy learning practice as they can be used to teach you a topic from scratch, or at the more advanced levels, help you to revise and refine what you already know. 
That's why we offer hundreds of anatomy practice quizzes, anatomy diagrams and anatomy worksheets on everything from the muscles of the upper and lower limb, to the parts of the brain, to the structure of the heart. You can bet that if there's a structure you need to learn about, we likely have a quiz for it! So, are you ready to see how you can use quizzes to learn anatomy?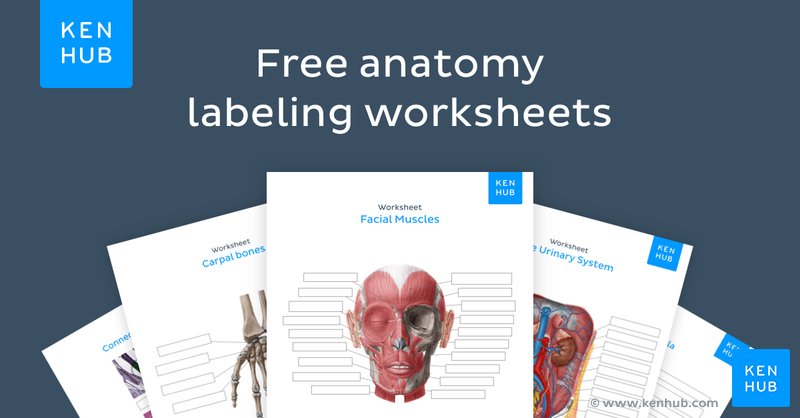 Learning anatomy with quizzes
For beginners to the subject of human anatomy, the thought of having to learn hundreds of new structures can feel very overwhelming. Luckily, there are ways to make it easier. A great way to get familiar with the structures found within a particular region is to start by labeling human anatomy diagrams. You can then begin to test and build upon your knowledge with anatomy quizzes. At Kenhub, we offer:
Basic Structure Identification quizzes
Advanced Structure Identification quizzes
Clinical Question Bank quizzes
Muscle Attachments, Innervations and Functions quizzes
Intelligent Mix quizzes (a combination of the above based on your unique learning history)  
Free anatomy quizzes and guides
Follow the links in our free anatomy quiz guides below to find out how you can use human anatomy diagrams, quizzes and flashcards to rock your anatomy studies on every topic. Let's dive in!
Upper extremity
Whether its typing, brushing your teeth or waving to a friend across the street, the anatomical structures of the upper extremity are involved in a significant proportion of our everyday movements.
They're also a hot exam topic! Learn and revise your knowledge of the structures comprising this region with our free anatomy quiz guides below.
Lower extremity
The lower extremity is a region of the body containing the hip, thigh, knee, leg, ankle and foot, all of which enable us to perform movements like walking, jumping and running. Start learning about these structures right away our free quiz guides below.
Spine and back
The back is the region inbetween the neck and the gluteal regions, comprised of extrinisic and intrinsic back muscles and the vertebral column (spine). This region also houses and protects the spinal cord. Learn more with our free quiz guides below.
 
Thorax
The thorax is a region of the body located between the neck and abdomen. It holds several important structures, including vital organs like the heart and lungs, as well as the ribcage, breasts, and several cavities. 
Use our specialized quiz guides to start learning and testing your knowledge of this region now!
Abdomen and pelvis
Why is it crucial to have a good anatomical knowledge of the abdominopelvic region? Because, brain, heart and lungs aside, it houses virtually all of the vital body organs. Digestive system, endocrine system, immune system, urinary system - you name the system, the organs are found here. 
Introduce yourself to some of the most commonly examined topics relating to this region using the quiz guides below. Good luck! 
Head and neck
The head and neck is a remarkable region of the body containing some of the trickiest muscles and bones to learn. Luckily, our quiz guides below will get you feeling confident on common exam topics like the eyes, ears, skull and facial muscles in no time. Click one of the boxes below to get started. 
Neuroanatomy
Neuroanatomy is one of those subjects which is both incredibly interesting and soul-destroying at the same time. Why? Because it's so complex - perhaps the most complex system of the body! But there's no getting away from learning about it - especially those pesky cranial nerves.
That's why we've created a series of revision guides full of quizzes and labelling activites to help you get to grips with even the most complex ideas. Get started in seconds by choosing your topic below. 
Histology 
How can we better understand the relationship between anatomical form and function? The answer is with the study of histology - the science of cell, tissue and organ structure at a microscopic level. 
It's a rather different kettle of fish to gross anatomical study, so we've put together a series of helpful topic guides to get you started. Full of quizzes and labelling activities, these will get you exam-ready in no time. 
Medical imaging
Medical imaging may seem like a scary foray away from your gross anatomy studies, but with a bit of practice you'll realise it's easier than you think. Learn how to identify anatomical structures on an MRI with our free quiz worksheets and spaced repetition quizzes. 

© Unless stated otherwise, all content, including illustrations are exclusive property of Kenhub GmbH, and are protected by German and international copyright laws. All rights reserved.