Histology: An overview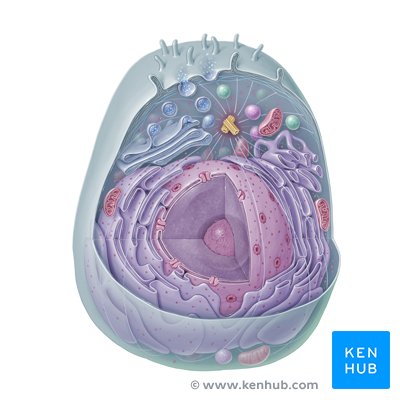 Human anatomy is pretty straightforward. If you were to look at some bones on a skeleton, you'd see a greyish rigid mass with some bumps and depressions. However, if you take a much closer look, you'll see that the histology of bones, is a whole other story. 
Histology is the science of the microscopic structure of cells, tissues and organs. It also helps us understand the relationship between structure and function. By examining a thin slice of bone tissue under a microscope, colorized with special staining techniques, you see that these seemingly simple bones are actually a complex microworld containing an array of structures with various different functions. In this article, we will introduce you to the microscopic world of histology.
Key facts about histology
Histology
Microanatomy or microscopic anatomy,
The study of cells and tissues, from their intracellular components to their organization into organs and organ systems.
Cell structure
Cellular membrane, cytoplasm, organelles, nucleus
Tissues
A unity of cells with a similar structure that as a whole express a definite and unique function.
Epithelial, connective, muscle, nervous
Organs
A unity of tissues with a more complex set of functions, defined by the combination of structure and function of the comprising tissues
Systems of organs
A group of organs united by similar functions.
Cardiovascular, nervous, integumentary, musculoskeletal, respiratory, digestive, excretory, endocrine, lymphatic, reproductive
Histology techniques
Tissue preparation, tissue staining, microscopy, hybridisation
Highlights
Histology is the microscopic study of tissues and cells used in understanding the pathogenesis and diagnosis of various diseases.
Cells are the tiny living units that form the tissues, organs and structures within the body. All cells contain cytoplasm, are surrounded by a membrane, and contain a variety of structures and organelles.
Body tissues are collections of cells, grouped in the body according to structure and function. They are separated into four categories: muscular, nervous, epithelial and connective.
Tissues are routinely visualised using microscopy. Light microscopes (or optical microscopes), use a combination of visible light and lenses to create a magnified image. In contrast, electron microscopes work by emitting parallel beams of electrons onto the sample being observed, resulting in higher resolutions.
As cells are generally colourless, they need to be stained so that they can be easily viewed under the microscope. The four main types of stains used in histology are empirical, histochemical, enzyme histochemical and immunohistochemical.
Histology: An overview: want to learn more about it?
Our engaging videos, interactive quizzes, in-depth articles and HD atlas are here to get you top results faster.
What do you prefer to learn with?
"I would honestly say that Kenhub cut my study time in half." – Read more.
Kim Bengochea, Regis University, Denver

© Unless stated otherwise, all content, including illustrations are exclusive property of Kenhub GmbH, and are protected by German and international copyright laws. All rights reserved.