Basic anatomy and terminology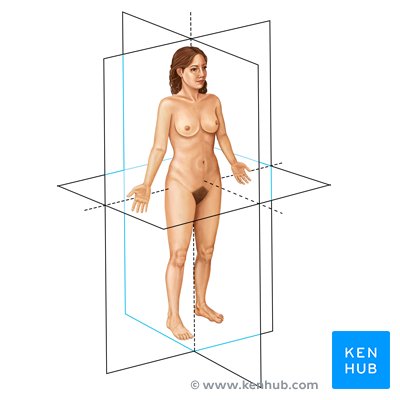 Learning anatomy is similar to building a house; if the foundation is strong then it will last for a lifetime. This subject is definitely difficult and filled to the brim with details, but the basics keep cropping up time and time again. You will constantly use them as reference when learning new anatomical concepts, thus mastering the fundamentals is essential. 
So, what are these foundations? In the realm of anatomy, they include:
In this article we'll take a brief look at all of them to provide you with the required tools to succeed in this subject and simplify learning as much as possible.
Before we move to the specific terminology, a quick reminder that the wonderful thing about human anatomy terms, is that in many cases, the names of anatomy related content are incredibly helpful if you just understand that often the words can be broken down into different parts that have meanings (prefixes and suffixes).
Key facts about the basic anatomy and terminology
Anatomical terminology
A list of terms that concern with the anatomy of the human body. It gathers the terms that pertain to the anatomical regions and specific structures, planes, directions and body movements.
Anatomical planes
Imaginary planes that intersect the body, creating slices of inner body structures at different levels.
Major planes: median (mid-sagittal), sagittal, frontal (coronal), transverse (axial).

Directional terms
Anatomical terms used to describe the position and relation between various structures (e.g. anterior, posterior, ventral, dorsal, proximal, distal, median, medial, lateral)
Movements
Changing the position of a body part around a certain axis and in one of the anatomical planes (e.g. flexion, extension, abduction, adduction)
Anatomical regions
Areas of the human body defined by the landmarks provided by evident structures that are easily palpable or visible.
Major regions: head, neck, thorax, abdomen, pelvis, upper extremity, lower extremity

Human body systems
A group of organs that work together to perform one or more functions in the body.
Systems: circulatory, respiratory, digestive, nervous, excretory, endocrine, reproductive, lymphatic , skeletal, and muscular systems

Basic anatomy and terminology: want to learn more about it?
Our engaging videos, interactive quizzes, in-depth articles and HD atlas are here to get you top results faster.
What do you prefer to learn with?
"I would honestly say that Kenhub cut my study time in half." – Read more.
Kim Bengochea, Regis University, Denver

© Unless stated otherwise, all content, including illustrations are exclusive property of Kenhub GmbH, and are protected by German and international copyright laws. All rights reserved.