Benefits of Kenhub: How to make the most of our anatomy tools
Are you wondering what Kenhub is all about? Let us introduce ourselves!
Simply put, Kenhub is an all-in-one online anatomy, histology and medical imaging learning tool. With a huge color atlas, an extensive library of articles and hundreds of interactive quizzes and videos on every topic, our goal is to help you learn anatomy as quickly, efficiently, and enjoyably as possible.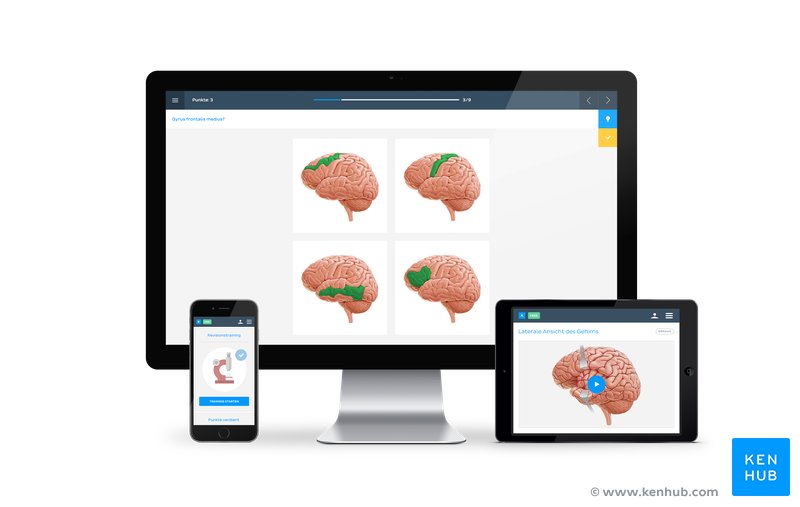 You may have noticed that anatomy is a bit of a tricky topic. Us too! That's why we make sure to guide you through challenging concepts step by step, allowing you to gradually build knowledge in a fun and sustainable way. Boring textbooks and unengaging lectures not quite cutting it? Keep reading to discover how you can make the most of Kenhub - and get the exam results to show for it. Anatomy is a big subject, but don't stress - we're here to help!
"I just wanted to let you know how much your website helped me to conquer what felt like an impossible task." - Kiron Kabir, medical Student, Masaryk University
Getting started
There are several ways to navigate the website and start studying a topic. If you already know what you want to study, you'll want to make use of our awesome search bar available on all pages. Simply start typing the name of the topic you want to learn, and we'll show you all of the available content! It's the quickest way to get started.  
If you're not sure where to start first, use the navigation menus at the top of the screen to browse all of the available anatomy, histology and medical imaging topics organised by region. 
Similarly, you can also use the handy topic boxes on the dashboard to view all of the anatomy, histology and medical imaging topics organised by region.
Your favourite study methods, all in one place
We believe that the most effective learning occurs when you combine visual, audio and interactive materials. That's why, at Kenhub, you'll find four different media types to learn with - and all in one place.
Once you've chosen your topic, you might like to follow the recommended learning path shown on screen: watch a video, take a quiz, and then browse the atlas. With each step, you'll deepen and strengthen your knowledge on the topic. To go even further, you can finish by browsing our library of detailed articles. Alternatively, you can also choose your own way of working through the content. The most important thing is that you study in a way that works for you.
If you prefer a more fun and interactive learning experience, you'll want to focus on our videos and quizzes. If you feel that you learn better using a more traditional textbook approach, you'll love diving into our detailed articles. Want to find out more about each of our media types? Keep reading. 
Videos
At Kenhub, you'll find 500+ videos on anatomy and histology. Videos are usually 15-20 minutes long and cover everything you need to know about a topic, from anatomy to clinical notes. Best time to watch one? Right at the start of learning a new topic.
Handy tips:
Want to speed through a video? Want to take things slow? With speed controls, you can choose your ideal tempo. 
Don't want to miss a thing? Follow along with the transcript or turn on subtitles.
Looking for something specific? Use highlights (timestamps) to navigate to specific parts of the video. 
"The videos made studying for anatomy far less miserable. The audio and visuals helped to really reinforce the knowledge. I would honestly say that Kenhub cut my study time in half." - Kim Bengochea, physiotherapy student, Regis University
Start preparing for your exam - watch the following video or pick a topic below and find a video for the commonly examined topics!
Quizzes
Our huge library of interactive quizzes offers more than just a place to test your knowledge. You can also use them to learn new anatomy, histology and medical imaging topics completely from scratch. Best time to take a quiz? Right after you've watched a video, to test how well you understood the topic. 
Handy tips:
Not ready to test yourself on a specific structure? You can just skip it!
Preparing for a cadaver lab? Hone your ability to recognize specific structures with our basic and advanced identification quizzes.
Need help understanding muscle anatomy? Look no further than our muscle attachments, innervations and functions quizzes.
Learn to link anatomy with clinical practice with our exam question banks.
Want to hone in on specific topics? Create your own custom quiz. 
Try a quiz for yourself! We've listed some we think you'll like below.
Articles
Our anatomy articles are perfect for learning a topic in advanced detail. Best time to read an article? At the end of your study session, if you're feeling hungry to learn more. 
 
Handy tips:
Find clinical relevance notes and summaries at the end of each article. Great for training you to link anatomy with pathology. 
Who wants to read a boring sea of text? With embedded illustrations, quizzes and videos, our articles make your learning fun and full of variety.  
Want to sort fact from fiction? Discover the study methods that really work with our learning strategy articles.
For guided learning on popular exam topics, check out our free anatomy quiz guides.
Ready to start exploring articles? Browse a selection of our favourites below.
Atlas
An atlas is an anatomy student's bread and butter, and at Kenhub, our color HD atlas has got you covered. Best time to use the atlas? Throughout your studies, as a point of reference. 
Handy tips:
Use the atlas gallery to inspect structures from different angles and perspectives, including gross anatomy, histology slides, cross sections, CT, MRI and X-ray.
Learning structures in isolation is important, but so is seeing the bigger picture! With our labeled overview images, you can view related structures in context.  
Explore for yourself!
Curated and verified by experts
Providing accurate, reliable and up-to-date anatomy information is a responsibility that we take seriously. Our content is grounded on established academic literature and research, and written and reviewed by a group of experts in the medical education field.
We continuously update it in accordance with the latest findings in anatomy and histology. We're proud to help more than 1 million users worldwide to learn anatomy. Alongside this, we collaborate with world class university professors, senior doctors and Ph.D. candidates in anatomy and histology teaching programs. 
Support, every step of the way 
We know that learning anatomy can seem like a totally overwhelming task. That's why our team of anatomy geeks are always on hand to answer your questions as quickly as possible. We're here to help you learn faster, more effectively and stress-free. So if you've got a question, don't hesitate to reach out to us at [email protected]. We're a friendly bunch! 

Also, as an additional support, Kenhub is is offering a bi-annual scholarship program to undergraduate and postgraduate students of healthcare disciplines.

"It's clear that Kenhub has been made by people who have studied anatomy themselves." - Alexandra Orfanides, Osteopathy student, The University College of Osteopathy

© Unless stated otherwise, all content, including illustrations are exclusive property of Kenhub GmbH, and are protected by German and international copyright laws. All rights reserved.