Diagrams, quizzes and worksheets of the heart
Do you want a fun way to learn the structure of the heart? Look no further; we've got you covered. On this page, you will find quizzes and labeled & unlabelled diagrams that will help you to learn all of the parts of the heart, stress-free. After all, we know that stress is bad for the heart!

Do you prefer sinking your teeth into a comprehensive, written explanation? Check out our article on the heart, which includes bonus clinical correlations.
Labeled heart diagrams
Take a look at our labeled heart diagrams (see below) to get an overview of all of the parts of the heart. Once you're feeling confident, you can test yourself using the unlabeled diagrams of the parts of the heart below.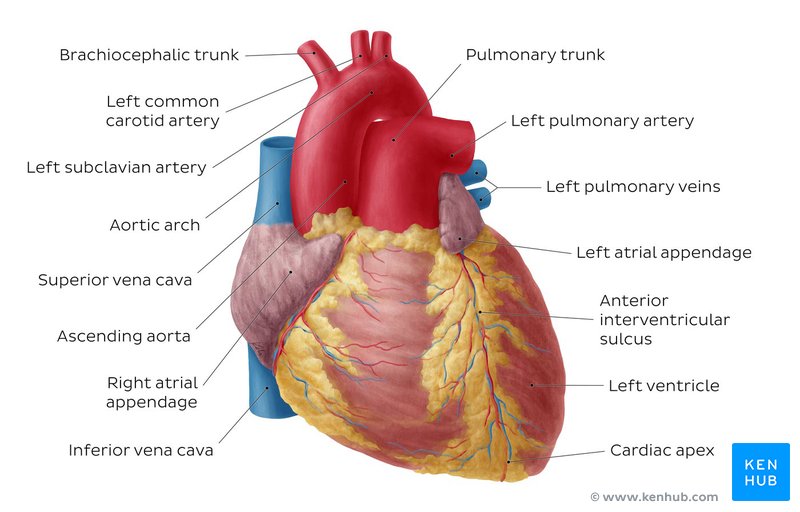 Unlabeled heart diagrams (free download!)
Using our unlabeled heart diagrams, you can challenge yourself to identify the individual parts of the heart as indicated by the arrows and fill-in-the-blank spaces.
This exercise will help you to identify your weak spots, so you'll know which heart structures you need to spend more time studying with our heart quizzes.
Download PDF Worksheet (blank) Download PDF Worksheet (labeled)
Interactive quizzes
At Kenhub, you can use several interactive quiz types to learn about the structure of the heart or to revise what you already know. What makes quizzes such a great way to learn anatomy? Quizzes allow you to identify any gaps in your knowledge, so you'll know exactly where you need to focus your study efforts. 
Want to breeze through your heart anatomy exam questions with confidence? Quizzes are the best way to prepare. 
Try our interactive heart anatomy quizzes to see where your knowledge levels are currently sitting. These clever heart anatomy quizzes will...
Adapt to your knowledge, repeating questions that you got wrong
Give you the option to test yourself with english or latin terminology
Test your ability to correctly identify structures
Challenge your ability to connect anatomy with clinical practice
Let you see a structure from multiple perspectives, for extra clarity
You can start learning the anatomy of the heart with the following quiz. 
If you want to try more quizzes and learn all the aspects of the anatomy of the heart, the valves and the coronary vessels, take a look at the following pages. 

Do you find quizzes and labeled diagrams useful for learning anatomy? Check out our free anatomy quiz guides on every topic! 
Diagrams, quizzes and worksheets of the heart: want to learn more about it?
Our engaging videos, interactive quizzes, in-depth articles and HD atlas are here to get you top results faster.
What do you prefer to learn with?
"I would honestly say that Kenhub cut my study time in half." – Read more.
Kim Bengochea, Regis University, Denver

© Unless stated otherwise, all content, including illustrations are exclusive property of Kenhub GmbH, and are protected by German and international copyright laws. All rights reserved.