Learn radius and ulna anatomy with these fun quizzes and diagrams
Are you looking for a fun way to learn the awkward-looking radius and ulna bones? You're in the right place! On this page, we're going to walk you through this topic using a killer combination of learning methods that will get you ready for your exam in record time. 
We'll begin with a comprehensive overview of radius and ulna anatomy, and then you'll be able to test how well you've understood using our interactive radius and ulna quizzes. Finally, to consolidate your identification skills, you can try your hand at labelling our free radius and ulna diagram worksheets. Let's get started!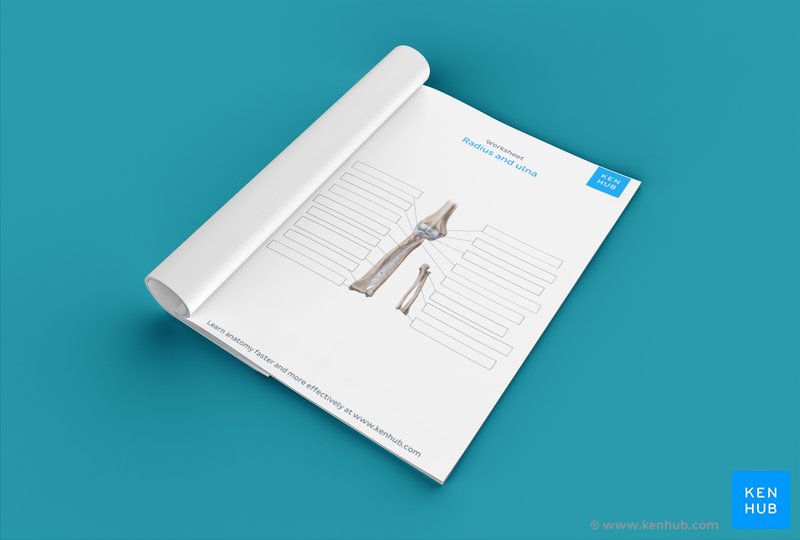 Radius and ulna anatomy overview 
We'll begin with an overview of radius and ulna anatomy. 
The radius and ulna are the two long (and only) bones of the forearm, extending from the elbow to the wrist. In the classical anatomical position, the radius is found laterally, while the ulna is the medial of the two bones. These two bones are of great significance for upper extremity function, as they support a whopping 20 muscles in this region. 
Those are the very basics! In the video below, we walk you through these two bones from top to bottom, covering their parts, surfaces and articulations. Give it a watch before moving onto the next section, where you'll be able to test your knowledge with our radius and ulna quiz selection.
Learn faster with quizzes
Whether or not you've watched the video above, our radius and ulna quizzes will make sure you master all there is to know about radius and ulna anatomy. Fuelled by a smart algorithm, these quizzes help you to learn quickly and efficiently by learning your weak spots as you go along, and giving you more questions on those topics until you've demonstrated your knowledge. 
There are several quiz types to choose from depending on your goals. If you'd like to hone your identification skills, head for our basic and advanced identification quizzes. Got a clinical exam coming up, or simply need to brush up your everyday knowledge for clinical practice? Our clinical question banks are the perfect match. 
And if you want to test yourself from every angle? Head for our Intelligent Mix quiz, where you'll find a combination of all of the above question types.
The only thing left to do now? See if you can label all of the structures of the radius ulna on a complex diagram. For this, you'll need our unlabeled radius and ulna diagram. You'll find that in the next section.
Hone your identification skills with diagrams
At first glance, the radius and ulna are quite similar in appearance. Even if you can tell them apart easily, your knowledge of their parts, ridges and markings may not be so sharp. But it will need to be, for your bone lab! That's why we recommend honing your identification skills with our radius and ulna diagrams.
Radius and ulna labeled
On the diagram below you can see the radius is labeled to the left and the ulna labeled to the right. How many of these structures do you recognize from the previous sections? Spend some time studying the diagram to get a clear picture in your mind. 
Radius and ulna unlabeled
Once you think you've memorized the name and location of each structure, you can try labeling themself. For this you can use our unlabeled diagram PDF, free to download below. You can also download the labeled diagram to make notes. Good luck! 
DOWNLOAD PDF WORKSHEET (BLANK) DOWNLOAD PDF WORKSHEET (LABELED)
Did you enjoy learning radius and ulna anatomy with our quizzes and labeled diagrams? Check out our other free quiz guides on common exam topics!
Learn radius and ulna anatomy with these fun quizzes and diagrams : want to learn more about it?
Our engaging videos, interactive quizzes, in-depth articles and HD atlas are here to get you top results faster.
What do you prefer to learn with?
"I would honestly say that Kenhub cut my study time in half." – Read more.
Kim Bengochea, Regis University, Denver

© Unless stated otherwise, all content, including illustrations are exclusive property of Kenhub GmbH, and are protected by German and international copyright laws. All rights reserved.