Struggling with histology? Try these histology slide quizzes
There's no denying it: histology is hard. Indeed, your first glance at a histology slide can feel completely mind-boggling. You might wonder how on earth you'll ever be able to tell one structure apart from the other.
Don't worry - stay calm! There is a way. Many ways, in fact. And we're here to tell you all about them. From tissue identification with histology practice quizzes to practical learn-on-the-go tissue flashcards, these techniques can take you from clueless, to clued up. Keep reading to find out how.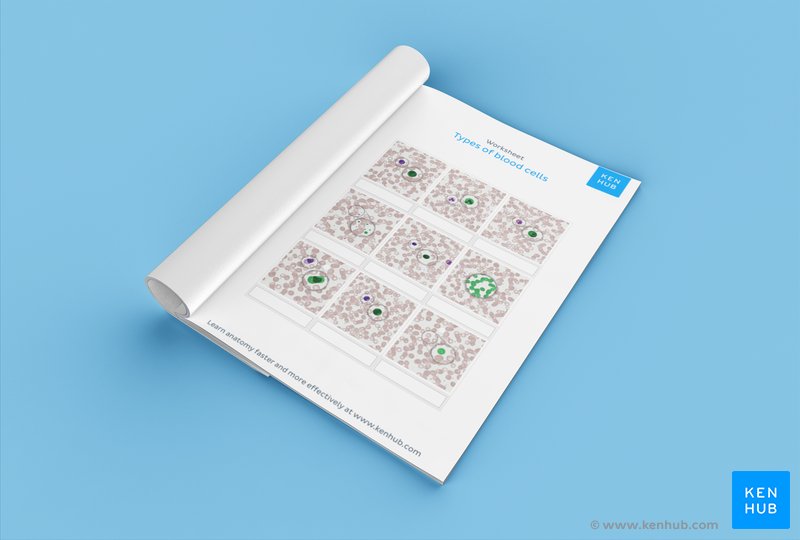 Histology practice
It goes without saying that whatever topic you're studying, practice makes perfect. That is to say, the more time you spend examining histology slides, the easier it will become. You'll learn which characteristics to look out for - which shapes, colours and patterns are typical of a certain type of tissue. 
Want to get started practicing and reviewing your histology knowledge right away? Check our our expert-created anatomy refresher tools. 
But how exactly do you get that practice? With Kenhub's huge library of histology slides, of course! In our histology atlas, we clearly highlight a given structure on our slides. Comparing several of these slides next to one another is a great way to get a feel for how one tissue differs from another. Enter: our labeled and unlabeled histology tissue identification quiz worksheets.
Tissue identification quiz worksheets
Let's start with the topic of blood cells. You're going to be filling in a labeled worksheet of the different types later, but first you'll need to know how to identify them. The cell size, shape of the nucleus and color of cytoplasmic bodies and granules are good indicators to put you on the right track - but check out our video on blood cells to learn about each type of blood cell in more detail. 
Now, download the worksheet with 9 types of labeled blood cells using the link below. See if you can connect the explanations of each blood cell characteristic described in the video with what you see on the worksheet. Then, once you're ready, you can download the unlabeled tissue identification quiz worksheet and try to fill in the names of each blood cell yourself.
Download PDF Worksheet (blank) Download PDF Worksheet (labeled)
Try our histology slide quizzes
With a topic as overwhelming as histology, quizzes are a practical and time-saving dream. Luckily for you, Kenhub offers several histology slide quizzes for you to get your practice on. 
Utilizing a histology quiz is a great way to put everything you've already learned to the test. Or, if you're just starting out, you can even use them to learn histology from scratch. 
Use our basic identification option to differentiate between different structures, our advanced identification option to test yourself without prompts, and our question bank option to put your knowledge into a clinical context. What are you waiting for? Take your first histology quiz now.
We've included some we think you'll like below.
Do you find quizzes and labeled diagrams useful for learning anatomy? Check out our free anatomy quiz guides on every topic! 
Struggling with histology? Try these histology slide quizzes: want to learn more about it?
Our engaging videos, interactive quizzes, in-depth articles and HD atlas are here to get you top results faster.
What do you prefer to learn with?
"I would honestly say that Kenhub cut my study time in half." – Read more.
Kim Bengochea, Regis University, Denver

© Unless stated otherwise, all content, including illustrations are exclusive property of Kenhub GmbH, and are protected by German and international copyright laws. All rights reserved.