Plantaris muscle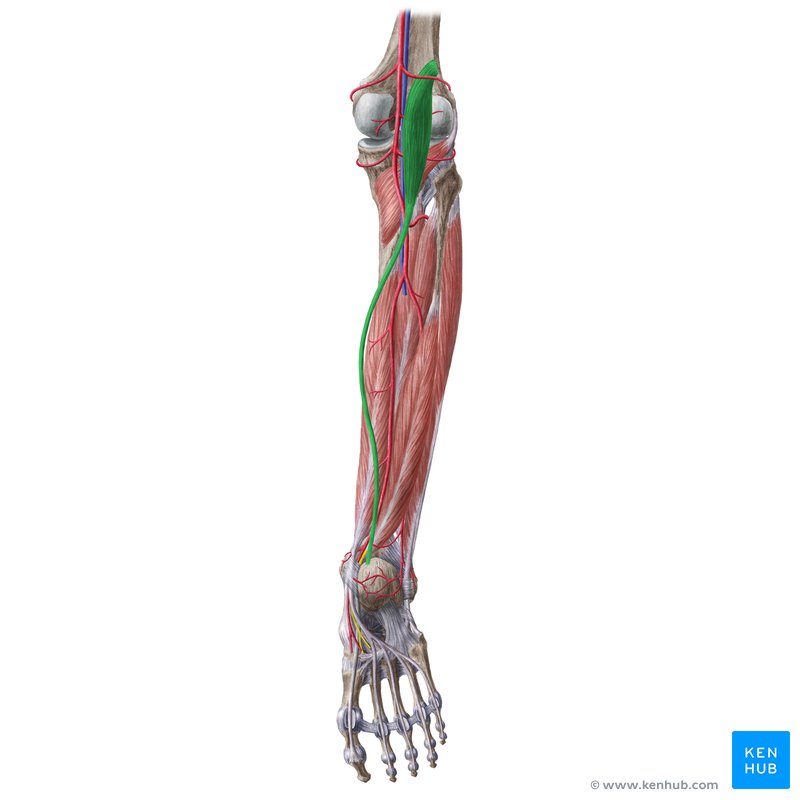 Plantaris is long, thin muscle extending behind the knee and into the sural region (calf) of the posterior leg. It forms, together with gastrocnemius and soleus, the superficial group of the posterior compartment of the leg. 
The muscle belly is variable both in thickness and length. Sometimes the muscle has two bellies separated by a tendon, and in around 10% of the population, plantaris is absent altogether. There is also an ongoing debate about its function. Plantaris gets its name because in many mammals it inserts into the plantar aponeurosis. However, in humans, the plantaris comes nowhere near it. As the muscle crosses both the knee and ankle joints, it weakly assists with knee and plantar flexion. 
This article will cover the anatomy and functions of the plantaris muscle.
Key facts about the plantaris muscle
Origin
Lateral supracondylar line of femur, oblique popliteal ligament of knee
Insertion
Posterior surface of calcaneus (via calcaneal tendon)
Action
Talocrural joint: foot plantar flexion
Knee joint: knee flexion

Innervation
Tibial nerve (S1, S2)
Blood supply
Superficially: lateral sural and popliteal arteries
Deeply: superior lateral genicular artery

Plantaris muscle: want to learn more about it?
Our engaging videos, interactive quizzes, in-depth articles and HD atlas are here to get you top results faster.
What do you prefer to learn with?
"I would honestly say that Kenhub cut my study time in half." – Read more.
Kim Bengochea, Regis University, Denver

© Unless stated otherwise, all content, including illustrations are exclusive property of Kenhub GmbH, and are protected by German and international copyright laws. All rights reserved.