How to use the Custom Quiz?
The Custom quiz is a powerful tool for your studies. You can create a perfectly tailored quiz experience with full control not only over the full topics, but also the individual structures. And the best thing: You can save it and quiz yourself again later! This article will guide you through the Custom quiz creator and get you started in no time.
Custom Quiz Creator
You can search and browse for topics on the left. Select the topics you want to include in your quiz by clicking on them. The number in brackets indicates the number of anatomical structures included in each topic.
When you select a topic, it is added to the list on the right. You can also remove topics by clicking on them.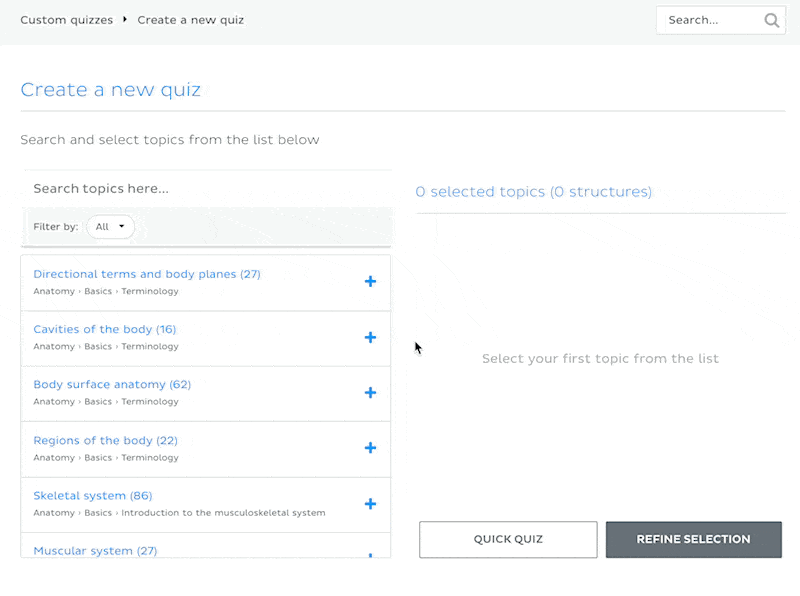 After selecting the topics for your Custom quiz, you can either continue with the two options Refine Selection and Quick Quiz, or save the quiz for later by clicking Save Quiz on the top right.
Custom quizzes are available exclusively to Premium members.
Quick Quiz
Quick Quiz lets you start the quiz with all structures included for your selected topics. If you require even more control over the specific structures on your custom quiz, that's where the Refine selection option can help.
Refine Selection
Do you have a specific set of structures you need to study for your exam, or want to exclude anatomy terms that you already know? No problem! Refine Selection opens a simple, yet powerful tool to further customize your quiz.
All included structures based on your topic selection are displayed on the left. You can filter them by structure type (e.g. muscles, arteries, or ligaments) and click on each structure to exclude it from the quiz. If you want to include only a few specific structures, use Deselect all and click on those structures you want to specifically include in your Custom Quiz. The search field lets you quickly find structures within your topic selection.
After refining your selection, you can start the quiz, save it for later, or go back to the topic selector.
The number of questions each time you take the Custom quiz is limited to 100. If you have a large topic and structure selection, simply retake the quiz and you will be quizzed on new structures with each try.
The custom quiz uses elements of spaced repetition to optimize your learning experience. It takes into account your answers and mistakes, and then offers related questions or repetition for your weak spots. Unlike using traditional flashcards, you don't have to tell us how well you know each question. The algorithm automatically works for you!
List of Custom Quizzes
Once you have saved your first Custom quiz, the Custom quiz section of your profile shows a list with all saved Custom quizzes. Here, you can create a new quiz, start, edit and delete your existing quizzes.
Tip: If you accidentally delete a quiz, click Undo on the blue banner at the top of the page that appears after deleting a quiz.
Not sure where to start? Here are some custom quizzes we created for you. And the best thing? You can further customize those quizzes if you want to fit your needs!
Custom Quiz: Terminology
Just starting your anatomy journey? Here's the most important basics on anatomical terminology all in one place.
Custom Quiz: Rotator Cuff
Practise the four muscles of the rotator cuff, one of the most frequently used anatomical exam topics.
Custom Quiz: Bones of the Skull
Quiz yourself on the bones of the skull. The simple version includes only the large and simple structures, while the detailed version covers all of the bones, even the smallest ones.
Custom Quiz: Tissues (Histology)
Cover everything you need to know about the different types of tissues in one comprehensive histology quiz. Epithelium? Connective tissue? Types of muscular tissues? We got you covered!

If you have any questions on how to use the custom quiz to your advantage, do not hesitate to contact us.

© Unless stated otherwise, all content, including illustrations are exclusive property of Kenhub GmbH, and are protected by German and international copyright laws. All rights reserved.