Use this brachial plexus quiz selection to learn in half the time
Ah, the brachial plexus. Could it be amongst the most dreaded anatomy topics by students everywhere? Perhaps not quite as tricky as the cranial nerves, but it's no piece of cake either.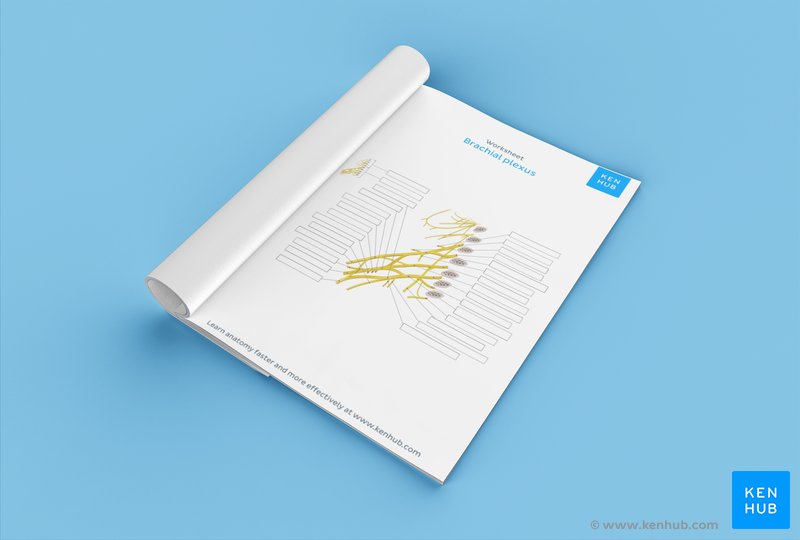 Don't panic. By the time you've finished reading this article, you'll have understood and solidified your memory of its origin, course, relation and branches thanks to our easy explanations and brachial plexus quizzes and diagrams. Let's go!
Overview of the brachial plexus
So what is the brachial plexus, exactly? 
The brachial plexus is the mysterious place from which all of the nerves of the upper extremity arise, facilitating motor and sensory innervation of the arm. You can think of it as the life support of the upper extremity. 
You can also think of it in sections, these being the roots, trunks, divisions, cords and branches.
The roots of the brachial plexus are formed by the anterior branches of the spinal nerves C5 to T1. These rami give way to superior, middle, and anterior trunks. Then, these trunks divide into anterior and posterior divisions, which form the lateral, posterior and medial cords of the brachial plexus. Finally those three cords give rise to the terminal branches which are all the nerves that provide motor and sensory innervation to the upper limb.
Got it? It gets a little more complicated from here, but don't panic. Our brachial plexus video walks you through this topic step by step. Watch it below.
To help you memorise the various parts and branches of the brachial plexus, you can also check out our brachial plexus mnemonics video to help you ace you next exam. After that, we're going to look at how our brachial plexus quiz selection can help you to consolidate your knowledge.
Consolidate your knowledge with interactive quizzes 
It's time to test how well you've understood. For this, let us present to you our interactive brachial plexus quizzes. First, choose your quiz: basic identification, advanced identification, clinical question bank, or intelligent mix (a combination of all of the above!). 
As you go through the quiz, our intelligent algorithm learns your weak spots and automatically gives you more questions on those topics. The result? You'll be able to fill in the gaps in your knowledge fast and efficiently. 
This feature means that you can even use our brachial plexus quiz selection to learn the topic from scratch! Or, you can take the quiz to get an idea of your base knowledge, watch our video to fill in the gaps, and then come back to the quiz to see how you've improved. 
Whatever your approach, our brachial plexus quizzes are waiting for you below. Just click "Start quiz" to get going!
Brachial plexus diagrams 
Got a cadaver exam coming up? For this, your ability to identify structures by name and location will need to be razor-sharp. That's where our brachial plexus diagram comes in.
Brachial plexus labeled
Spend some time analyzing the diagram above. Here you see each structure of the brachial plexus labeled according to its location. Having watched our video and taken our brachial plexus quizzes, this should all look more familiar and less daunting now. That means you're reading for the final step to consolidate your information: our brachial plexus labeling quiz.
Blank brachial plexus
With the brachial plexus labeling quiz, the aim is to label each structure yourself using a completely blank diagram. Up to the challenge? Click the link below to download the blank brachial plexus PDF. You can also download the labeled brachial plexus diagram to make notes.
DOWNLOAD PDF WORKSHEET (BLANK) DOWNLOAD PDF WORKSHEET (LABELED)
And that's it, you're done! Hopefully by this stage you're feeling proud and confident, having conquered what initially seemed like such a complicated topic. Still need more practice? Don't hesitate to rewatch the video and retake the quizzes. Practice makes perfect.
For more quizzes and labeling worksheets on popular exam topics, head over to our free quiz guide. We've got everything you need to ace anatomy! 
Use this brachial plexus quiz selection to learn in half the time: want to learn more about it?
Our engaging videos, interactive quizzes, in-depth articles and HD atlas are here to get you top results faster.
What do you prefer to learn with?
"I would honestly say that Kenhub cut my study time in half." – Read more.
Kim Bengochea, Regis University, Denver

© Unless stated otherwise, all content, including illustrations are exclusive property of Kenhub GmbH, and are protected by German and international copyright laws. All rights reserved.