Infraspinatus muscle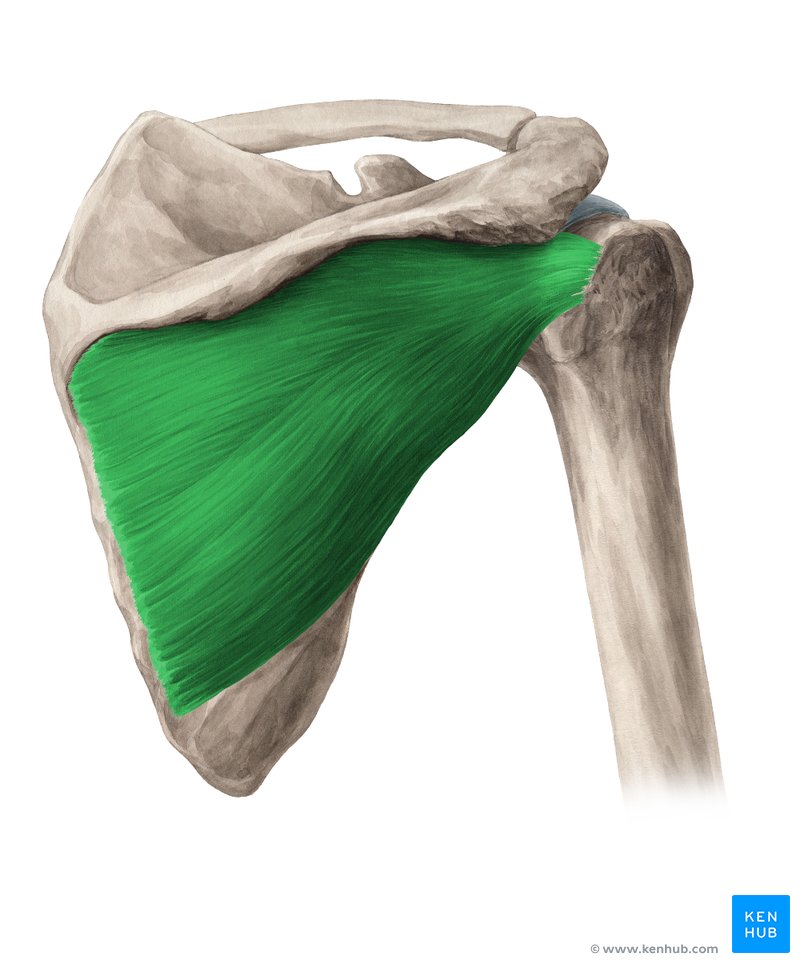 Infraspinatus is a thick triangular muscle that occupies the majority of the dorsal surface of the scapula. It arises mostly from the infraspinous fossa of scapula, and connects it to the proximal humerus. 
Infraspinatus is one of the four rotator cuff muscles, alongside subscapularis, teres minor and supraspinatus muscles. As a part of the rotator cuff muscles, the main function of infraspinatus muscle is external rotation of the humerus, as well as stabilization of the glenohumeral, or shoulder joint.
This article will discuss the anatomy and functions of the infraspinatus muscle.
Key facts about the infraspinatus muscle
Origin
Infraspinous fossa of scapula
Insertion
Greater tubercle of humerus
Action
Shoulder joint: Arm external rotation; 
Stabilizes humeral head in glenoid cavity
Innervation
Suprascapular nerve (C5, C6)
Blood supply
Suprascapular artery, circumflex scapular arteries
Infraspinatus muscle: want to learn more about it?
Our engaging videos, interactive quizzes, in-depth articles and HD atlas are here to get you top results faster.
What do you prefer to learn with?
"I would honestly say that Kenhub cut my study time in half." – Read more.
Kim Bengochea, Regis University, Denver

© Unless stated otherwise, all content, including illustrations are exclusive property of Kenhub GmbH, and are protected by German and international copyright laws. All rights reserved.