Arm and shoulder anatomy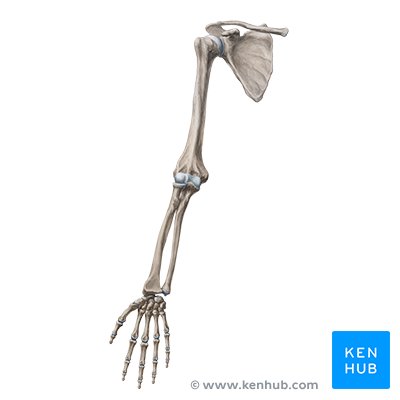 The upper limb is essential for our daily functioning. It enables us to grip, write, lift and throw, among many other movements. The upper limb has been shaped by evolution into a highly mobile part of the human body. 
It consists of four major segments, which are further subdivided into regions for precise description: 
In this page, we are going to study shoulder and arm anatomy. 
Key facts about the anatomy of the shoulder and arm
Bones
Clavicle, scapula, humerus

Muscles
Superficial: deltoid, trapezius
Rotator cuff muscles: supraspinatus, infraspinatus, teres minor, subscapularis
Arm: brachialis, biceps brachii, triceps brachii, coracobrachialis
Others: teres major, serratus anterior, levator scapulae, rhomboid major, rhomboid minor, pectoralis major, pectoralis minor, latissimus dorsi, brachialis, biceps brachii, triceps brachii

Nerves
Suprascapular and axillary nerves, which originate from the brachial plexus.
Arteries
Axillary and brachial arteries
Veins
Brachial, basilic and cephalic veins
Arm and shoulder anatomy: want to learn more about it?
Our engaging videos, interactive quizzes, in-depth articles and HD atlas are here to get you top results faster.
What do you prefer to learn with?
"I would honestly say that Kenhub cut my study time in half." – Read more.
Kim Bengochea, Regis University, Denver

© Unless stated otherwise, all content, including illustrations are exclusive property of Kenhub GmbH, and are protected by German and international copyright laws. All rights reserved.