Rectus capitis posterior major muscle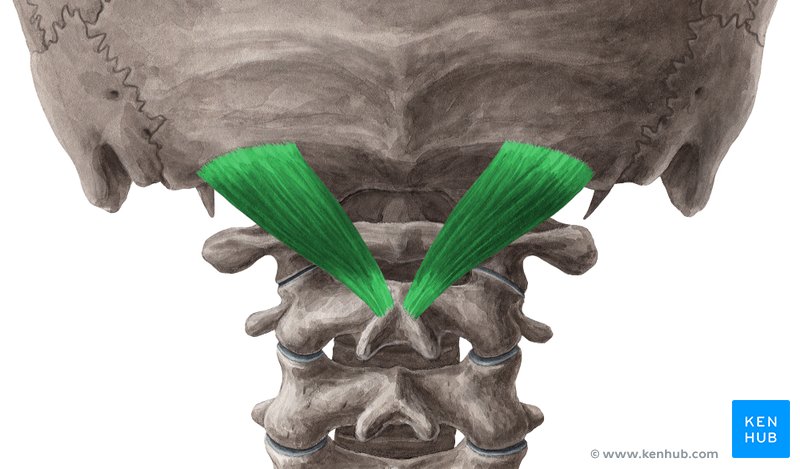 Rectus capitis posterior major muscle is one of four small suboccipital muscles; with rectus capitis posterior minor, obliquus capitis inferior and obliquus capitis superior being the other three. 
When both muscles contract bilaterally they act to extend the head on the neck, while the unilateral contraction rotates the head ipsilaterally at the atlanto-axial joint.
In this article, we will discuss the rectus capitis posterior major anatomy by covering its structure, innervation, insertion and origin. Let's get started!
Key facts about the rectus capitis posterior major muscle
Origin
Spinous process of axis
Insertion
Lateral part of inferior nuchal line of occipital bone
Action
Bilateral contraction at the atlantooccipital joint: Head extension
Unilateral contraction at the atlantoaxial joint: Head rotation (ipsilateral)
Innervation
Suboccipital nerve (posterior ramus of spinal nerve C1)
Blood supply
Vertebral artery and descending branches of the occipital artery
Rectus capitis posterior major muscle: want to learn more about it?
Our engaging videos, interactive quizzes, in-depth articles and HD atlas are here to get you top results faster.
What do you prefer to learn with?
"I would honestly say that Kenhub cut my study time in half." – Read more.
Kim Bengochea, Regis University, Denver

© Unless stated otherwise, all content, including illustrations are exclusive property of Kenhub GmbH, and are protected by German and international copyright laws. All rights reserved.