Splenius cervicis muscle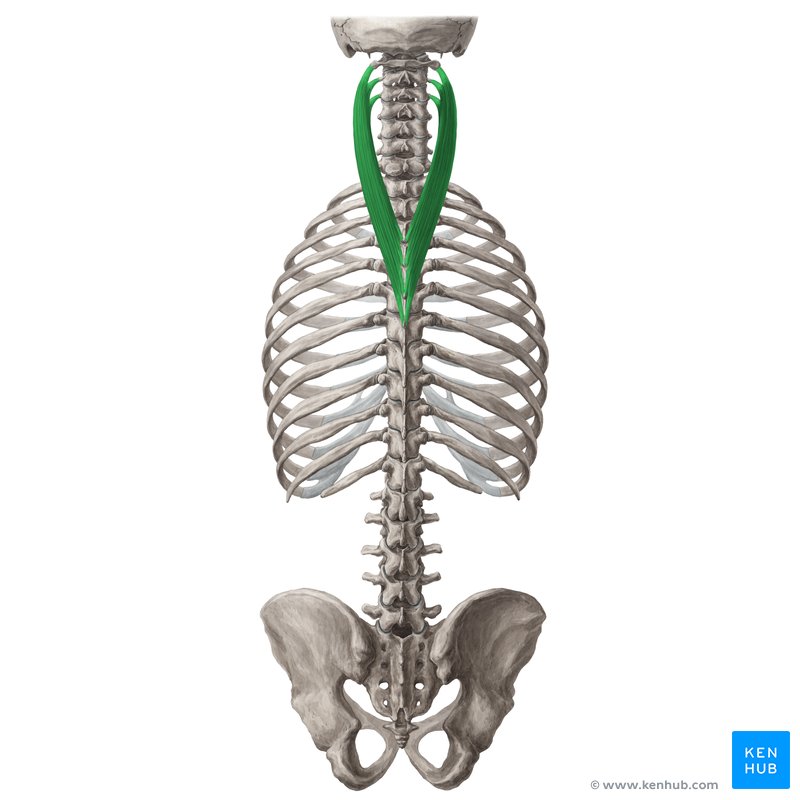 Splenius cervicis is a paired back muscle found in the prevertebral space of the neck. Together with splenius capitis, it forms the superficial layer of the deep (intrinsic) back muscles, thus covering the other deep back muscles in the cervical region of the back. 
The function of the splenius cervicis is to coordinate the position of the head and neck during various body movements, such as standing up from a sitting position. It does so by producing the lateral flexion, rotation and extension of the neck.
This article will discuss the anatomy and function of splenius cervicis muscle.
Key facts about the splenius cervicis muscle
Origin
Spinous processes of T3 – T6 vertebrae
Insertion
Transverse processes of C1 – C3 vertebrae
Action
Unilateral contraction: lateral flexion and rotation of neck (ipsilateral)
Bilateral contraction: extension of neck
Innervation
Lateral branches of posterior rami of lower cervical spinal nerves
Blood supply
Vertebral, occipital, superior intercostal, deep cervical, transverse cervical arteries
Splenius cervicis muscle: want to learn more about it?
Our engaging videos, interactive quizzes, in-depth articles and HD atlas are here to get you top results faster.
What do you prefer to learn with?
"I would honestly say that Kenhub cut my study time in half." – Read more.
Kim Bengochea, Regis University, Denver

© Unless stated otherwise, all content, including illustrations are exclusive property of Kenhub GmbH, and are protected by German and international copyright laws. All rights reserved.