What are the available pricing and payment options?
We're glad that you're interested in a Kenhub Premium subscription! Here's everything you need to know about our pricing, payments and renewals.
Pricing
You can find the different Premium plans and their prices on our pricing page. On top of our huge library of in-depth articles and color atlas of anatomy, Kenhub Premium gives you access to hundreds of dynamic quizzes (including clinical question banks), comprehensive video tutorials and help by our Anatomy Geeks.
Currency
At Kenhub, we support payments in $ (USD), £ (GBP), € (EUR) and $ (AUD). If your local currency is different, then the price for the Premium subscription might be converted by your credit card provider or PayPal, depending on the payment method you chose. The conversion rates vary between different providers, so in order to be 100% sure, please feel free to contact your credit card provider or PayPal for further information.
Payment options
You can use your credit card or PayPal to purchase any of our Premium plans. Depending on your geographical location, other payment options for the Lifetime plan may be available, such as bank transfer, iDEAL, Amazon Pay, Klarna, or GiroPay. Choosing the Lifetime plan will allow you to see which options are available to you.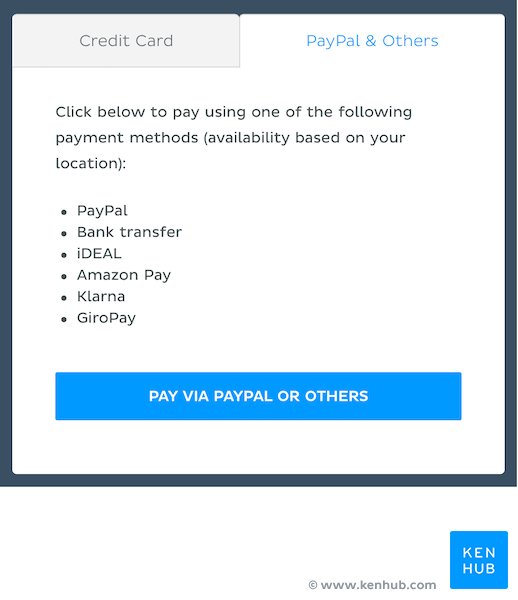 Activation of your Premium access
Following successful payment, your access to Premium features will become immediately available. For example, if you pay via credit card of PayPal, you will be granted Premium access within a few minutes. If you choose payment via bank transfer, access to your Premium materials will be activated once the payment arrives in our bank account. This can take up to 5 business days. 
Renewals and recurring charges
Our Premium subscriptions except Lifetime renew automatically when they are not cancelled. In order to avoid any undesired renewals, you can cancel your Premium subscription at any time. The Lifetime Premium plan is a one-time payment and doesn't renew. It lasts forever :)
Invoices
Invoices are automatically sent to you via email after payment. In case you miss an invoice, you can also always drop us an email at [email protected] and we'll gladly send it to you again!
Security
When you pay for Kenhub Premium, you can rest assured that your details are safe and secure. We use trustworthy and reliable payment providers, and we don't even get to see your credit card number. It's all secured over SSL with the latest security standards. Here's more specific security information about our payment providers Stripe and Fastspring

© Unless stated otherwise, all content, including illustrations are exclusive property of Kenhub GmbH, and are protected by German and international copyright laws. All rights reserved.