Forearm extensor muscle anatomy made easy with quizzes and diagram labeling exercises
With so many strange sounding muscles and functions to learn, the forearm muscles are arguably one of the trickiest regions of the upper extremity to learn. But don't worry - it's not impossible!
In the following guide, we'll be teaching you how you can learn them faster and more effectively with the use of labeled diagrams and quizzes. Let's jump in!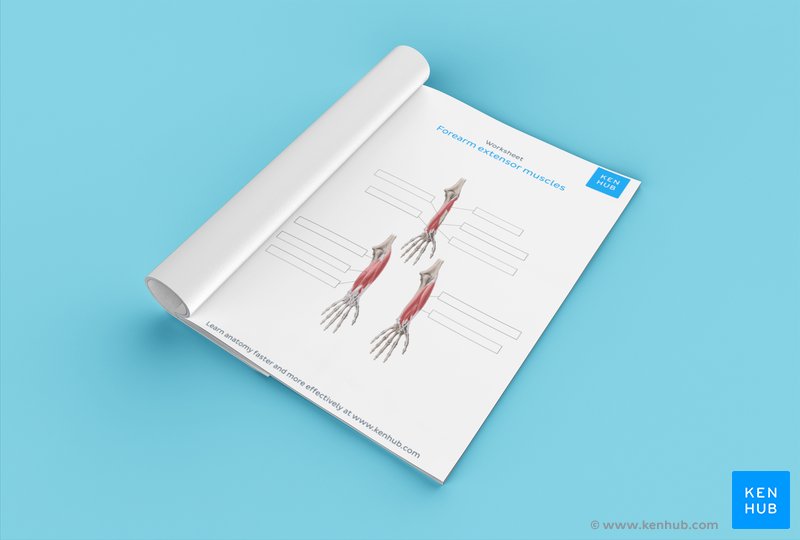 Forearm muscle anatomy
The forearm is a region of the upper extremity extending from the wrist to the elbow joint. It is split into two compartments: anterior and posterior. 
In the posterior compartment, which is what we'll be focusing on in this article, we find the extensor muscles. These muscles of the forearm are responsible for producing extension at the wrist and fingers. The extensor muscles can be further divided into two layers separated by a layer of fascia: deep, and superficial. 
The deep extensor muscles of the forearm comprise five muscles: the supinator muscle, abductor pollicis longus, extensor pollicis brevis, extensor pollicis longus and extensor indicis muscle. While the supinator muscle supinates the forearm, all the other muscles move the joints of the hand and fingers.
The superficial extensors comprise three muscles: the extensor digitorum, extensor digiti minimi and extensor carpi ulnaris. These muscles are tasked with fulfill a dorsal extension in the wrist joint.
Now you have a basic overview of the extensor muscles, it's time to expand your knowledge with a video. Check out the two below, which will go into more detail on the individual anatomy and functions of each muscle.
Continue learning with diagrams
If you're already a fan of our anatomy quiz guides, you'll know that we recommend starting your revision with some labeling exercises. This helps you to consolidate your knowledge of the name and location of each muscle of the forearm, which will be important for your exam.
Forearm muscles (extensors) labeled and unlabeled
To begin, spend some time looking at the forearm muscles diagram above. Here you can see all the extensor forearm muscles clearly labeled. Once you're ready, you can try labeling the muscles for yourself using the blank forearm muscles diagram free to download below. 
DOWNLOAD PDF WORKSHEET (BLANK)DOWNLOAD PDF WORKSHEET (LABELED)
Learn faster and more effectively with quizzes
By now you should be feeling confident about where each muscle of the forearm is located - and indeed what each one is called. But to really solidify the knowledge (AKA: send it into your long term memory stores), you need to test yourself on the topic at regular intervals. That's where our interactive muscles of the forearm quizzes come on.

Inspired by the evidence backed technique of spaced repetition, these quizzes are powered by an intelligent algorithm which learns your weak spots based on your wrong answers, and automatically gives you more questions on those topics accordingly. The result? You'll be able to quickly and effectively seal any holes in your knowledge.

These muscles of the forearm quizzes can be used to learn a topic to revise what you already know, or to learn a topic completely from the get-go. Best of all, you can really consolidate your knowledge from every angle thanks to five different quiz types: basic and advanced identification, muscle attachments, innervations and functions, clinical question banks, intelligent mix (a combination of all of the above!) or create your very own custom quiz.

Ready to start testing? Take your first muscles of the forearm quiz. Good luck!

Below you can find more options for expanding and testing your knowledge on the forearm flexors and the overall anatomy of the elbow and forearm.


Enjoyed learning with forearm muscle quizzes and labeling activities? Check out our free quiz guides on several more exam topics.

© Unless stated otherwise, all content, including illustrations are exclusive property of Kenhub GmbH, and are protected by German and international copyright laws. All rights reserved.

Bored by anatomy?

Try this

➞