How to not fail your next anatomy exam
Here at Kenhub, we've done our fair share of anatomy exams. Our team is well aware of how overwhelming and daunting exam preparation can be, especially when it comes to studying anatomy. With so many terms and systems to memorize and apply at the drop of the hat, anatomy can seem like a truly unforgiving subject in the exam room.
However, students or medics anxiously facing their next anatomy test will be pleased to learn that Kenhub is here to help. We have a few tricks and tips up our sleeve designed to help medical students breeze through their exams with flying colours and minimal stress. Here's our guide of how to NOT fail your next anatomy exam….
Stay calm and prepare
Use the time you have wisely. Before you start, take a moment to plan ahead and prepare for the task. Think about which topics you will tackle first and which topics you are most confident with. Have a light read through your materials and do some revision 'spring cleaning' by finishing off any outstanding work and tying up loose ends. Have a look through Kenhub's library and atlas and pick out any topics or subjects that you are interested or confident in. The most important thing before getting started is to relax and enjoy your leisure time. Stay cool and make the most of the calm before the storm.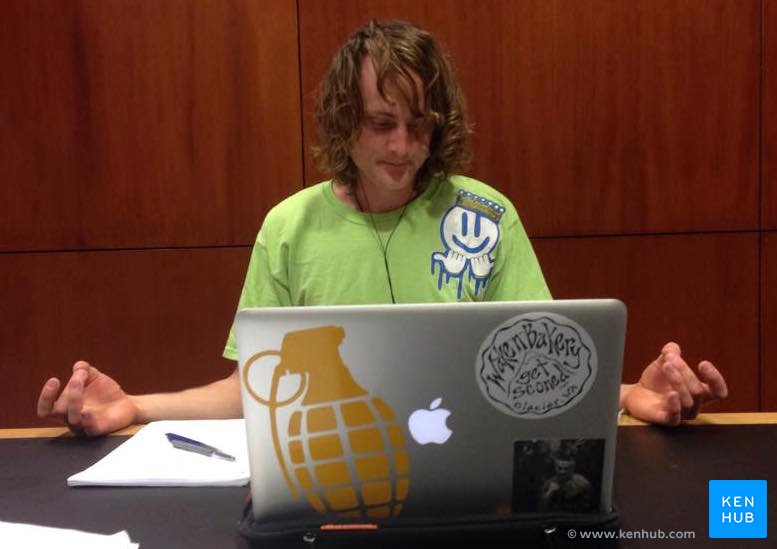 Draw up a schedule 
Try to draw up some kind of revision schedule. This schedule can be as rigid or as flexible as you like. You can use Kenhub's sectioned anatomy to divide the body into manageable sections and plan your schedule around these.
Not sure where to get started? Our Human Anatomy Study Guide is here to help.
Make sure that your allocated revision times don't clash with your work and social life, and be careful not to underestimate how much time certain topics and sections might potentially take from your schedule. But don't stress. 
Assess your strengths and weaknesses
'Dividing' or 'sectioning' the anatomy before revision is very important because it allows you to break the bigger task down into manageable portions. Once these divided portions have been logically ordered, a student can then cherry-pick subjects and re-order them based around personal preference. By assessing your own strengths and weaknesses within each topic and sub-topic, it is easier to predict which subjects may require more time and focus, and vice versa.
Kenhub's personalized quizzing system helps users to pay extra attention to those tricky subjects by alternating topics in which they have demonstrated more confidence with more focused, repetitive revision of those in which they have struggled. By assessing your own ability and knowledge of systems and terms all over the body, you eliminate the chance of facing a nasty surprise at the last minute when you find yourself tackling a task you have little to no knowledge of at the eleventh hour.
Got an anatomy exam coming up? Here's why quizzes are the ideal way to prepare.
Get into your groove
Once you've smoothed out those creases and got a realistic timeline of how long your revision timeline will be, it's time to start having fun and really get down to work. It's important to make sure that your method of revision is comfortable and suitable for you. Build yourself the most laid back and revision-friendly atmosphere and environment that you can, with home comforts and treats included. Work hard and maintain momentum. Kenhub can help you track your personal progress with our weekly progress reports and our revision quizzes will be  tailored to your own individual needs.
Learn, revise, repeat!
Once you have really got into the swing of revision and built your very own personalized study routine, the most important thing is to maintain momentum. Make sure that you keep working at the same pace and that you aren't complacent when it comes to studying and revising topics that you feel might not require as much work.
Feeling a bit fatigued from all the revision? An anatomy coloring book is a great tool to continue practicing and have fun at the same time! Download our free anatomy coloring book to see for yourself.  
It has been proven that multimedia interactive revision is far more effective than old-fashioned singular format studying. So by making the most of different formats or medias whilst revising (such as the interactive videos, personalized quizzes and illustrated anatomy library in Kenhub,) you will undoubtedly improve your memorization and the subsequent application of the information you have learned. Basically, by spicing up the method of revision, not allowing yourself to become stuck within one specific format and always repeating and relearning what you have learned, you will improve your chances of passing tenfold.
Summary
There are a few tricks and tips designed to help medical students breeze through their exams with flying colours and minimal stress. Here's our guide of how to NOT fail your next anatomy exam….
Stay calm and prepare by planning ahead
Draw up a revision schedule and divide your work into manageable chunks, without forgetting about leisure time
Assess your strengths and weaknesses so you can re-order your topics based on your personal preference.
Arrange your environment so it has a revision-friendly atmosphere in order for your study session to be as smooth as possible.
Revise, revise and revise some more!
© Unless stated otherwise, all content, including illustrations are exclusive property of Kenhub GmbH, and are protected by German and international copyright laws. All rights reserved.