Learn the circle of Willis with quizzes and unlabeled diagrams
So, you need to learn about the circle of Willis. Eek! Neuroanatomy is certainly not the most straightforward topic to learn, but with the tips and tricks covered in this article, we'll break this topic down for you in no time. Ready to learn? Great. Let's jump in.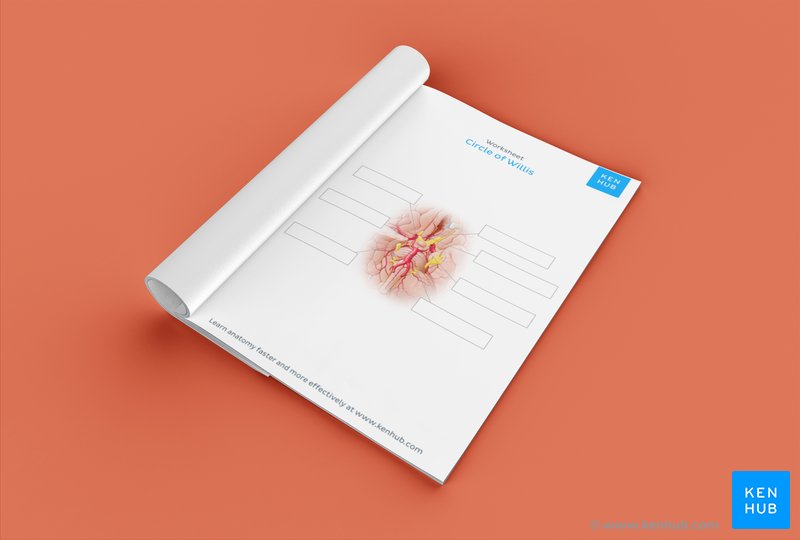 What is the circle of Willis?
First thing's first: what is the circle of Willis? Simply(ish) put, the circle of Willis is a circulatory anastomosis supplying blood to the brain and neighboring structures. These arteries are located at the base of the brain, close to the optic chiasm. 
Circle of Willis arteries
The circle of Willis, also known as the cerebral arterial circle, is formed by anterior and posterior arterial pathways. 
The arteries of the circle of Willis include:
As such a tricky topic, it might be beneficial to try drawing the structures of the circle of Willis to help consolidate your memory. Here's the ultimate drawing reference. 
Next we're going to look at how you can continue learning and building upon your knowledge with some circle of Willis Quizzes. But first, you might like to watch our videos on the arteries of the brain. This will give you a bit more detail about the arteries comprising the circle of Willis. You can even follow along with the transcript!
Labeled and unlabeled diagrams
One of the best ways to get familiar with the anatomy of a structure is to study a labeled diagram. Have a look at the circle of Willis diagram below, which lists the main arteries.
Once you think you've memorized the name and location of each artery on the diagram, try labeling them for yourself using the free circle of Willis (unlabeled) PDF below. If you want to make some notes as you study, you can download the labeled circle of Willis diagram, too. 
Download PDF Worksheet (blank) Download PDF Worksheet (labeled)
Circle of Willis quiz
We've talked about the benefits of using labeled diagrams to learn a topic. But the best way to continue improving and solidifying your knowledge is with quizzes! 
At Kenhub, we have several types of anatomy quizzes that you can use to study anatomy. From basic to advanced identification, muscle facts to clinical question banks, there's something for every stage of your learning journey. 
Not only can you use our quizzes to test your existing knowledge levels - you can even use them to learn a topic from scratch. What are you waiting for? Get quizzing with our circle of willis quiz (arteries of the brain) below! On this circle of Willis quiz, you can choose from basic identification, advanced identification, clinical question banks and even intelligent mix - a personalised mix of all three. 
If you enjoyed using these labeled diagrams and quizzes, why not check out our anatomy practice quizzes and diagrams on every topic?
Learn the circle of Willis with quizzes and unlabeled diagrams: want to learn more about it?
Our engaging videos, interactive quizzes, in-depth articles and HD atlas are here to get you top results faster.
What do you prefer to learn with?
"I would honestly say that Kenhub cut my study time in half." – Read more.
Kim Bengochea, Regis University, Denver

© Unless stated otherwise, all content, including illustrations are exclusive property of Kenhub GmbH, and are protected by German and international copyright laws. All rights reserved.