Urinary system quizzes and labeled diagrams
The urinary system is a remarkably efficient machine, responsible for the production, transport, storage and excretion of urine - not to mention its role in filtering the blood, maintaining blood volume, blood pressure, blood pH and electrolyte balance. Phew.
It's busy at work 24 hours a day - but how much do you know about the structures involved in each of the above processes?
From the kidneys to the ureters, urethra and urinary bladder, there's lots to learn. In this article we'll be walking you through the best way to learn the anatomy of the urinary system: practice tests, labeling quizzes and diagrams abound!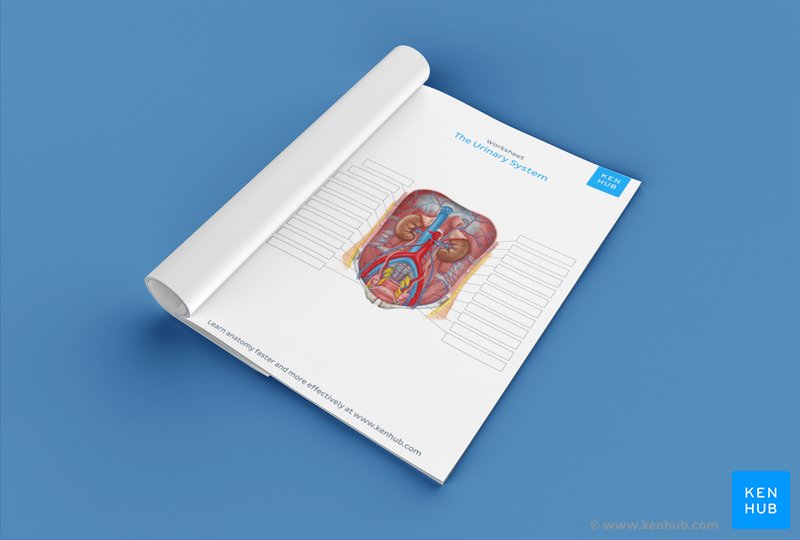 Labeled diagram 
The best way to kick off your revision is with a urinary system diagram which clearly shows all of the structures found within. This gives you the opportunity to get a general feel of the appearance of each structure and their relations to the structures around them. 
Take a look at the urinary system diagram labeled below. You'll notice familiar structures like the bladder and ureters, as well as perhaps less familiar structures such as the renal artery and vein. Don't worry - the next steps in your revision will help you memorise everything. 
Labeling quiz
Now that you've spent some time looking over the urinary system labeled above, it's time to try your hand at labeling the kidneys and others urinary system structures yourself. Enter: our labeling quiz! Click below to download a free unlabeled version of the diagram above and see how you go. You can also download the labeled version to make notes, if you'd like.
Download PDF Worksheet (blank) Download PDF Worksheet (labeled)
Practice test: Interactive quizzes
How did you fare with the labeling exercise? If you struggled to remember everything, no worries. That was just a warm-up. The secret to efficient learning and long term memory consolidation is a little trick called spaced repetition. Spaced repetition works on the basis that repeated exposure to a piece of information along with test questions will help you to meaningfully encode it in your memory. And it works! 
Save time and learn faster! Study the urinary system with anatomy quizzes written by experts. 
All of the urinary system quizzes at Kenhub work on the principle of spaced repetition (as do the quizzes on every topic!), so you can rest assured that they'll help you to learn as quickly and efficiently as possible. Try out some of our urinary system quizzes for yourself by clicking the boxes below.
You'll be able to choose from several different quiz types, including basic and advanced identification and clinical question banks. That's right - spaced repetition and a variety of options to quiz yourself. You'll be confident on the anatomy of the urinary system in no time. 
Did you enjoy learning the urinary system with quizzes and labeled diagrams? Check out our anatomy practice quizzes and diagrams on every topic! 
Urinary system quizzes and labeled diagrams: want to learn more about it?
Our engaging videos, interactive quizzes, in-depth articles and HD atlas are here to get you top results faster.
What do you prefer to learn with?
"I would honestly say that Kenhub cut my study time in half." – Read more.
Kim Bengochea, Regis University, Denver

© Unless stated otherwise, all content, including illustrations are exclusive property of Kenhub GmbH, and are protected by German and international copyright laws. All rights reserved.