Costochondral joint (junction)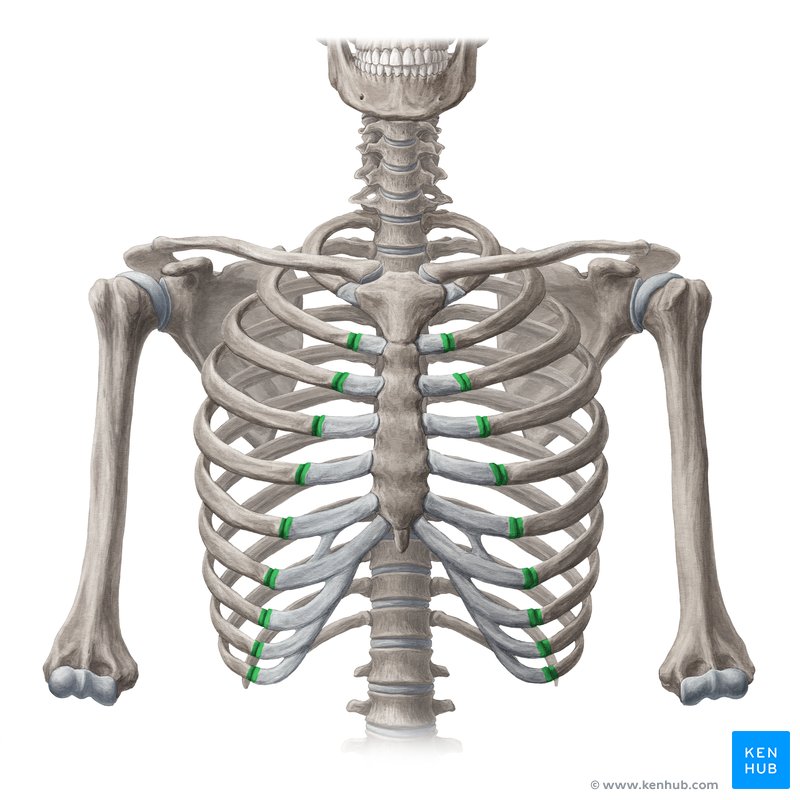 The costochondral joints are joints of the thoracic wall that connect the sternal ends of the ribs and their respective costal cartilages. They are structurally classified as primary cartilaginous joints (synchondrosis) in which bones are joined by hyaline cartilage.
There are ten pairs of costochondral joints between ribs 1-10 and their respective costal cartilages. These joints are immobile and are therefore functionally classified as synarthroses.
Key facts about the costochondral joint

| | |
| --- | --- |
| Type | Primary hyaline cartilaginous joint (synchondrosis); synarthrosis |
| Articular surfaces | Sternal (medial) end of rib, lateral end of costal cartilage  |
| Ligaments | None |
| Innervation | Intercostal nerves |
| Blood supply | Intercostal artery |
| Movements | None |
This article will cover the anatomy and function of the costochondral joints.
Costochondral joint (junction): want to learn more about it?
Our engaging videos, interactive quizzes, in-depth articles and HD atlas are here to get you top results faster.
What do you prefer to learn with?
"I would honestly say that Kenhub cut my study time in half." – Read more.
Kim Bengochea, Regis University, Denver

© Unless stated otherwise, all content, including illustrations are exclusive property of Kenhub GmbH, and are protected by German and international copyright laws. All rights reserved.