Iliocostalis muscle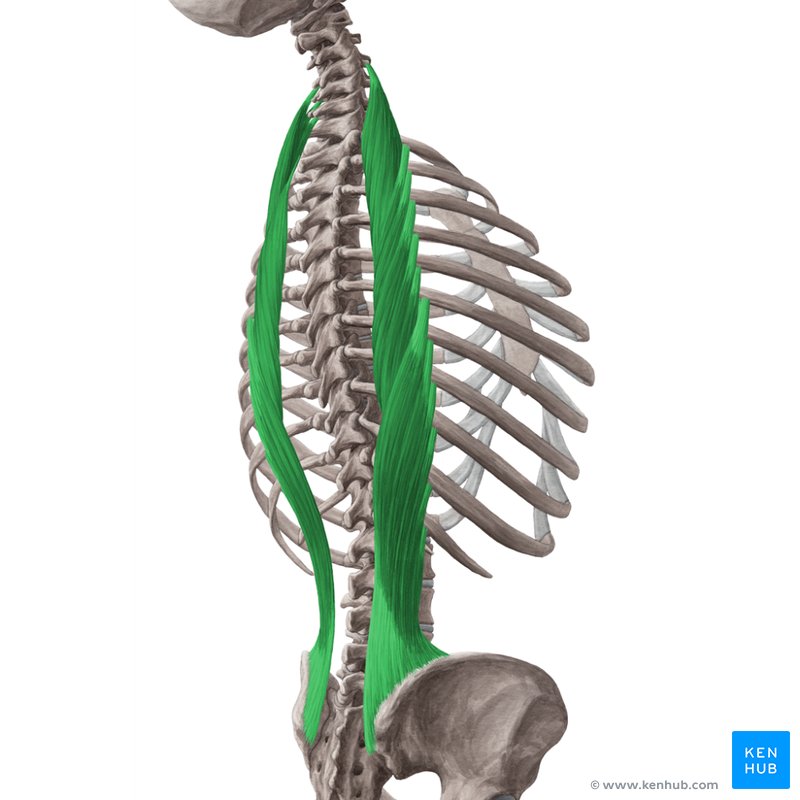 Iliocostalis is a deep back muscle that together with the longissimus and spinalis muscles comprises the erector spinae muscle group. These three muscles of erector spinae are arranged into longitudinal cords, with iliocostalis composing the lateral and longissimus and spinalis making up the intermediate and medial cords, respectively. Iliocostalis is horizontally divided into three regional parts according to their origin; iliocostalis cervicis, iliocostalis thoracis and iliocostalis lumborum.
Being a part of the most powerful extensor of the back, the function of iliocostalis muscle is to extend the spine when contracting bilaterally and to laterally flex the spine when contracting unilaterally.
Key facts about the iliocostalis muscle
Origin
Iliocostalis cervicis: Angle of ribs 3-6
Iliocostalis thoracis: Angle of ribs 7-12
Iliocostalis lumborum: Lateral crest of sacrum, medial end of iliac crest, thoracolumbar fascia
Insertion
Iliocostalis cervicis: Transverse processes of vertebrae C4-C6
Iliocostalis thoracis: Angles of ribs 1-6, transverse process of vertebra C7
Iliocostalis lumborum: Angle of ribs 5-12, transverse processes of vertebrae L1-L4 (+ Adjacent thoracolumbar fascia)
Action
Bilateral contraction: Extension of spine 
Unilateral contraction: Lateral flexion of spine (ipsilateral)
Innervation
Lateral branches of posterior rami of spinal nerves
Blood supply
Iliocostalis cervicis: occipital, deep cervical and vertebral arteries
Iliocostalis thoracis: dorsal branches of posterior intercostal and subcostal arteries
Iliocostalis lumborum: dorsal branches of lumbar and lateral sacral arteries
This article will discuss the anatomy and function of the iliocostalis muscle.
Iliocostalis muscle: want to learn more about it?
Our engaging videos, interactive quizzes, in-depth articles and HD atlas are here to get you top results faster.
What do you prefer to learn with?
"I would honestly say that Kenhub cut my study time in half." – Read more.
Kim Bengochea, Regis University, Denver

© Unless stated otherwise, all content, including illustrations are exclusive property of Kenhub GmbH, and are protected by German and international copyright laws. All rights reserved.