Is Kenhub worth It? A comprehensive review
You're probably reading this article because you've stumbled across Kenhub during your search for the best anatomy study tools. You liked what you read... but you're wondering how it compares to the alternatives. After all, there are many - and choosing the best one for you can be downright confusing! You've likely been left pondering: is Kenhub worth it?

Naturally, we think Kenhub is pretty top notch - and we want to show you why. If you're currently on the fence, this article will help you to weigh up the pros and cons of our platform. Hopefully, once you've finished reading, you'll be able to answer the question of "is Kenhub worth it?" with a resounding "yes"! 
What is Kenhub? 
First, and most importantly - what is Kenhub, anyway?! Allow us to introduce you. 
Kenhub is an online learning platform devoted to helping you learn anatomy faster, smarter and more effectively. We (a team of passionate anatomy geeks) offer extensive materials for learning about gross, histological and radiological (MRI and CT) anatomy. 
Our content is organised into regions of the body, allowing you to learn the human anatomy inch by inch. Once you've chosen the region you'd like to study, you'll find the related topics split into easy-to-digest study units covering all of the structures within that region. 
We believe that the most effective learning occurs when you combine visual, audio and interactive materials. That's why, within each study unit, you'll find four different media types to learn with: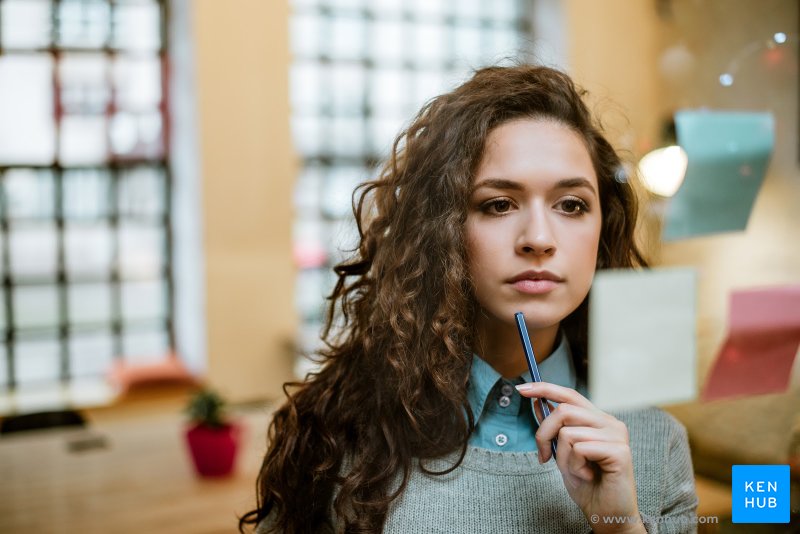 But where to begin? We recommend kicking off your training by diving headfirst into a comprehensive video on your chosen topic. Next, test your understanding with a quiz. Want to advance your knowledge? Read one of our detailed related articles. 


Last but certainly not least, check out the atlas. This will enable you to consolidate your memory of the appearance and location of the structures. Simple - but very effective! And with new topics added all the time, you'll never be stuck for something new to study. 
Choosing the best plan for you 
At Kenhub, we offer both free and Premium plans. To take advantage of a free plan, simply register an account (in a matter of seconds!), and you'll receive full access to our anatomy atlas and articles.
With a Premium plan, you'll have access to absolutely everything at Kenhub: our anatomy atlas, articles, videos and interactive quizzes. Better yet? Our friendly Anatomy Geeks are at hand to answer any anatomy question you may have - you've just got to reach out! There are three different Premium plans available - monthly, yearly and lifetime. Therefore, you're free to choose whichever one suits your needs.
Criteria For the best anatomy study tool
To answer the question of "is Kenhub worth it?", several factors must be taken into account. The fact of the matter is that health science students have a lot of anatomy to learn, in a limited amount of time, and with a limited budget. Therefore, choosing the resource which makes your learning (and your life!) easiest is of paramount importance. Some important questions you may ask when searching for an anatomy study tool are:
Does it offer several ways to learn? 
Is it effective?
Will it save me time? 
Does it allow me to track my progress? 
Is it worth paying for?
Can I use it on all of my devices?
In the following paragraphs, we'll take a closer look at each of these questions.
Does Kenhub offer different ways to learn?
We understand that not everyone loves learning by reading (textbook haters, we're looking at you), so we created a huge library of comprehensive videos and highly effective quizzes to complement our in-depth articles and anatomy atlas.
"I often found my concentration to be insufficient when I read my anatomy atlas. Kenhub's quizzes provided, at least for me, a much more efficient way of learning." - Antti Nuika, Medical Student


Let's take a closer look at each of the media types we offer. 
Quizzes
The quizzes can be used to learn a topic from scratch, or to test yourself on the knowledge you've gained from watching one of our videos or reading one of our articles. You can even customize your difficulty level!
"I really appreciated that if I selected the incorrect answer while taking a quiz, additional review questions were added to my quiz to ensure I had a chance to correct and strengthen my weak spots. Kenhub is by far the most helpful and enjoyable anatomy review tool I've ever used." - Anna Burnett, Anatomy Student

Learning a topic from scratch? Start with a level 1 quiz. Once you're feeling more confident, you can move on to the more advanced levels. Want to test what you've just learned from a video or article? Challenge yourself with an advanced quiz to see if there are any gaps left in your knowledge. 
You can choose from five different quiz types - basic structure identification, advanced structure identification, clinical question banks, muscle facts and customizable quizzes. This variety allows you to learn a topic from every angle possible. 

"There are plenty of textbook atlases and online videos out there but none that both quiz you and adapt to your weak spots. The second order questions, such as "What innervates this muscle?" or "What muscle attaches here?", are perfect." - Aaaron, Osteopathy Student
Got an exam coming up? Use quizzes to go into your exam with confidence.
Videos
At Kenhub, you'll find hundreds of easy-to-follow videos on anatomy and histology. Videos are never longer than 30 minutes and cover everything you need to know about a topic. Best time to watch one? Right at the start of learning a new topic. If you need to, you can speed up or slow down the video to your liking. Want to follow along with the narrator? You'll find the video transcript available to read just underneath the video.
Articles
Our anatomy articles, found at the bottom of every study unit, are perfect for learning a topic in advanced detail. Best time to read an one? After watching a video and taking a quiz, if you're feeling hungry to learn more. Our clinical relevance boxes will help you to build even further on your knowledge. Finding it difficult to actually study anything at all? Check out our learning strategy articles for tips on how to get motivated, stay focused, and learn effectively. 
"I love the articles, especially the clinical relevance boxes at the bottom that connect the anatomical structure to relevant pathologies. I used to have to jump between using Kenhub for the anatomy, and another online resource for the pathology, but now I don't have to." - Alexandra Orfanides, Osteopathy Student
Atlas
An atlas is an anatomy student's bread and butter, and at Kenhub, our color HD atlas has got you covered. Best time to use it? Throughout your studies, as a point of reference.
"I chose Kenhub because the illustrations were gorgeous and the subjects were displayed in isolation (e.g. so I could clearly see the full muscle and it's attachments)." - Anna Burnett, Anatomy Student

Extra Kenhub atlas features:
Multiple images per structure
Muscle facts accompanying each structure
Cross sections, histology slides, and medical imaging like CT & MRI  
Use our anatomy atlas for a foolproof guide to every inch of the human body. 
For the best results, we recommend using all four tools: articles, quizzes, videos and the atlas. Doing so allows you to effectively build on your knowledge step by step, using slightly different learning techniques each time.
Is Kenhub effective?
In a word -  yes! Let us show you how. 
You may have already heard about the technique of spaced repetition. It's the gold standard of learning, understanding and memorising information. But before we explore this technique, let's take a quick overview of the science of short-term memory.
Famously defined by Atkinson and Shiffrin back in 1968, our short-term memory (also commonly synonymised with working memory) has a duration of approximately 18 seconds. If newly learned information is not reflected on and rehearsed during this time, it will not get encoded and sent to our long term memory stores. Practically speaking, this means that the five pages of information you just read in your anatomy textbook without active rehearsal or recall... well, it's very unlikely to stick around until your exam. 
Enter: spaced repetition. Spaced repetition is based on active recall - that is, testing your knowledge of previously learned information at regular intervals, just as you're most likely to forget it. Do this, and you can get ready to slide into the exam hall with a head full of properly consolidated, ready to use information. Thankfully, spaced repetition is the secret sauce powering the learning materials at Kenhub. And that secret sauce is a big part of what makes our study tools so effective. 
Check out our article on the importance of active recall for learning anatomy to learn more.


Of course, spaced repetition isn't everything. Information needs to be easy to understand and enjoyable if you're going to be in with a chance of remembering it. Not to mention: not everybody learns in the same way. Some people like to read, while others like to learn by trial and error, as with a quiz. That's why, at Kenhub, we offer four different methods for learning a topic: an atlas, articles, videos and quizzes. 
"Textbooks are marvellous things but I find it to be a little overwhelming at times with how much information is required to be digested and memorised. The visual cues and quizzes from Kenhub are quite grounding and refreshing, and are brilliant with memorisation!" - Tracey McNamara, Health Sciences student

If we compare this to a textbook, which provides only written text, a few images and - if you're lucky - some revision questions, it's clear that Kenhub is the better choice if you're concerned with keeping boredom at bay. After all, if you're bored and disillusioned with your topic of study, you're more likely to let your efforts slide, sending you head-first and first class into the procrastination vortex. And we don't need to tell you how ineffective that is. 
Wondering if Kenhub is worth it when compared to the most popular anatomy textbooks? Check out the benefits of Kenhub.
Does Kenhub save you time?
This will depend on how you are used to learning, and how effective it has proven for you so far. Do you spend hours reading an anatomy textbook, only to discover that the information is nowhere to be retrieved from your brain come the end of the day?

If so, your current study methods are probably not doing much for you. And by extension, they are probably not helping you to utilise your available study time efficiently. If, on the other hand, your current methods are helping you to understand and effectively remember what you need to learn, you may not require an extra resource like Kenhub. 

"I would honestly say that Kenhub cut my study time in half; it was a much more efficient way to learn anatomy for me than just looking at static pictures and struggling over how to correctly pronounce words." - Kim Bengochea, Physiotherapy Student

We try hard to make our study tools fun and engaging, while also employing the aforementioned technique of spaced repetition for maximum efficiency. The combination of enjoyable study tools and a scientifically proven technique for encoding knowledge therefore make it a time saver indeed. It prevents you from procrastinating (a big time waster) and it enables you to actually remember what you've studied. No rote memorization (aka: a disaster for long term retention of knowledge) to be found here.


Literally speaking, our study materials are also short and digestible. Our comprehensive videos are rarely longer than 30 minutes long, and our articles can be consumed in full without causing you to fall into a glazed-over stupor. As for our quizzes - what could be more time-saving than the ability to learn and test yourself at the same time?

So is Kenhub worth it from a time-saving perspective? We believe so.
Does Kenhub allow you to track your progress?
Yes! We keep you up to date with how many articles, videos, quizzes and atlas sequences you've consumed, so you can keep track of how you're doing. For Kenhub Premium members, you'll be given a number and percentage score based on your quiz performance, which is then saved for the next time you attempt it.

As you progress through the quiz, the questions you've got wrong will automatically start to appear more often. This helps you hone in on and master the areas you're struggling with. To quiz yourself on only the topics you struggle with most, you can create your own personalised quiz using our custom quiz builder. 
Oh, and worry not - your statistics are saved across all of your devices (mobile, tablet and desktop), so you'll never be sent back to square one.
Is Kenhub worth paying for?
There are few things more disappointing than stumbling across an awesome looking anatomy study tool and getting excited that you've finally found the one… only to clock the price and immediately dismiss it. 
We understand that money doesn't grow on trees - and especially not for students. But we also know that free courses and non-profit websites rarely contain the same level of quality and quantity put into them as a professional platform does. Producing such high quality illustrations, videos, articles and quizzes costs a lot of time and money.

Therefore, we provide as many free learning resources as possible to registered members on our Basic plan (cost-free, ad-free and not limited in time), with the option to pay for a more comprehensive learning experience on one of our Premium plans. Whichever plan you choose, we're confident that you'll be rewarded with a fun, engaging and supportive learning experience.
"Kenhub is great value, easy to navigate and find what you want to study. I just didn't get that from other websites." - Erin Kirby, Nursing Student
With a Kenhub Premium account, you have access to absolutely everything we offer. However, you can choose the length of your membership (and therefore, your access) based on your specific requirements.
Our Lifetime Plan is highly popular given its offering of unlimited-in-time access to Kenhub Premium learning tools, including updates. Sure, it's more expensive than a textbook - but who buys just one textbook? Usually, you'll need to buy several for each of the topics covered on your course. One for anatomy, one for histology, one for medical imaging in the later years, and so on. It's never-ending! 
Let's take the popular Gray's Anatomy Atlas. It's a fantastic anatomy atlas, there's no denying it. But, as a textbook, it simply cannot offer the variety of interactive learning materials and ongoing support as you'll receive at Kenhub.

And let's not forget how boring a textbook can be. With Kenhub, you'll have fun learning anatomy, histology and medical imaging - and all on one platform, and for one price. Cost effective? We think so.
"In detail, looking at an anatomy atlas is daunting because we (medical students) know nothing and it's hard to know where to start. The sequential build-up of knowledge on kenhub with someone actually explaining things is really good in my view. Moreover, the quizzes are very helpful - and something textbooks lack." - Reilley, Medical Student
Wondering which plan is best suited to you? Learn more here.
Does Kenhub work on all devices?
Of course! Kenhub is fully optimised to work on your mobile, tablet and desktop. Therefore, it's perfect for learning wherever you go! Waiting in the queue at the post office? You can whip out your phone and take advantage of the free time with a quick anatomy quiz. Can you do that with a textbook? Well… technically, yes. But who could be bothered with the hassle?
 
No matter how small your screen, the Kenhub website will adapt to it seamlessly *sigh of relief*. And no matter which browser you're using, you can use our website to its fullest potential.


So there you have it: a comprehensive review. What do you think - is Kenhub worth it? Is it the best anatomy study tool out there? We'll let you be the judge of that. No resource will ever be 100% perfect, but Kenhub is certainly a rare breed of enjoyable, effective and supportive all in one. What have you got to lose? Give it a try for free today. 
Whichever anatomy study tool you pick, we wish you the best! 
Summary
Kenhub is an online learning platform that teaches you gross, histological and radiological (MRI, CT and X-ray) anatomy faster, smarter and more effectively than your textbooks. 
You can learn anatomy at Kenhub with a variety of learning tools - an atlas, detailed articles, video tutorials and five different types of quizzes.
Our videos and quizzes are powered by spaced repetition - a scientifcally proven study technique that tests your knowledge at periodic intervals, right as you're about to forget it.

Kenhub allows you to track your progress as you work your way through content. Your quiz scores are automatically recorded. Your "weak spots" are highlighted based on your previous quiz attempts, so you'll always know what you need to spend more time studying. 

A Basic Kenhub Membership gives you access to a color HD atlas, full articles and Latin and English terminology options.

A Kenhub Premium membership gives you everything you get with a Basic Membership plus access to in-depth videos, interactive quizzes, exam style question bank quizzes, customizable quizzes and access to our team of friendly anatomy geeks. 

Kenhub can be used across all of your devices - desktop, tablet and mobile. Your progress will be saved, no matter which device you use. 

© Unless stated otherwise, all content, including illustrations are exclusive property of Kenhub GmbH, and are protected by German and international copyright laws. All rights reserved.