Basic medical terminology 101: Learn with quizzes
Medical terms can be a pain to learn, understand, differentiate between, and remember. But like it or lump it, to do so is an essential rite of passage as an anatomy or healthcare student!

Thankfully, there are several resources available to help you learn. Keep calm and continue reading to discover our tried-and-tested favorites. You're going to have basic medical terminology down in no time.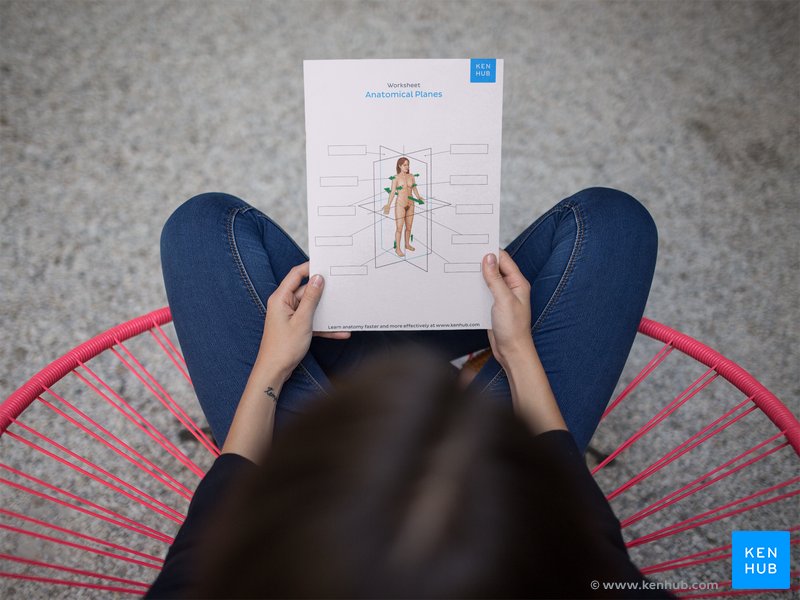 Basic medical terminology 
Let's first watch this video to learn about the why it is necessary to learn medical terminology:
Wondering about the most common terminology you'll come across when learning anatomy? Anatomical planes and directional terms are two of them. 
Anatomical what? We hear you say. Anatomical planes are imaginary planes which cut the body into sections relative to the standard anatomical position. Directional terms refer to the positions of bodily structures in relation to one another. You'll come across this basic medical terminology frequently in your anatomy books (and at Kenhub!) - so it's a good idea to get clued up on the what, why and where.
Looking to expand your knowledge of basic medical terminology? Our online anatomy courses and classes will get your knowledge up to scratch in no time. 
Labeled anatomical planes diagram
Luckily, we've created some labeled and unlabeled diagrams which show you all of the anatomical planes, as well as some directional terms, on one image. Take a look at the one below to familiarise yourself. Once you're feeling confident, you can try using our unlabeled diagram, which requires you to write in the name of each plane and directional term yourself. Are you up to the challenge?
Unlabeled anatomical planes diagram
To use this diagram, strain your brain to remember the name of each anatomical plane you learned from the labeled diagram above. Then, fill in the blanks on the diagram with the correct medical term. 
Download PDF Worksheet (blank) Download PDF Worksheet (labeled)
If you're struggling, you might like to spend a bit more time honing your knowledge with some medical terminology quizzes. Keep on reading to find out how they can help you. 
Medical terminology quizzes
A medical terminology quiz is an ideal way to familiarize yourself with all of these strange new medical terms. The clever spaced repetition algorithm at Kenhub learns which terms you need more practice with, and automatically provides you with more quiz questions on those terms. It's the fastest and most effective way to learn. 
The bad news is that basic medical terminology doesn't stop at anatomical planes and directional terms. There are also several types of body movements to learn, as well as cavities of the body, male and female body surface anatomy, types of joints… the list goes on! The good news is that whatever medical terminology you need to learn, we have a quiz to help you out. So what are you waiting for? Let's give it a try!
Browse some of our top terminology quizzes below.
Enjoying using our quizzes and labeled diagrams to learn anatomy? Don't miss our free anatomy quiz guides on every topic! 
Basic medical terminology 101: Learn with quizzes: want to learn more about it?
Our engaging videos, interactive quizzes, in-depth articles and HD atlas are here to get you top results faster.
What do you prefer to learn with?
"I would honestly say that Kenhub cut my study time in half." – Read more.
Kim Bengochea, Regis University, Denver

© Unless stated otherwise, all content, including illustrations are exclusive property of Kenhub GmbH, and are protected by German and international copyright laws. All rights reserved.