Digestive system quizzes and free learning tools
When it comes to digestive system anatomy, there are several organs, arteries, veins, and nerves to familiarise yourself with. It can feel a little overwhelming, but with the right tools, it doesn't need to be. Keep reading to see our recommendations for getting started.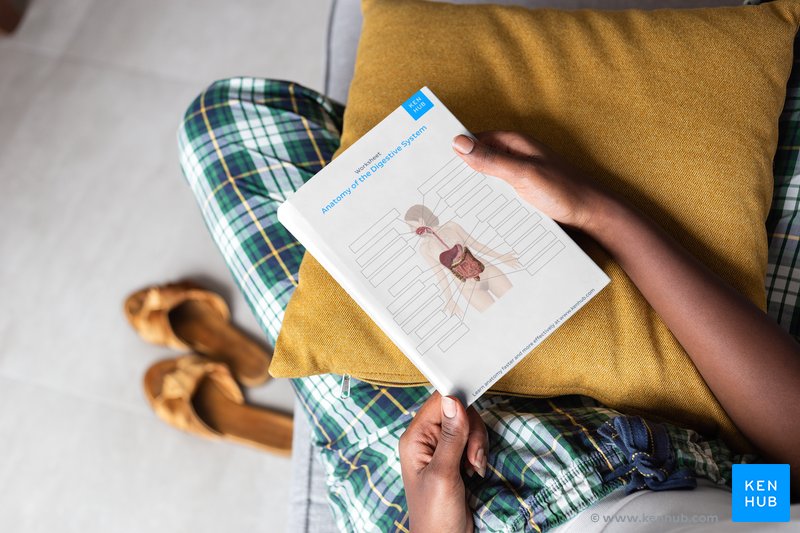 Digestive system labeling: What - and Why?
One of our favorite ways to ease ourselves into learning a new topic is with labeled and unlabeled diagrams. The digestive system is a vast area full of interesting structures. Being able to visualize them with the help of a labeled diagram will get you feeling more familiar with the appearance, location, and neighboring anatomy of each one of them in no time.
In order to really familiarize yourself with the digestive system, it's also a great idea to draw the different structures. Here's how you can master drawing the human body. 
Free Digestive System Diagrams
To help you out, we've included a labeled diagram of the digestive system below. Spend a few minutes studying this, then test your knowledge by filling in your own, blank (unlabeled) digestive system diagram. 
Download PDF Worksheet (blank) Download PDF Worksheet (labeled)
Afterwards, see how you got on by comparing your answers to the original diagram. Maybe you passed your digestive system labeling attempt with flying colors, or maybe you still need a bit of extra help. No worries! Look no further than our digestive system quizzes. 
Digestive System Quizzes
Ultimately, the fastest and most effective way to learn about the digestive system is by utilizing digestive system quizzes. Sounds logical, right? It is. And luckily for you, we've got plenty of them. At Kenhub, you'll find digestive system questions on everything from the structures of the liver to the veins of the small intestine.
Benefits of Quizzes
Why are quizzes so effective? Simply put, the more you question yourself, the more you'll test your memory, and the more your knowledge will grow. One of the best things about quizzes, however, is that there's no one best time to use them. You can use them right at the beginning of your quest to learn digestive system anatomy, or later down the line to revise what you already know. They're ideal for every stage of your learning.
With more than 50+ digestive system quizzes in our database and counting, you're sure to find some digestive system questions to help you. Browse our top picks below.
Do you find quizzes and labeled diagrams useful for learning anatomy? Check out our free anatomy quiz guides on every topic! 
Digestive system quizzes and free learning tools: want to learn more about it?
Our engaging videos, interactive quizzes, in-depth articles and HD atlas are here to get you top results faster.
What do you prefer to learn with?
"I would honestly say that Kenhub cut my study time in half." – Read more.
Kim Bengochea, Regis University, Denver

© Unless stated otherwise, all content, including illustrations are exclusive property of Kenhub GmbH, and are protected by German and international copyright laws. All rights reserved.