Respiratory system quizzes and labeled diagrams
Full to the brim with interesting but arguably complex anatomy and development, the respiratory system may feel a little confusing to the anatomy apprentice. But fear not - with a bit of practice and dedication, you can certainly kick confusion to the kerb.
In this article, we're going to share with you some effective ways to do just that. Ready to have all of your respiratory system questions answered? Good - let's get started!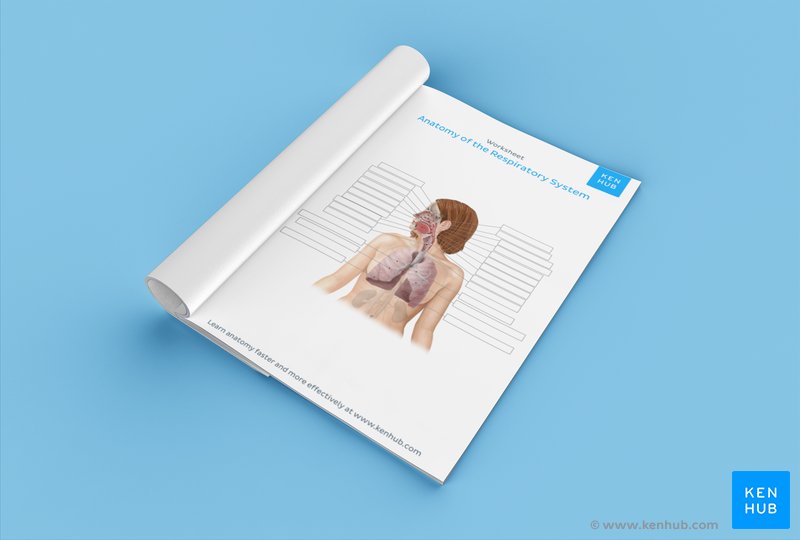 Overview diagrams 
A logical but nonetheless highly effective way to get acquainted with new anatomy terms is to utilise labeled and unlabeled diagrams. With a labeled diagram, you can see all of the main structures of an organ system together on one page - great for helping you to memorise the appearance of several structures and their relations. Unlabeled diagrams can then help you to put your memory to the test.
Below, you'll find the respiratory system labeled and unlabeled on two separate diagrams. Keep reading to find out how you can use them. 
Respiratory system labeled
Take a look at the labeled diagram of the respiratory system above. As you can see, there are several structures to learn. Spend a few minutes reviewing the name and location of each one, then try testing your knowledge by filling in your own diagram of the respiratory system (unlabeled) using the PDF download below. 
Respiratory system unlabeled
Once you've filled in your diagram of the respiratory system (unlabeled), it's time to compare notes with the labeled version. Did you nail it? Or do you need a little more practice? No worries! Look no further than our respiratory system quizzes. 
Download PDF Worksheet (blank) Download PDF Worksheet (labeled)
Respiratory system questions
Have you discovered the power of using quizzes to learn anatomy, yet? If not, let us introduce you. Quizzes are a highly effective and enjoyable way to learn a new topic. In fact, they can even be used to revise what you already know.
Did you know that you can learn the respiratory system with games? Start gaming your way to anatomy success now. 
Luckily for you? We've got plenty of respiratory system quizzes containing questions on everything from the lymphatics of the lungs to the bronchi, bronchioles and alveoli. Try one right now!
Check out some more of our top picks about the respiratory system below.
Are quizzes an effective learning tool for you? Check out our A-Z guide to using anatomy practice quizzes to learn every topic! 
Respiratory system quizzes and labeled diagrams: want to learn more about it?
Our engaging videos, interactive quizzes, in-depth articles and HD atlas are here to get you top results faster.
What do you prefer to learn with?
"I would honestly say that Kenhub cut my study time in half." – Read more.
Kim Bengochea, Regis University, Denver

© Unless stated otherwise, all content, including illustrations are exclusive property of Kenhub GmbH, and are protected by German and international copyright laws. All rights reserved.