Atlantoaxial joint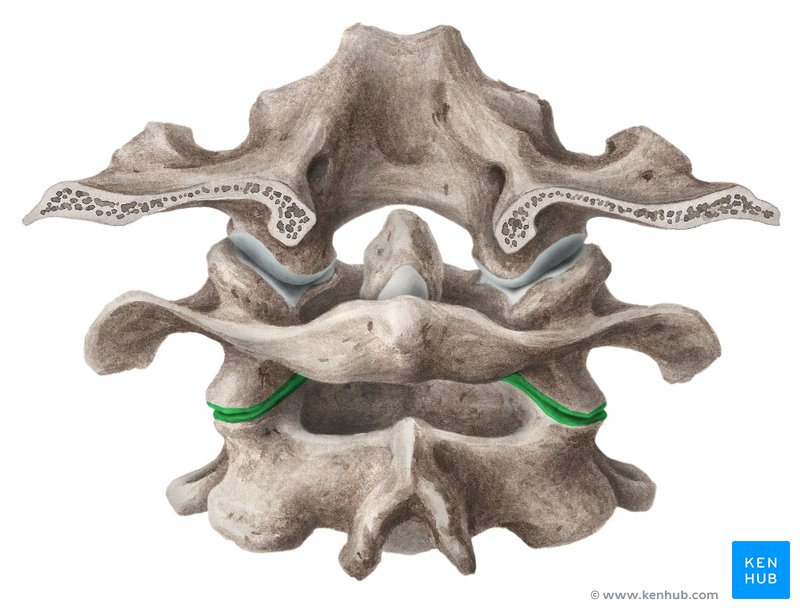 The atlantoaxial joint is a complex joint between the atlas (C1) and the axis (C2). It is composed of three synovial joints; one median atlantoaxial joint and two lateral atlantoaxial joints. 
The median atlantoaxial joint is formed between the dens of axis and an osteoligamentous ring of the atlas anteriorly and transverse ligament posteriorly. It is classified as a pivot joint. The lateral atlantoaxial joints are bilateral joints formed between the lateral masses of the atlas and axis. These joints are classified as gliding, or plane joints.
The primary movement of the atlantoaxial joint complex is rotation. In rotation the atlas together with the head, rotate around the dens of axis. This movement allows us to turn our head to look towards the left or towards the right. This is also the movement that allows us to shake our head in the familiar 'no' pattern.
Key facts about the atlantoaxial joint
Type
Atlantoaxial joint complex: Synovial joint; biaxial
Articular surfaces
Median atlantoaxial joint: dens of axis (C2), osteoligamentous ring (anterior arch of atlas [C1], transverse ligament of atlas)
Lateral atlantoaxial joints: inferior articular surface of lateral mass for atlas, superior articular facet of axis
Ligaments
Cruciform ligament (transverse ligament of atlas, superior and inferior longitudinal bands), tectorial membrane, alar ligaments, apical ligament of dens
Innervation
Ventral primary ramus of the second cervical spinal nerve
Blood supply
Deep cervical, occipital, vertebral arteries
Movements
Principal movement; axial rotation, 
Limited flexion, extension, lateral flexion
This article will discuss the anatomy and function of the atlantoaxial joint.
Atlantoaxial joint: want to learn more about it?
Our engaging videos, interactive quizzes, in-depth articles and HD atlas are here to get you top results faster.
What do you prefer to learn with?
"I would honestly say that Kenhub cut my study time in half." – Read more.
Kim Bengochea, Regis University, Denver

© Unless stated otherwise, all content, including illustrations are exclusive property of Kenhub GmbH, and are protected by German and international copyright laws. All rights reserved.