External intercostal muscles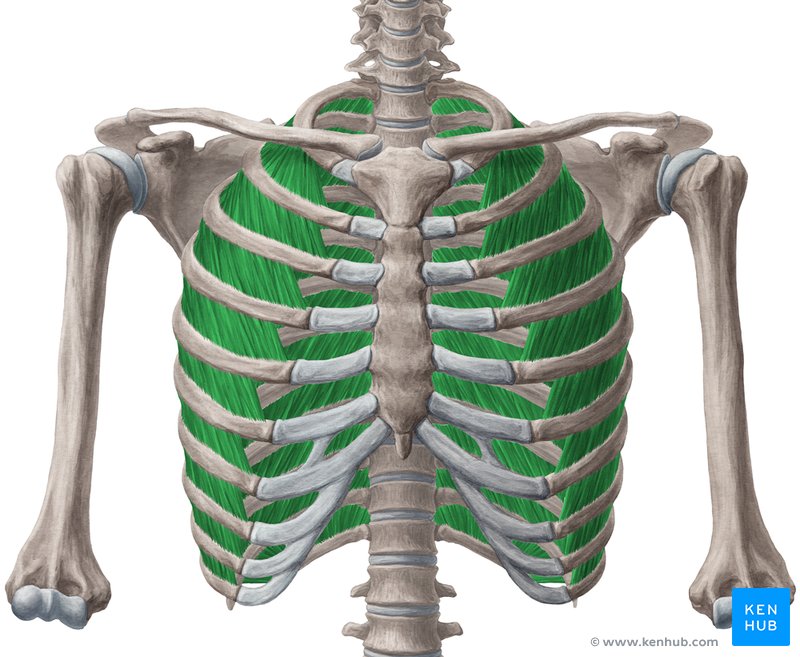 The external intercostal muscles are the most superficial set of muscles that occupy the 11 intercostal spaces. Their name is derived from their spatial relationship with other intercostal muscles, since they are found superficially to the internal and innermost intercostals. The intercostal muscles, together with serratus posterior, levatores costarum, subcostal, and transversus thoracis muscles comprise the muscles of the thoracic wall. 
The external intercostal muscles elevate the ribs during forced inhalation and are functionally classified as the accessory respiratory musculature. Additionally, all three groups of intercostal muscles maintain the stability of the thoracic cage.
Key facts about the external intercostal muscles

| | |
| --- | --- |
| Origin | Inferior border of ribs |
| Insertion | Superior border of immediate rib below |
| Action | Elevate ribs during forced inspiration; Supports intercostal spaces and thoracic cage |
| Innervation | Intercostal nerves |
| Blood supply | Anterior and posterior intercostal arteries |
This article will teach you all you need to know about the anatomy and function of the external intercostal muscles.
External intercostal muscles: want to learn more about it?
Our engaging videos, interactive quizzes, in-depth articles and HD atlas are here to get you top results faster.
What do you prefer to learn with?
"I would honestly say that Kenhub cut my study time in half." – Read more.
Kim Bengochea, Regis University, Denver

© Unless stated otherwise, all content, including illustrations are exclusive property of Kenhub GmbH, and are protected by German and international copyright laws. All rights reserved.