Inferior pharyngeal constrictor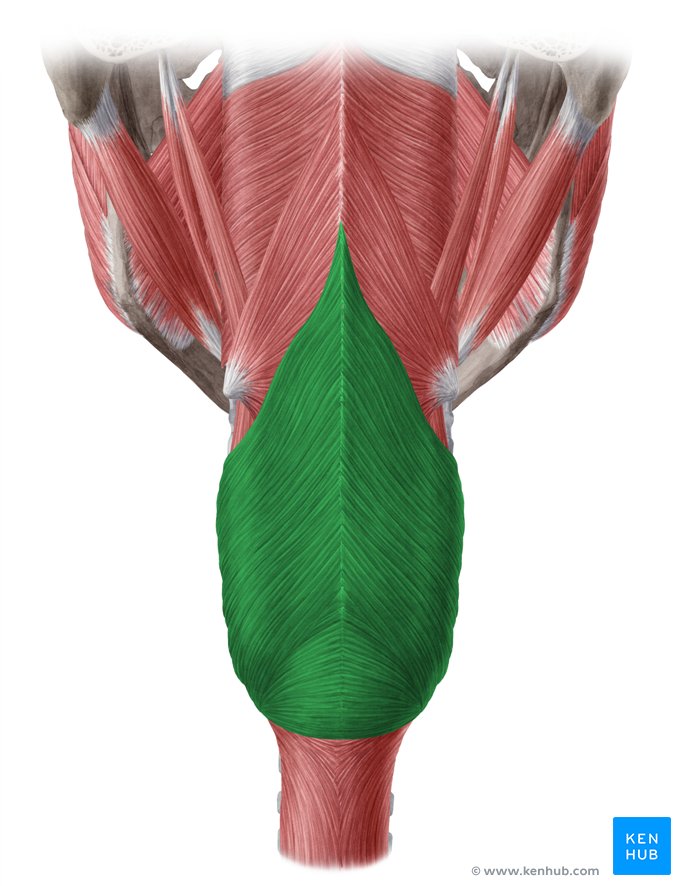 The inferior pharyngeal constrictor is a muscle of the pharynx that, together with the superior and middle pharyngeal constrictors, forms the posterior and lateral walls of laryngopharynx.
The function of this muscle is to facilitate food propagation towards the esophagus by constricting the wall of pharynx during deglutition. In addition, the inferior part of this muscle forms the upper esophageal sphincter. Along with the external urethral and anal sphincters, this is one of the only three sphincters in the body comprised of skeletal muscle tissue.
This article will discuss the anatomy and function of the inferior pharyngeal constrictor.
Key facts about inferior pharyngeal constrictor
Origin
Thyropharyngeal part: Oblique line of thyroid cartilage
Cricopharyngeal part: Cricoid cartilage
Insertion
Thyropharyngeal part: Median pharyngeal raphe
Cricopharyngeal part: Blends inferiorly with circular esophageal fibers
Action
Constricts wall of pharynx during swallowing
Innervation
Both parts: Branches of pharyngeal plexus (CN X)
Cricopharyngeal part: also receives branches of external and/or recurrent laryngeal branches of vagus nerve (CN X)
Blood supply
Pharyngeal branch of ascending thyroid artery, muscular branches of inferior thyroid artery.
Inferior pharyngeal constrictor: want to learn more about it?
Our engaging videos, interactive quizzes, in-depth articles and HD atlas are here to get you top results faster.
What do you prefer to learn with?
"I would honestly say that Kenhub cut my study time in half." – Read more.
Kim Bengochea, Regis University, Denver

© Unless stated otherwise, all content, including illustrations are exclusive property of Kenhub GmbH, and are protected by German and international copyright laws. All rights reserved.