Neurovasculature of the head and neck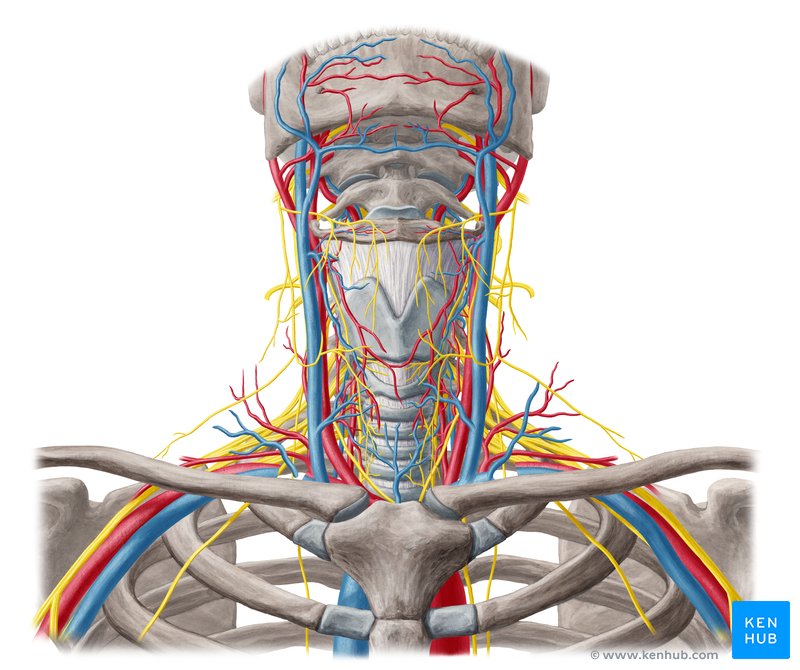 The head and neck are more than just features used to identify your friends or relatives. They are complex anatomical entities that are supplied by an equally complicated neurovascular network.
The most important arteries and nerves of the head and neck are the following:
Internal and external carotid arteries
Vertebral arteries
Cervical plexus
Head and cervical lymph nodes
In this page, we're going to study each of the above structures together with their respective branches.
Key facts about the neurovasculature of the head and neck
Arteries
External carotid arteries: superior thyroid, ascending pharyngeal, lingual, facial, occipital, posterior auricular, maxillary, and superficial temporal arteries
Internal carotid arteries: caroticotympanic, vidian, tentorial basal, tentorial marginal, meningeal, clivus, inferior hypophyseal, ophthalmic, superior hypophyseal, posterior communicating, anterior choroidal, anterior cerebral, middle cerebral arteries
Vertebral arteries: ascend to the brain within the transverse foramina of the cervical vertebrae, giving off meningeal, muscular and spinal branches to nearby structures
Thyrocervical trunk: inferior thyroid, ascending cervical, transverse cervical and suprascapular arteries

Veins
Facial, vertebral and thyroid (inferior, middle, superior) veins which drain into the jugular veins (internal, external).
Nerves
Cranial nerves: olfactory, optic, oculomotor, trochlear, trigeminal, abducent, facial, vestibulocochlear, glossopharyngeal, vagus, accessory, and hypoglossal nerves
Cervical plexus: 
- Sensory branches: lesser occipital, great auricular, transverse cervical, supraclavicular
- Motor branches: ansa cervicalis, phrenic nerve, nerve to rhomboids, nerve to serratus anterior

Lymph nodes
Head: Fascial, submandibular, parotid, submental, sublingual, mastoid and occipital groups
Neck: upper horizontal chain, lateral cervical group (superficial, deep), anterior cervical chain

Neurovasculature of the head and neck: want to learn more about it?
Our engaging videos, interactive quizzes, in-depth articles and HD atlas are here to get you top results faster.
What do you prefer to learn with?
"I would honestly say that Kenhub cut my study time in half." – Read more.
Kim Bengochea, Regis University, Denver

© Unless stated otherwise, all content, including illustrations are exclusive property of Kenhub GmbH, and are protected by German and international copyright laws. All rights reserved.