Esophagus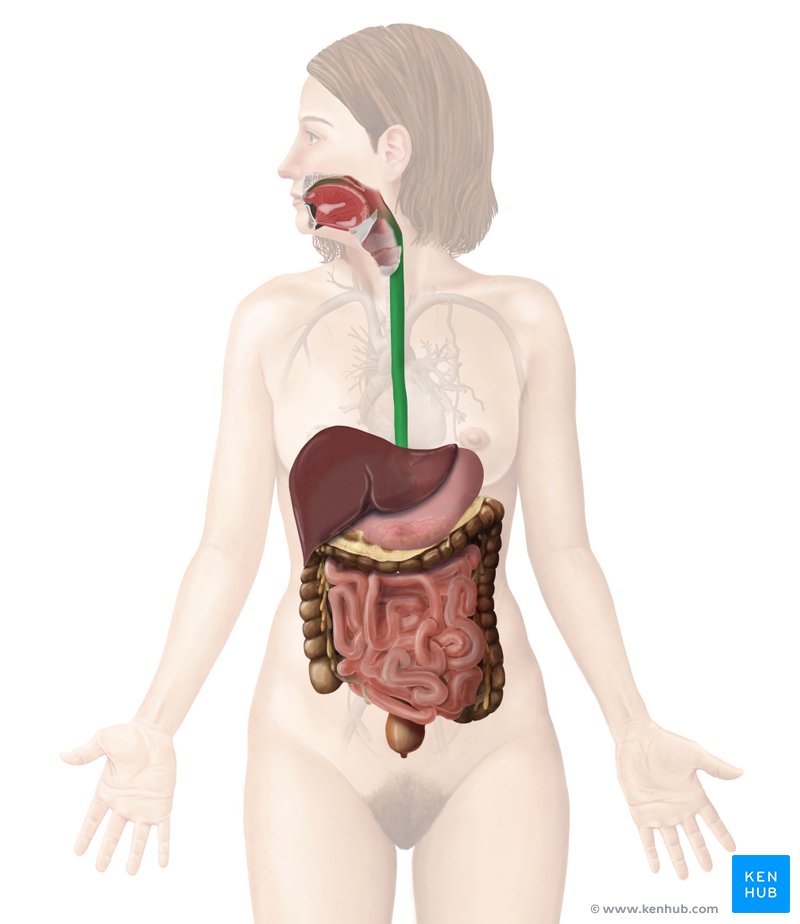 The esophagus (oesophagus) is a 25 cm long fibromuscular tube extending from the pharynx (C6 level) to the stomach (T11 level). It consists of muscles that run both longitudinally and circularly, entering into the abdominal cavity via the right crus of the diaphragm at the level of the tenth thoracic vertebrae. It actively facilitates the passage of the food bolus into the stomach under precise nervous regulation. Therefore, it is part of the digestive system.
In this page we'll learn more about this control, as well as the anatomy, sphincters, blood supply, and innervation of the esophagus.
Key facts about the esophagus
Course
Oral cavity -> mediastinum -> right crus of diaphragm -> stomach
Innervation
Esophageal nervous plexus
Blood supply
Esophageal branches of the thoracic aorta, azygos, hemiazygos, accessory hemiazygos veins
Lymphatics
Inferior deep cervical, posterior mediastinal, intercostal, paratracheal, superior and inferior tracheobronchial lymph nodes
Histology
Mucosa: nonkeratinized stratified squamous epithelium, lamina propria, smooth muscle layers
Submucosa: esophageal glands and papillae
Muscularis externa: striated muscle on the upper third, smooth and striated muscles in the middle third, smooth muscle in the lower third
Adventitia: fibroareolar adventitia

Esophagus: want to learn more about it?
Our engaging videos, interactive quizzes, in-depth articles and HD atlas are here to get you top results faster.
What do you prefer to learn with?
"I would honestly say that Kenhub cut my study time in half." – Read more.
Kim Bengochea, Regis University, Denver

© Unless stated otherwise, all content, including illustrations are exclusive property of Kenhub GmbH, and are protected by German and international copyright laws. All rights reserved.