Internal jugular vein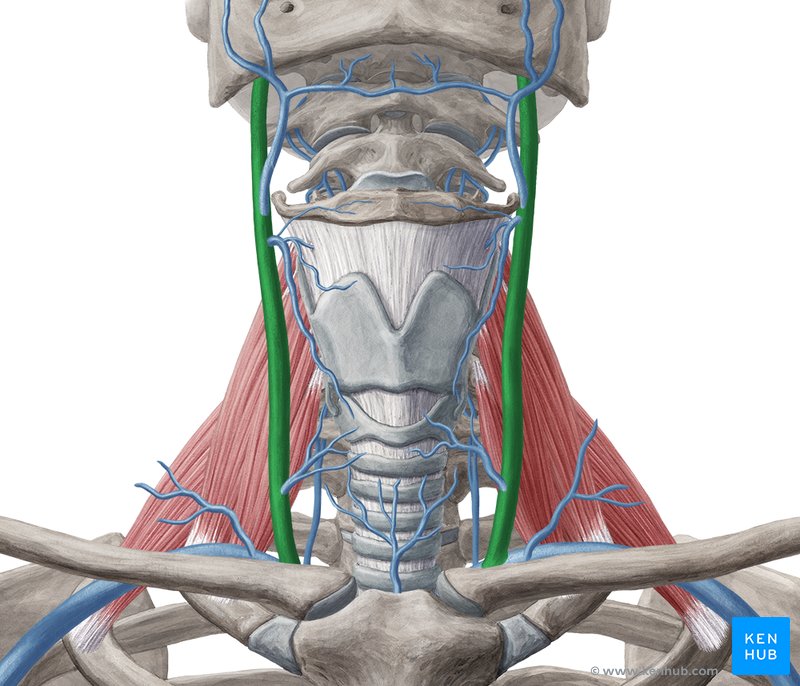 The internal jugular vein (IJV) is a paired vessel found within the carotid sheath on either side of the neck. It extends from the base of the skull to the sternal end of the clavicle.
The internal jugular vein receives eight tributaries along its course. Its function is to drain the venous blood from the majority of the skull, brain, and superficial structures of the head and neck.
This article will discuss the anatomy and function of the internal jugular vein.
Key facts about the internal jugular vein

| | |
| --- | --- |
| Drains from | Sigmoid sinus |
| Tributaries | Inferior petrosal sinus, vein of cochlear duct, meningeal veins, pharyngeal venous plexus, lingual vein, common facial vein, sternocleidomastoid vein, superior and middle thyroid vein |
| Drains to | Brachiocephalic vein |
| Drainage area | Brain, skull, oral cavity, superficial structures of face and neck |
Internal jugular vein: want to learn more about it?
Our engaging videos, interactive quizzes, in-depth articles and HD atlas are here to get you top results faster.
What do you prefer to learn with?
"I would honestly say that Kenhub cut my study time in half." – Read more.
Kim Bengochea, Regis University, Denver

© Unless stated otherwise, all content, including illustrations are exclusive property of Kenhub GmbH, and are protected by German and international copyright laws. All rights reserved.