Palmaris longus muscle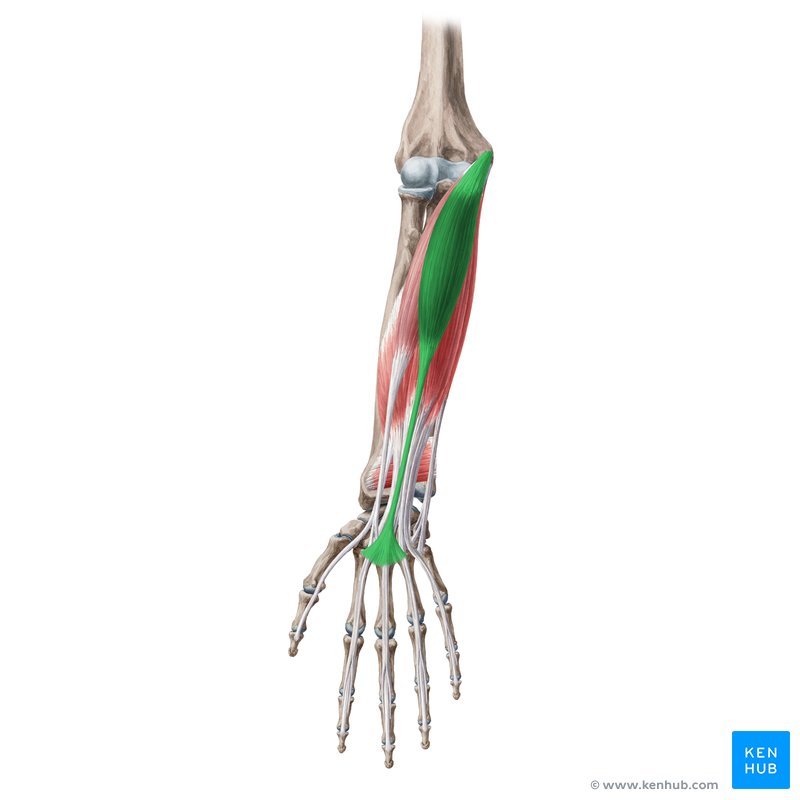 Palmaris longus is a long muscle of the anterior forearm. It extends from the distal humerus to the root of the hand, although it can be absent in 10% of people. Together with the pronator teres, flexor carpi ulnaris, flexor carpi radialis and flexor digitorum superficialis muscles, Palmaris longus belongs to the superficial flexors of the forearm.
Besides flexing the hand on the wrist, these muscles have their own additional actions. The specific actions of palmaris longus are wrist flexion and tensioning the palmar aponeurosis. This muscle plays an important function in the anatomy of the grip.
This article will discuss the anatomy of palmaris longus muscle.
Key facts about the palmaris longus muscle
Origin
Medial epicondyle of humerus
Insertion
Flexor retinaculum, palmar aponeurosis
Action
Wrist joint: Wrist flexion;
Tenses palmar aponeurosis

Innervation
Median nerve (C7, C8)
Blood supply
Anterior ulnar recurrent artery, median artery
Palmaris longus muscle: want to learn more about it?
Our engaging videos, interactive quizzes, in-depth articles and HD atlas are here to get you top results faster.
What do you prefer to learn with?
"I would honestly say that Kenhub cut my study time in half." – Read more.
Kim Bengochea, Regis University, Denver

© Unless stated otherwise, all content, including illustrations are exclusive property of Kenhub GmbH, and are protected by German and international copyright laws. All rights reserved.