Metacarpophalangeal (MCP) joints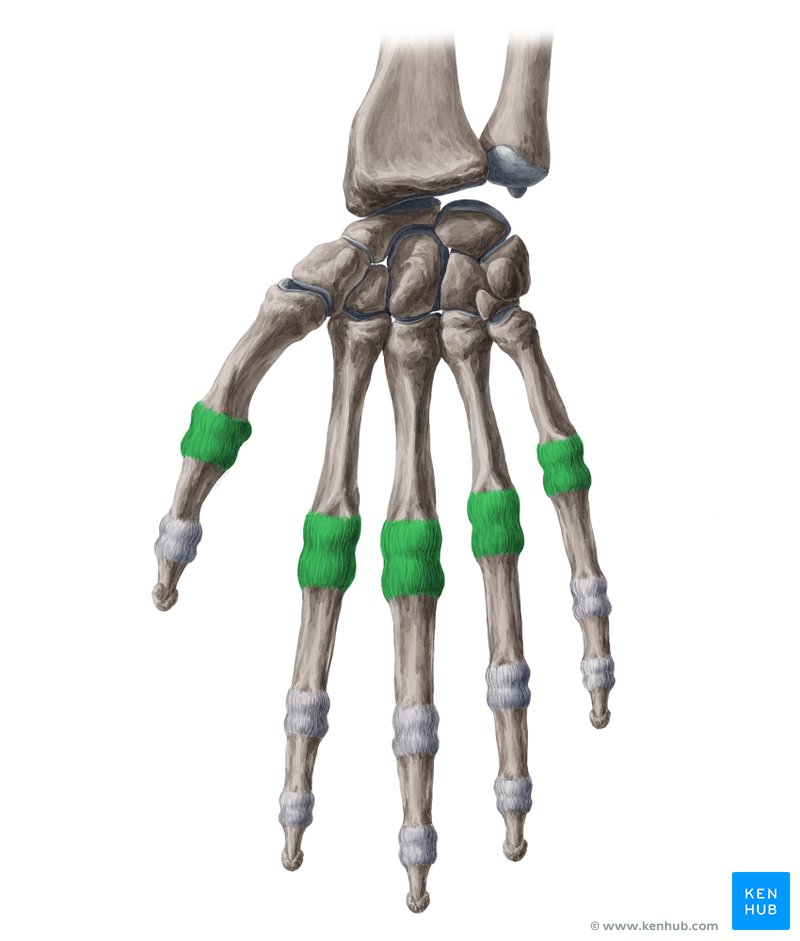 The metacarpophalangeal joints (MCP) are a collection of condyloid joints that connect the metacarpus, or palm of the hand, to the fingers. There are five separate metacarpophalangeal joints that connect each metacarpal bone to the corresponding proximal phalanx of each finger.
Each metacarpophalangeal joint is formed by the convex heads of the metacarpal bones which are received by the concave bases of the proximal phalanges.
The primary movements of the metacarpophalangeal joints are flexion, extension, abduction, adduction, circumduction and limited rotation. These joints play an important role in the functionality of the hand providing stability and flexibility of the fingers which is facilitated by the ligaments, joint capsule, and adjacent musculotendinous structures.
This article will discuss the anatomy and function of the metacarpophalangeal joints.
Key facts about the metacarpophalangeal joints
Type
Synovial, condyloid joint
Articular surfaces
Heads of the distal aspect of the metacarpal bones
Proximal aspects of the phalanges

Ligaments
Collateral ligament, palmar ligament, deep transverse metacarpal ligaments
Innervation
Posterior interosseous nerve, deep terminal branch of ulnar nerve, palmar branches of median nerve
Blood supply
Princeps pollicis artery, radialis indicis artery, common palmar digital arteries, dorsal metacarpal arteries, palmar metacarpal arteries
Movements
Flexion, extension, adduction, abduction, circumduction and limited rotation
Clinical relations
Gamekeeper's thumb is a fairly common injury of the ulnar collateral ligament of the MCP of the thumb. The most common way to injure this ligament is by falling onto an outstretched arm with an abducted thumb. This injury is most commonly seen in skiers with a ski pole in the hand, which prevents the adduction of the thumb. It is not particularly easy to diagnose this condition since it is usually combined with damages of other hand structures. Most commonly, the combination of physical examination with some kind of imaging procedure is sufficient (x-ray or MRI). Mild injuries are usually treated with physical therapy while the complete ruptures and tears require a surgical approach.
Metacarpophalangeal (MCP) joints: want to learn more about it?
Our engaging videos, interactive quizzes, in-depth articles and HD atlas are here to get you top results faster.
What do you prefer to learn with?
"I would honestly say that Kenhub cut my study time in half." – Read more.
Kim Bengochea, Regis University, Denver

© Unless stated otherwise, all content, including illustrations are exclusive property of Kenhub GmbH, and are protected by German and international copyright laws. All rights reserved.