Pronator quadratus muscle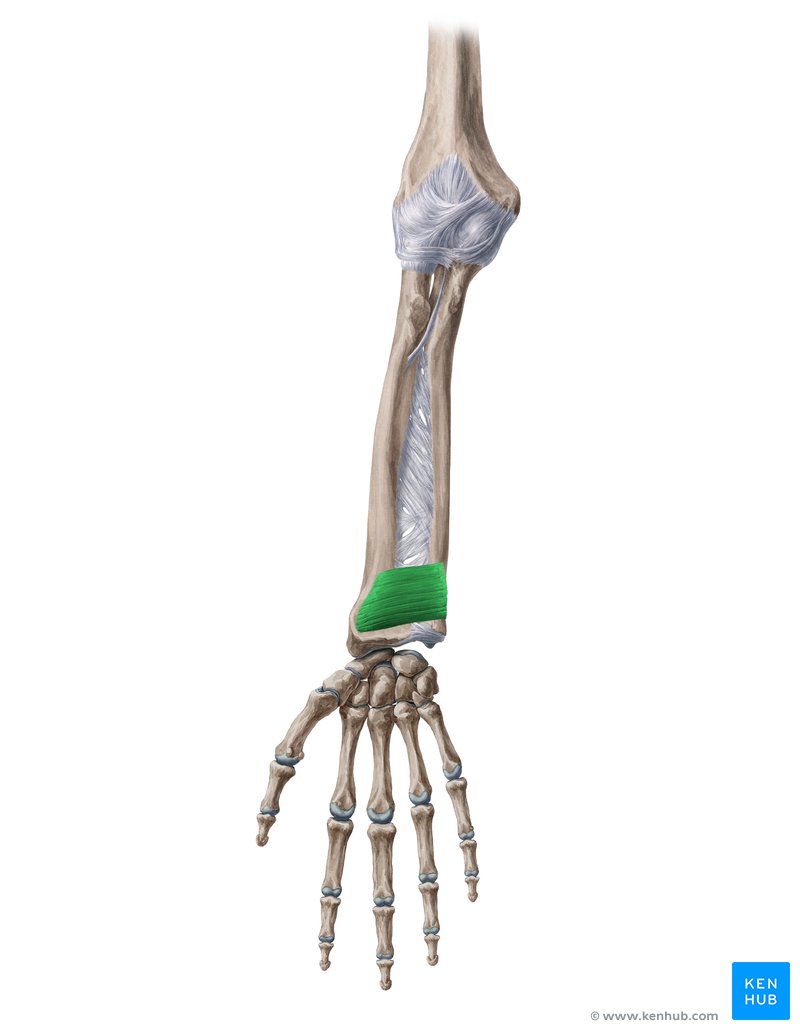 Pronator quadratus is a quadrangular, thin, short and flat muscle lying within the anterior compartment of forearm. It is part of the deep group of forearm flexors, together with flexor digitorum profundus and flexor pollicis longus. These three muscles are overlaid by the superficial group of forearm flexors.
Pronator quadratus extends across the distal parts of the radius and ulna. As the name implies, the main function of this muscle is forearm pronation.
Thanks to your pronator quadratus, you can turn your forearm and palm in order to write or type on a computer. These actions are possible due to nervous transmission by the median nerve which supplies this muscle.
Key facts about the pronator quadratus muscle

| | |
| --- | --- |
| Origins | Distal anterior surface of ulna |
| Insertion | Distal anterior surface of radius |
| Actions | Proximal radioulnar joint: Forearm pronation |
| Innervation | Median nerve (anterior interosseous nerve, C7, C8) |
| Blood supply | Anterior interosseous artery |
This article will discuss the anatomy and functions of the pronator quadratus muscle.
Pronator quadratus muscle: want to learn more about it?
Our engaging videos, interactive quizzes, in-depth articles and HD atlas are here to get you top results faster.
What do you prefer to learn with?
"I would honestly say that Kenhub cut my study time in half." – Read more.
Kim Bengochea, Regis University, Denver

© Unless stated otherwise, all content, including illustrations are exclusive property of Kenhub GmbH, and are protected by German and international copyright laws. All rights reserved.