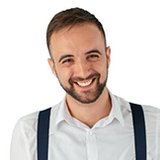 Roberto Grujičić MD
Medical Content
Dr. Roberto Grujičić is a Child and Adolescent Psychiatry resident at the Institute of Mental Health, Belgrade, Serbia.
Roberto has graduated from the School of Medicine, Belgrade in 2017 and has been listed by the Ministry of Health as one of the top 100 students in his year.
Dr. Grujičić is an active scientific and clinical researcher. Working with prestigious healthcare and social care organizations such as UNICEF, UNHCR, WHO and Autism Speaks, he has authored and co-authored several research papers on children's mental health and well-being. Some of his publications have been published in well-known and impactful scientific journals, among which are Frontiers in Psychiatry and European Neuropsychopharmacology.
Currently, Roberto is working on his PhD in Epidemiology, exploring factors related to child disciplining at home in Serbia. His current research has been published by UNICEF.
Connect with Roberto
Our medical review process
Kenhub helps students from around the world to learn better. We are committed to providing healthcare students with high-quality, reliable and accurate information about the human body. All information on our website is grounded on academic literature and research, validated by experts, and trusted by more than 2 million users. We follow the highest educational and scientific standards. The authors of our articles are medical students, junior doctors, or postgrads who are passionate about anatomy, histology and medical education. Kenhub does not offer medical advice. Read more.