Psoas minor muscle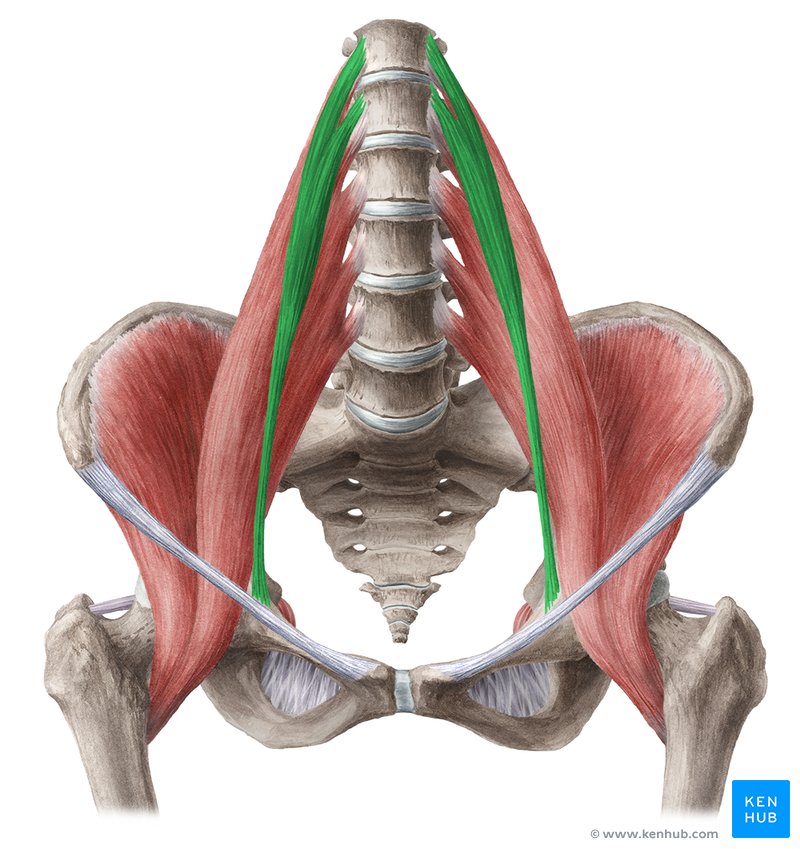 The psoas minor is a thin, paired muscle of the posterior abdominopelvic region. It is located on the anterior aspect of the psoas major muscle, but does not extend with it beyond the inguinal ligament. Despite its close relation to the psoas major muscle, the psoas minor is not considered part of the iliopsoas muscle complex.
The psoas minor is an inconsistent muscle, found only in a certain part of the population. When present, it acts on the lumbar spine to produce a weak flexion of the trunk.
This article will cover the anatomy and function of the psoas minor muscle.
Quick facts about the psoas minor muscle

| | |
| --- | --- |
| Origin  | Vertebral bodies of T12 & L1 vertebrae |
| Insertion | Iliopubic eminence, pecten pubis |
| Blood supply | Lumbar arteries |
| Innervation  | Anterior ramus of spinal nerve L1 |
| Action | Weak trunk flexion |
Psoas minor muscle: want to learn more about it?
Our engaging videos, interactive quizzes, in-depth articles and HD atlas are here to get you top results faster.
What do you prefer to learn with?
"I would honestly say that Kenhub cut my study time in half." – Read more.
Kim Bengochea, Regis University, Denver

© Unless stated otherwise, all content, including illustrations are exclusive property of Kenhub GmbH, and are protected by German and international copyright laws. All rights reserved.