Hip and thigh anatomy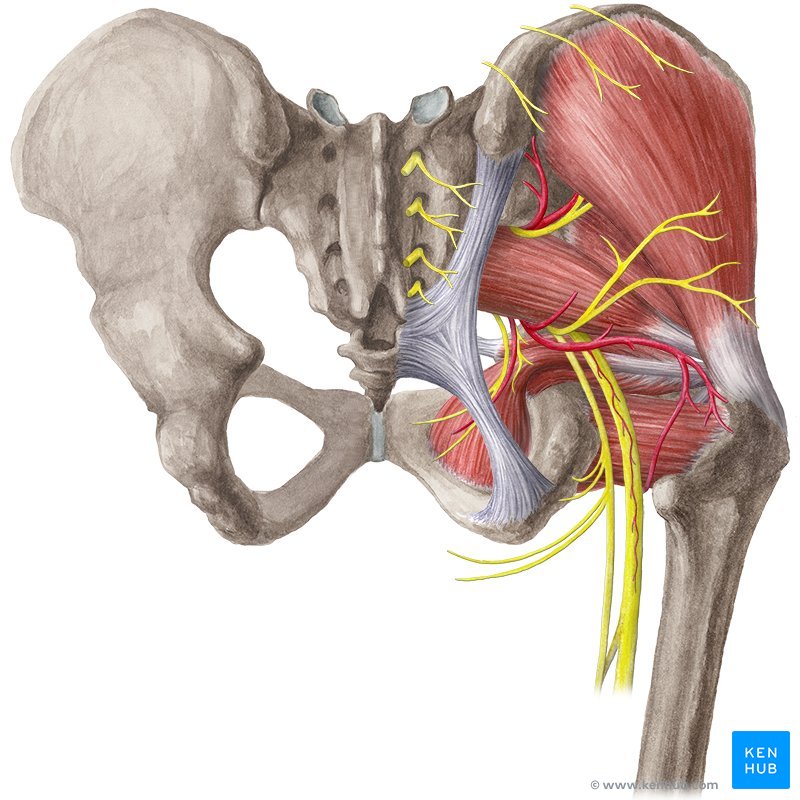 If you've ever watched the videos for Shakira's Hips don't lie or Justin Timberlake's Can't stop the feeling, you must've wondered how these artists can create such a wide range of hip movements. Well, they have exactly the same anatomy as all of us who use those muscles to support us while we spend countless hours sitting studying the textbooks. Shakira and Justin just use the hip and thigh anatomy to its full potential.
In this page, we will focus on the anatomy of the hip and thigh, and discover the incredible functions of this part of the human body. 
Key facts about the hip and thigh
Pelvis
Bones: hip bones, sacrum, coccyx
Joints: pubic symphysis, sacroiliac, sacrococcygeal

Femur
Proximal end, shaft, distal end

Hip joint
Ball and socket joint formed by the femur and acetabulum of the pelvis
Ligaments: annular ligament of the hip, transverse acetabular, iliofemoral, pubofemoral, ischiofemoral

Hip muscles
Gluteal muscles: gluteus maximus, gluteus medius, gluteus minimus, tensor fasciae latae
Inner hip muscles: iliacus, psoas major, psoas minor, obturator externus, obturator internus, superior gemellus, inferior gemellus, piriformis, quadratus femoris muscles

Thigh muscles
Anterior thigh muscles: sartorius, rectus femoris, vastus medialis, vastus lateralis, vastus intermedius
Posterior thigh muscles: biceps femoris, semimembranosus, semitendinosus
Medial thigh muscles: gracilis, pectineus, adductor longus, adductor brevis, adductor magnus, obturator externus

Hip and thigh anatomy: want to learn more about it?
Our engaging videos, interactive quizzes, in-depth articles and HD atlas are here to get you top results faster.
What do you prefer to learn with?
"I would honestly say that Kenhub cut my study time in half." – Read more.
Kim Bengochea, Regis University, Denver

© Unless stated otherwise, all content, including illustrations are exclusive property of Kenhub GmbH, and are protected by German and international copyright laws. All rights reserved.