Temporal muscle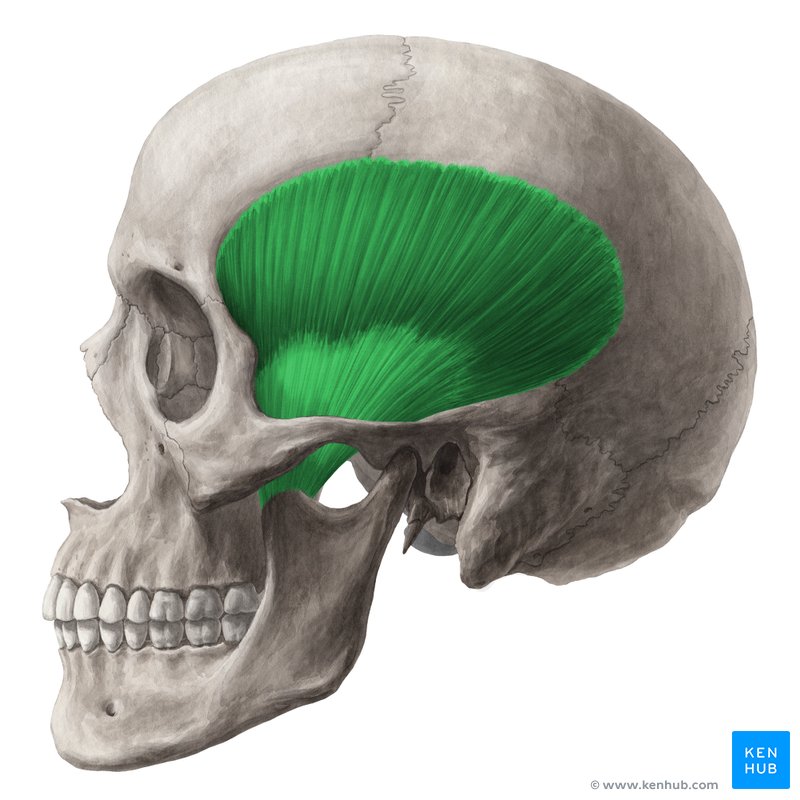 The temporalis muscle is a thin, fan-shaped muscle situated within the temporal fossa of the skull. Along with the medial pterygoid, lateral pterygoid and masseter muscles, it belongs to the group masticatory muscles. The temporalis muscle runs superficially, from the temporal bone to the coronoid process of mandible.
The main function of this muscle is to produce the movements of the mandible at the temporomandibular joint and thus facilitate the act of mastication. Its anterior portion moves the mandible dorsocranially (elevation) while its posterior fibers pull the mandible posteriorly (retrusion).
Key facts about the temporalis muscle
Origin
Temporal fossa (up to inferior temporal line), Temporal fascia
Insertion
Apex and medial surface of coronoid process of mandible
Action
Anterior fibres: Elevates mandible 
Posterior part: Retracts mandible
Innervation
Deep temporal branches (of mandibular nerve (CN V3))
Blood supply
Deep temporal branches of maxillary artery, middle temporal branches from superficial temporal artery
In this article, we will discuss the anatomy and function of the temporalis muscle.
Clinical aspects
Tension of the temporal muscle can induce pain in the temporal area. Common causes include:
misalignments of the teeth and jaws
trauma
a prolonged immobilisation (e.g. after a mandibular fracture)
teeth grinding (bruxism)
a dental intervention during which the person's mouth had to be open for a long period of time.
Clinically, it is important to rule out an inflammation of the superficial temporal artery, which runs in front of the ear along the zygomatic arch to the temporal area. Vasculitides, such as the giant cell arteritis, frequently involve the superficial temporal artery and cause swelling and massive pain in the temporal area. The diagnosis can be confirmed by a temporal artery biopsy.
Temporal muscle: want to learn more about it?
Our engaging videos, interactive quizzes, in-depth articles and HD atlas are here to get you top results faster.
What do you prefer to learn with?
"I would honestly say that Kenhub cut my study time in half." – Read more.
Kim Bengochea, Regis University, Denver

© Unless stated otherwise, all content, including illustrations are exclusive property of Kenhub GmbH, and are protected by German and international copyright laws. All rights reserved.