Trapeziometacarpal joint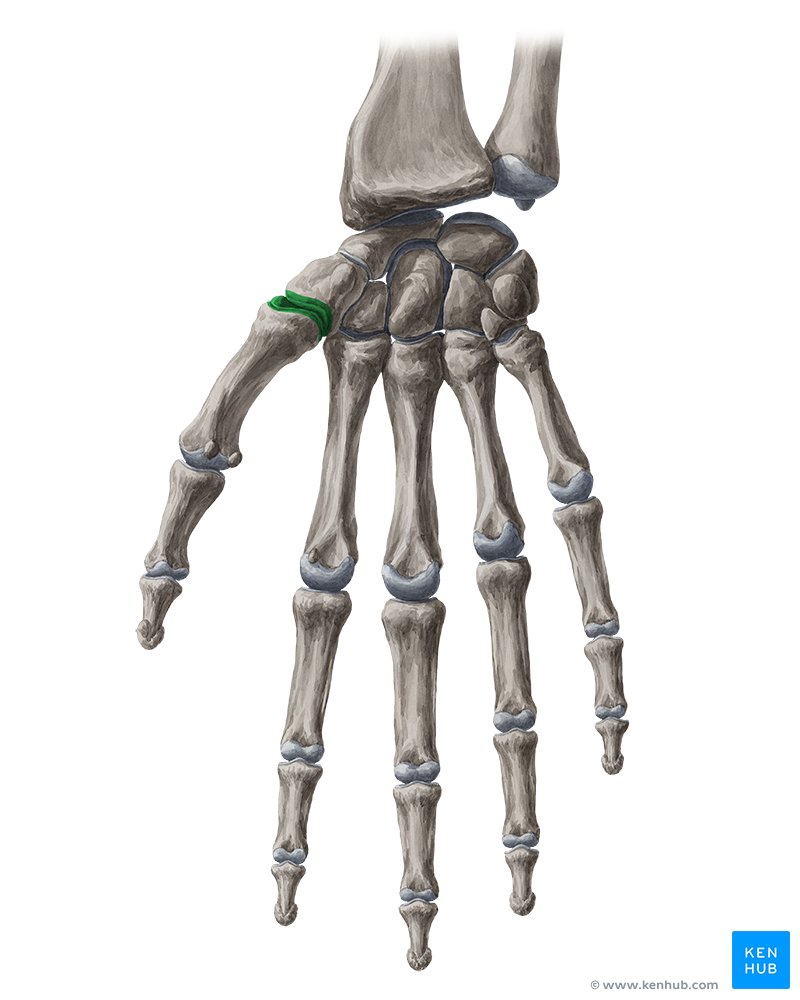 The trapeziometacarpal joint is the articulation between the trapezium and the base of the first metacarpal bone. Along with the common carpometacarpal joint, it is one of the two joints of the hand whose function is to connect the distal surface of the carpus with the proximal surface of the metacarpus. You may also see this joint referred to as the carpometacarpal joint (CMCJ) of thumb or the basal joint of the thumb.
The trapeziometacarpal joint is a synovial saddle joint. It is a multiaxial joint, allowing the movements in three degrees of freedom; flexion-extension, abduction-adduction, and axial rotation.
Key facts about the trapeziometacarpal joint

| | |
| --- | --- |
| Type | Synovial saddle joint; multiaxial |
| Articular surfaces | Distal surface of trapezium, proximal surface of metacarpal bone 1 |
| Ligaments | Radial carpometacarpal ligament, anterior oblique ligament, posterior oblique ligament |
| Innervation | Anterior interosseous nerve, posterior interosseous nerve (C7, C8) |
| Blood supply | Palmar carpal arch, dorsal carpal arch |
| Movements | Flexion-extension, abduction-adduction, opposition |
This article will discuss the anatomy and function of the trapeziometacarpal joint.
Trapeziometacarpal joint: want to learn more about it?
Our engaging videos, interactive quizzes, in-depth articles and HD atlas are here to get you top results faster.
What do you prefer to learn with?
"I would honestly say that Kenhub cut my study time in half." – Read more.
Kim Bengochea, Regis University, Denver

© Unless stated otherwise, all content, including illustrations are exclusive property of Kenhub GmbH, and are protected by German and international copyright laws. All rights reserved.