Metacarpal bones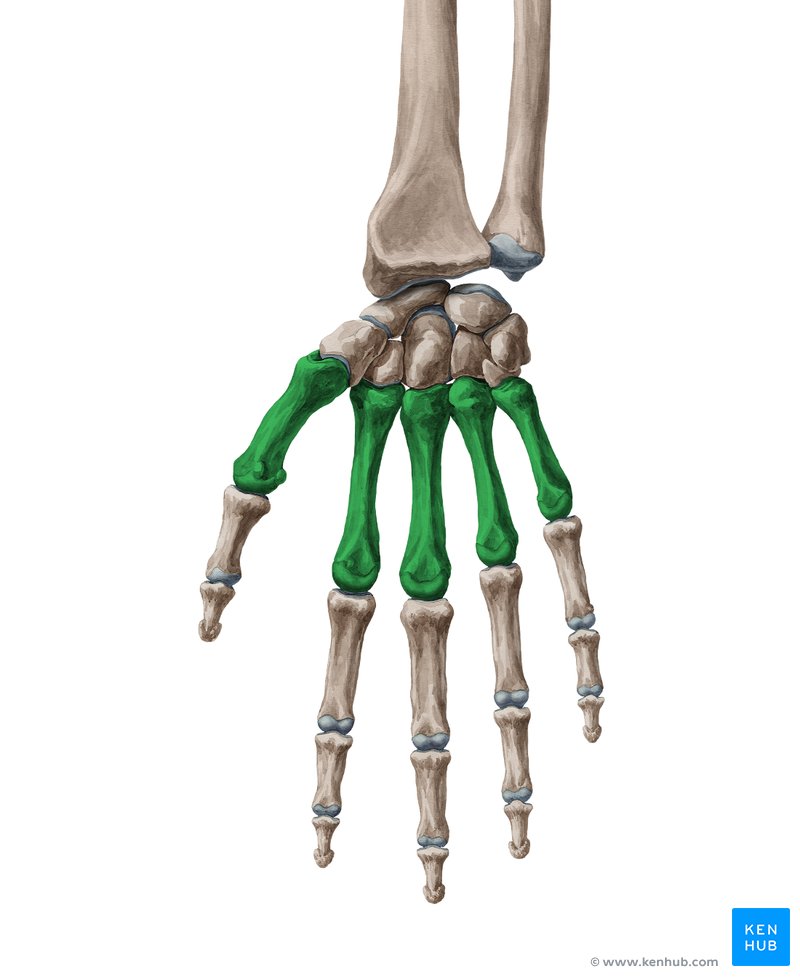 The metacarpus is a group of five bones of the hand between the phalanges and the carpus. Even though the metacarpal bones are small, they are classified as long bones since they have structural characteristics of long bones; each metacarpal bone consists of a shaft, distal head and a wide proximal base.
The metacarpal bones articulate with the carpal bones with their proximal ends (bases), and with the proximal phalanges via their distal ends (heads). They are labeled with numbers 1-5 going in the radio-ulnar direction.
This article will discuss the anatomy and function of the metacarpal bones.
Key facts about the metacarpal bones
Type
Long bones
Parts
Base, shaft, head
Joints
Carpometacarpal joints
Metacarpophalangeal joints

Metacarpal bones: want to learn more about it?
Our engaging videos, interactive quizzes, in-depth articles and HD atlas are here to get you top results faster.
What do you prefer to learn with?
"I would honestly say that Kenhub cut my study time in half." – Read more.
Kim Bengochea, Regis University, Denver

© Unless stated otherwise, all content, including illustrations are exclusive property of Kenhub GmbH, and are protected by German and international copyright laws. All rights reserved.