Wheater's Functional Histology: Review
As a health science student, you are likely well aware of the approach to the subject of histology adopted by most textbooks - pages upon pages of text dotted with occasional images. Are you yawning yet? Luckily, armed with the saving grace that is  'Wheater's Functional Histology: A Text and Atlas', you won't have to for much longer.
Pros and cons of Wheater's Functional Histology

| | |
| --- | --- |
| Pros | Emphasis on illustrations, limited amount of text, review tables, clinical boxes, online 'Student consult' (also known as extra learning resources) |
| Cons | Limited clinical knowledge, no summaries, ineffective quizzes (not customizable), being a textbook (big, thick, heavy, pricey) |
In contrast to 99% of textbooks on the market, this resource takes histology teaching and turns it on its head. 'Wheater's Functional Histology', as it is more commonly known, contains pages upon pages of labeled images dotted with explanations, helping you to learn the fundamentals. In other words, it enables you to fill your brain with 'functional histology' - the aspects that really matter and that you will use during your clinical practice. Not everyone becomes a pathologist, so learning histology for the sake of becoming an encyclopedia is not everyone's cup of tea. 
This article will discuss 'Wheater's Functional Histology' and provide you with its pros and cons, revealing why it might be an attractive histology learning resource for you - or not! As with everything in life, it's not perfect by any means. So let's take a closer look.
Wheater's Functional Histology 6th Edition
Format
Similar to anatomy, histology teaching has also suffered dramatic changes over the past few decades. According to S. Bradbury's review and the authors of the first edition of this textbook, 'the time available for the study of [...] histology has been much reduced.' while 'students now favour [...] principles rather than detailed morphology'. The bottom line is that histology has bored many generations of students because the function and structure of tissues were studied in isolation, with the focus being on the latter (also known as the most boring of the two).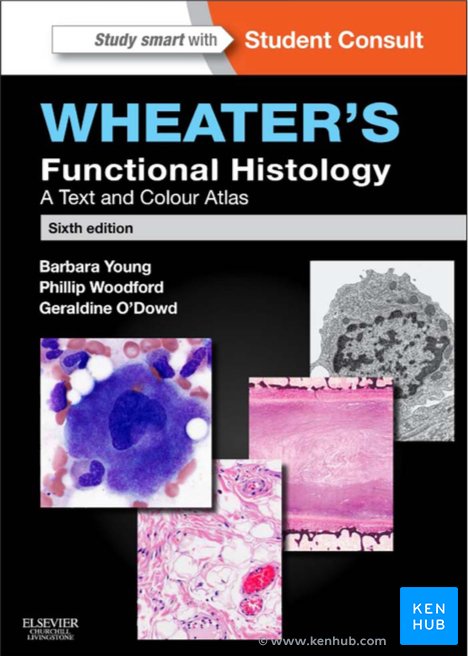 'Wheater's Functional Histology' tried to tackle these problems ever since 1979, when the first edition was published. Three decades later, the sixth edition was published by Elsevier Churchill Livingstone in 2013. It has inched closer to its goal with every new publication - to teach histology in the most logical way possible so that students can understand, learn and remember the fundamentals of this subject. 
The format of the textbook is very clear and straightforward (unlike the subject it teaches):
Section 1 - The cell as an entity (structure, function, cell cycle, and replication)
Section 2 - Basic tissue types (blood, connective tissue, epithelium, muscle, nervous)
Section 3 - Organ systems (all fourteen ones present in every human being)
'Section 4'/Appendices - Microscopy and staining techniques
So far so good, but there is nothing sparkling in the overall format, since many histology textbooks follow this presentation or organization to a T. However, the magic happens once you open each chapter and start to read it. Instead of being bombarded with pages of text, you are hit with pages full of histology images with 'special legends' - a triad of label explanations, morphology, and functions, intelligently intertwined in explanatory columns or boxes floating around each image. Basically, the illustrations are the big dogs and they run the show in 'Wheater's Functional Histology 6th Edition' rather than merely supporting the text - an aspect that truly makes this book stand out from the crowd.
Versions
As we live in the technology era where people read electronic books, textbooks do not want to straddle along and risk being left behind. Instead, they are increasingly adapting to the digital world fit the demand. 'Wheater's Functional Histology 6th Edition' is in a similar boat and comes in many flavors, both as a paperback and an eBook, ready to suit your needs. If you want to get your hands on one, it costs you anywhere from $48 USD for the electronic copy up to $57 USD for a brand new paperback. Of course, this depends on availability, discounts offered, and promotions. You might think this is thrifty if you compare it to other books on the market, but if you take into account that the book is 'only' 452 pages long, you actually end up paying the standard market price for it. So it's not a bargain by any means.
Additional resources
If you look at the world's most renowned, helpful, and used health science textbooks, you will find one aspect in common in all of them - additional learning resources. Traditionally known as 'Student Consults', your heart springs with joy when you see them because they usually mean one thing - varied study and review methods, hence less boredom and longer retention. Luckily, 'Wheater's Functional Histology' offers you exactly that, in the form of a collection of all the microscopy images called 'Virtual Histolab', the interactive, electronic version of the textbook, together with USMLE-style multiple-choice questions. By the way, all of these come free of charge when you buy the book. Result!
Pros
Emphasis on illustrations - While focusing the lens of your microscope on your histology slide might bring nightmares, this book's focus on illustrations is the light at the end of the tunnel. Approximately 70% of each page, on average, is covered by images, while the rest consists of text. Thus, the days of endless reading are long gone if you use this book. Histology is as visual as it gets, so learning it using efficiently labeled, large, crisp, and crystal clear images as the ones found in 'Wheater's Functional Histology' makes everything at least bearable (it is histology after all…)
Minimum text - The emphasis on images might be the light at the end of the tunnel, but the scant use of text is the highway that brings you through the passage. That 30% of text that you need to get through feels like child's play compared to the brain numbing amount found in 99% of today's textbooks. Reading 'Wheater's Functional Histology 6th edition' makes you feel like a ninja - you get in, get the job done, and then you get out because you only see the fundamentals in enough detail to understand the concepts without drowning in them.
Review tables - What do you need to know during your histology exams and clinical practice? You need to know what tissue it is, what is normal, and if relevant, what is abnormal about it. In other words, you need to know morphology landmarks inside out and back to front, even in your sleep. Well, this textbook has an ace up its sleeve to cover this too in the form of review tables at the end of each chapter. If you thought that the modest amount of text used throughout the book was amazing, these tables will downright project you into heaven. Filled only with the essential landmarks in the form of key-points, together with illustration references, they are the ultimate revision tool for your upcoming exam!
Clinical boxes - Dotted throughout the latest edition of 'Wheater's Histology' are goldmines of information known as clinical boxes. Putting concepts into context makes them more tangible because clinical information represents real life-examples that you will likely be faced with. Plus it's that much more interesting to see that what you read actually has a direct application.
Student consult - The textbook might sound like a sweet deal due to all its pros, but the interactive, electronic version together with a compilation of all the microscopy illustrations, and USMLE-style review questions definitely sound like the cherry on top. What's not to like about free addons that can propel your learning even further?
Cons
Limited clinical information/boxes - A few minutes ago you read that 'Wheater's Functional Histology 6th edition' puts the theory into practice through the use of clinical boxes, making everything nice and handy. Weeeell... not so fast. Those boxes are few and far between, and many span the length of a few lines only. It can certainly provide you a flavor for the applications of histology, but you need to find another resource for the real deal.
No summaries - This textbook has no summaries, plain and simple. The review tables are trying to hold their own, but they are mostly outlining the fundamental morphological landmarks. A lot of those tables feel incomplete compared to the amount of information used to explain each tissue or organ. You cannot 'summarise' the entire spleen in four sentences when its entire histology is explained in three pages - that's just fantasy. In addition, the illustrations are only referenced in the review boxes, so there is a lot of page flicking back and forth to revise the bullet points. Exercise is good, but this kind of arm workout doesn't sound like my cup of tea - is it yours?
Ineffective quizzes - After you've spent days, weeks, and months studying, you eventually want to wash away the sweat and tears by reviewing what you have learned. It's your opportunity to calm your mind and prove to yourself that your tireless studying has in fact succeeded in implanting some knowledge into your brain. 'Wheater's Functional Histology' is certainly capable of offering you this perk through its clinical, USMLE-style questions - but only in a limited dose. After you go through them once, you will recognize and remember the answers because the questions are not adaptable or random. In addition, the questions cannot be modified to suit the needs of both beginners and experts alike and quite frankly, they can be impossible for a beginner that wants to learn rather than revise. (hint hint: custom built quizzes and quizzes of multiple levels that can teach you a topic from scratch do exist - you just need to know where to look!). 
Access to resources - The additional 'Student Consult' is indeed attractive and beneficial, but is it really free? To access it, you need to buy the textbook itself, so it's a chicken and egg scenario.
Textbook - What do you see as an explanation if you open a dictionary and search for the word 'textbook'? Let me tell you - big, thick, heavy, pricey, and boring. Well, not really, but you get the point. While lifting 'Wheater's Functional Histology 6th edition' will not make you the next Arnold Schwarzenegger, you can certainly feel the 1.2 kg dragging you and your backpack down. Your wallet will also feel the price and your sanity will be drained by the 450 pages, which can become a challenge after a few hours of non-stop studying. 
Wheater's Functional Histology vs. Kenhub
So, what can you do? Firstly, you can start using the latest edition of ''Wheater's Functional Histology' because it's one of the best histology learning resources on the market suited for students. It cuts away the fluff and text, concentrates on the fundamentals, exploits illustrations, reviews the information, and offers you additional online resources. This textbook certainly does some things rather well. 
However, it is one of the best and does some things well, so there is room for improvement. There are other options available which can make your life easier, depending on your preferred study methods. A good starting point would be Kenhub, an online learning platform that places the most famous, efficient, and easy to use study methods literally at your fingertips. Here are some differences between those two resources:
When it comes to Kenhub, you can see that all roads lead to Rome. You have your own unique way of learning compared to your best friend, and also depending on your current mood, tiredness, and so on. As a result, you don't have only one way to encode information, but a myriad of options (trust us, you don't have a preferred learning style, that's just a myth). Do you feel rested in the mornings and want to learn something slowly and in-depth? Pick an article about your favourite topic and read through it - this guide to studying human anatomy is a good starting point. 
After reading a couple of hours, do you want to relax your neck a bit, enjoy some tea, but still learn, just in a more laid back way? Choose a video, hit 'Play' and enjoy every second of it! As you know, repetition is the mother of all learning, so at the end of the day you need to revise what you've learned during the past few hours. What better way there is than to use our quizzes, which use spaced repetition and are fully customizable according to your specific needs and wants? If you don't know where to start your learning at all, don't worry because our round up of learning strategies have your back. Even better, all of this fits into the palm of your hand because they automatically adapt to any electronic device. What are you waiting for? Go on and try it out for free!
Like anything in life, there are bad, good, and excellent histology learning resources. Take note that there are no flawless ones. The best resource is not the one which is completely free of mistakes - rather,  it's the resource best suited to the way that you personally learn most effectively. Remember that a health science career is a long road, so you need to pick study resources that you can stick to for a long time. Good luck and enjoy your studies!
Summary
Strengths of 'Wheater's Functional Histology':
Heavy emphasis on illustrations, making the content incredibly visual and easy to understand
Limited amount of text, which helps to prevent boredom
Review tables giving you the bottom line, which is exactly what you need to remember for your upcoming exam and your career
Clinical boxes, which make the material tangible and apply the knowledge
Student consult offering you additional resources in the form of interactive resources and USMLE-type questions
Weaknesses of 'Wheater's Functional Histology'
Limited amount of clinical boxes and clinical knowledge in general
Lack of summaries
Ineffective quizzes due to their inability to adapt and change, allowing you to remember answers after several practice runs. Also, they cannot be adapted according to your desired level of difficulty or knowledge.
Access to the 'Student's consult' requires you to buy the book in the first place
Big, thick, heavy, and pricey
© Unless stated otherwise, all content, including illustrations are exclusive property of Kenhub GmbH, and are protected by German and international copyright laws. All rights reserved.