How to learn all muscles with quizzes and labeled diagrams
So, you want to learn about human muscle anatomy. But where to start?! The number of muscles of the body is estimated to be around 600, so there's certainly a lot to cover.

A good way to get started is to learn using a regional approach. For example, starting by learning the muscles of the upper extremity, then the muscles of the lower extremity, and so on. Keep reading to discover our favorite tools for learning this topic.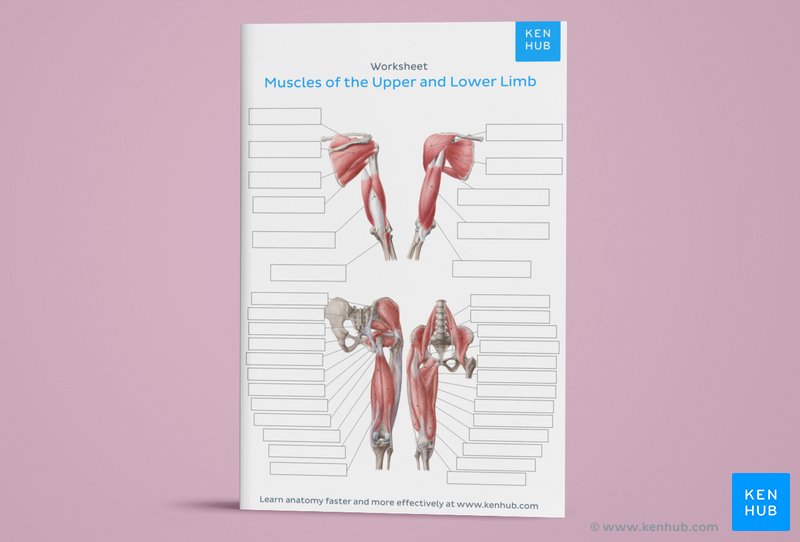 Human body muscle diagrams
Muscle diagrams are a great way to get an overview of all of the muscles within a body region. Studying these is an ideal first step before moving onto the more advanced practices of muscle labeling and quizzes.
If you're looking for a speedy way to learn muscle anatomy, look no further than our anatomy crash courses. 
Let's take a look at how you can use muscle diagrams for maximum benefit.
Labeled diagram
View the muscles of the upper and lower extremity in the diagrams below. Use the location, shape and surrounding structures to help you memorize each muscle. Once you're feeling confident, it's time to test yourself. 
Unlabeled diagram
See if you can label the muscles yourself on the worksheet available for download below. If you're struggling, don't be hard on yourself. There really is a lot to remember, so consider taking one of our muscle quizzes covering the different muscles of the body to improve your confidence (more on these below). You can test and retest as your knowledge levels advance.
Download PDF Worksheet (blank) Download PDF Worksheet (labeled)
Muscle quizzes
Who doesn't love quizzes? When it comes to learning anatomy, they're absolutely perfect for learning a topic from scratch, or even advancing your current knowledge levels. 
Here's why our specialized quizzes will help you to master your weak spots and go into your anatomy exam with confidence.
At Kenhub, we know the importance of learning the muscles of the body - and we have the quizzes to prove it! You'll find muscle quizzes on everything from the muscles of the arm and shoulder to the muscles of facial expression - and everything in between. 
Specialized Muscle Quizzes
At Kenhub, we have specialized muscle quizzes. When a quiz covers topics that have related muscle attachments, innervations, and functions, there's an option to choose those when you start a quiz. So, not only will you learn the name and location of a muscle, but its attachments, innervations, and functions, too! 
So, what are you waiting for? Let's dive straight into one!
Don't waste your time trying to memorize every anatomical structure in the body. Pick the ones you need to ace your exam. Our Custom quiz will let you create the right quiz for you. Get started now!
We've listed a selection of our favorite muscle quizzes below. Which one will you take first?
Are quizzes an effective learning tool for you? Check out our A-Z guide to using anatomy practice quizzes to learn every topic! 
How to learn all muscles with quizzes and labeled diagrams: want to learn more about it?
Our engaging videos, interactive quizzes, in-depth articles and HD atlas are here to get you top results faster.
What do you prefer to learn with?
"I would honestly say that Kenhub cut my study time in half." – Read more.
Kim Bengochea, Regis University, Denver

© Unless stated otherwise, all content, including illustrations are exclusive property of Kenhub GmbH, and are protected by German and international copyright laws. All rights reserved.