Musculoskeletal system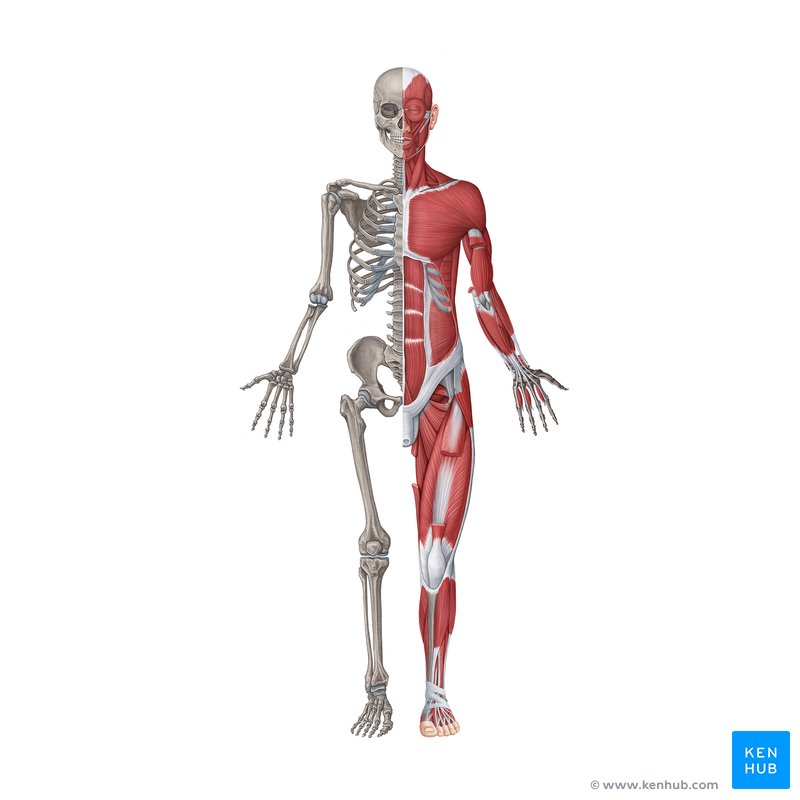 The musculoskeletal system (locomotor system) is a human body system that provides our body with movement, stability, shape, and support. It is subdivided into two broad systems: 
Muscular system, which includes all types of muscles in the body. Skeletal muscles, in particular, are the ones that act on the body joints to produce movements. Besides muscles, the muscular system contains the tendons which attach the muscles to the bones.
Skeletal system, whose main component is the bone. Bones articulate with each other and form the joints, providing our bodies with a hard-core, yet mobile, skeleton. The integrity and function of the bones and joints is supported by the accessory structures of the skeletal system; articular cartilage, ligaments, and bursae.
Besides its main function to provide the body with stability and mobility, the musculoskeletal system has many other functions; the skeletal part plays an important role in other homeostatic functions such as storage of minerals (e.g., calcium) and hematopoiesis, while the muscular system stores the majority of the body's carbohydrates in the form of glycogen.
This article will introduce you to the anatomy and function of the musculoskeletal system.
Key facts about the musculoskeletal system
Definition
A human body system that provides the body with movement, stability, shape, and support
Components
Muscular system: skeletal muscles and tendons
Skeletal system: bones, joints; associated tissues (cartilage, ligaments, joint capsule, bursae)
Function 
Muscles: Movement production, joint stabilization, maintaining posture, body heat production
Bones: Mechanical basis for movements, providing framework for the body, vital organs protection, blood cells production, storage of minerals
Clinical correlation
There is a variety of conditions that affect the muscles, bones, and joints. Disorders of the musculoskeletal system may range from diseases to minor physical disabilities. The following are some clinical conditions of the musculoskeletal system:
Osteoporosis
Osteoporosis is a condition that affects bone strength (the word osteoporosis literally means "porous bones"). It is a condition in which the bones become fragile and brittle, leading to a higher risk of fractures than in normal bone. As a result, even a minor bump or accident can cause serious fractures.
Osteoporosis is the "bone of the old", especially, in women. The hard, rock-like quality of bone is dependent upon calcium. When too much calcium is dissolved from bones or not enough is replaced, bones lose density and are easily fractured. Estrogen, the female sex hormone, helps maintain proper calcium levels in bones. Once the ovaries stop producing the hormone, women are at higher risk of developing osteoporosis. A collapse of bony vertebrae of the spinal column results in loss of height and stooped posture. Hip fractures are a common occurrence.
Sarcopenia
Sarcopenia is a syndrome characterized by progressive and generalized loss of skeletal muscle mass and strength with a risk of adverse outcomes such as physical disability, poor quality of life and death.
Arthritis
Arthritis is a group of conditions affecting the joints. These conditions cause damage to the joints, usually resulting in pain and stiffness due to aging. Arthritis can affect many different parts of the joint and nearly every joint in the body.
As an individual ages, the joint tissues become less resilient to wear and tear and start to degenerate. This degeneration manifest as swelling, pain, and often-times, loss of mobility of joints. Changes occur in both joint soft tissues and the articulating bones, a condition called osteoarthritis. A more serious form of disease is called rheumatoid arthritis. The latter is an autoimmune disease wherein the body produces antibodies against joint tissues causing chronic inflammation resulting in severe joint damage, pain and immobility.
Muscular dystrophy
Muscular dystrophy is a group of muscle diseases that weaken the musculoskeletal system and hamper locomotion. Muscular dystrophies are characterized by progressive skeletal muscle weakness, defects in muscle proteins, and the death of muscle fibres (muscle cells) and tissue.
It is a group of inherited diseases in which the muscles that control movement progressively weaken. The prefix, dys-, means abnormal, while the root, -trophy, refers to maintaining normal nourishment, structure and function. The most common form in children is called Duchenne muscular dystrophy and affects only males. It usually appears between the ages of 2 to 6 and the afflicted live typically into late teens to early 20s.
Other conditions involving the musculoskeletal system include:
Lupus erythematosus
Myasthenia gravis
Rotator cuff tear
Tendonitis
Carpal tunnel syndrome
Osteomalacia
Musculoskeletal system: want to learn more about it?
Our engaging videos, interactive quizzes, in-depth articles and HD atlas are here to get you top results faster.
What do you prefer to learn with?
"I would honestly say that Kenhub cut my study time in half." – Read more.
Kim Bengochea, Regis University, Denver

© Unless stated otherwise, all content, including illustrations are exclusive property of Kenhub GmbH, and are protected by German and international copyright laws. All rights reserved.