Adductor hallucis muscle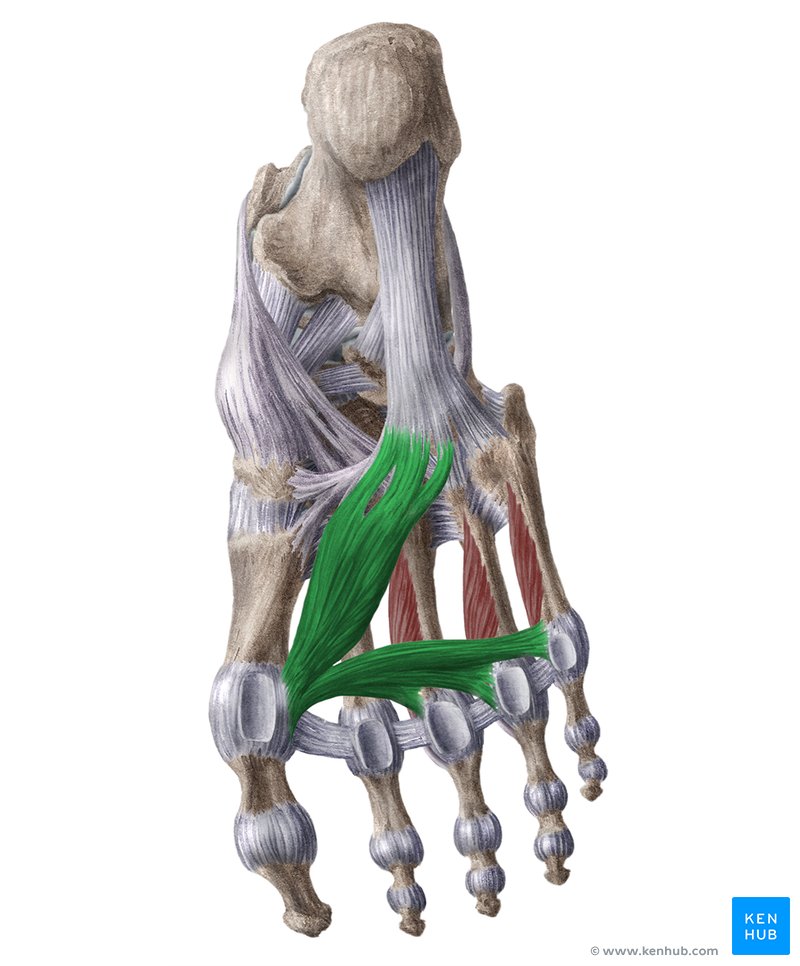 Adductor hallucis is a two-headed, intrinsic muscle of the sole of the foot. Among the three vertical groups of plantar foot muscles (lateral, central and medial), adductor hallucis muscle functionally belongs to the medial group of plantar foot muscles. However, it is anatomically located within the central compartment of foot.
Foot muscles are also divided horizontally into four layers from superficial to deep. In that classification, adductor hallucis comprises the third layer of plantar foot muscles, together with the flexor hallucis brevis and flexor digiti minimi brevis.
The function of adductor hallucis is to facilitate walking by adducting and flexing the great toe (hallux). It also contributes to maintaining the transverse and longitudinal arches of foot.
This article will discuss the anatomy and function of the adductor hallucis muscle.
Key facts about the adductor hallucis muscle
Origin
Oblique head: bases of metatarsal bones 2-4, cuboid bone, lateral cuneiform bone, tendon of fibularis longus
Transverse head: plantar metatarsophalangeal ligaments of toes 3-5, deep transverse metatarsal ligaments of toes 3-5
Insertion
Lateral aspect of base of proximal phalanx of great toe
Action
Metatarsophalangeal joint 1: Toe adduction, toe flexion; Support of longitudinal and transverse arches of foot
Innervation
Lateral plantar nerve (S2,S3)
Blood supply
Medial plantar artery, lateral plantar artery, plantar arch, plantar metatarsal arteries
Adductor hallucis muscle: want to learn more about it?
Our engaging videos, interactive quizzes, in-depth articles and HD atlas are here to get you top results faster.
What do you prefer to learn with?
"I would honestly say that Kenhub cut my study time in half." – Read more.
Kim Bengochea, Regis University, Denver

© Unless stated otherwise, all content, including illustrations are exclusive property of Kenhub GmbH, and are protected by German and international copyright laws. All rights reserved.