Plantar interossei muscles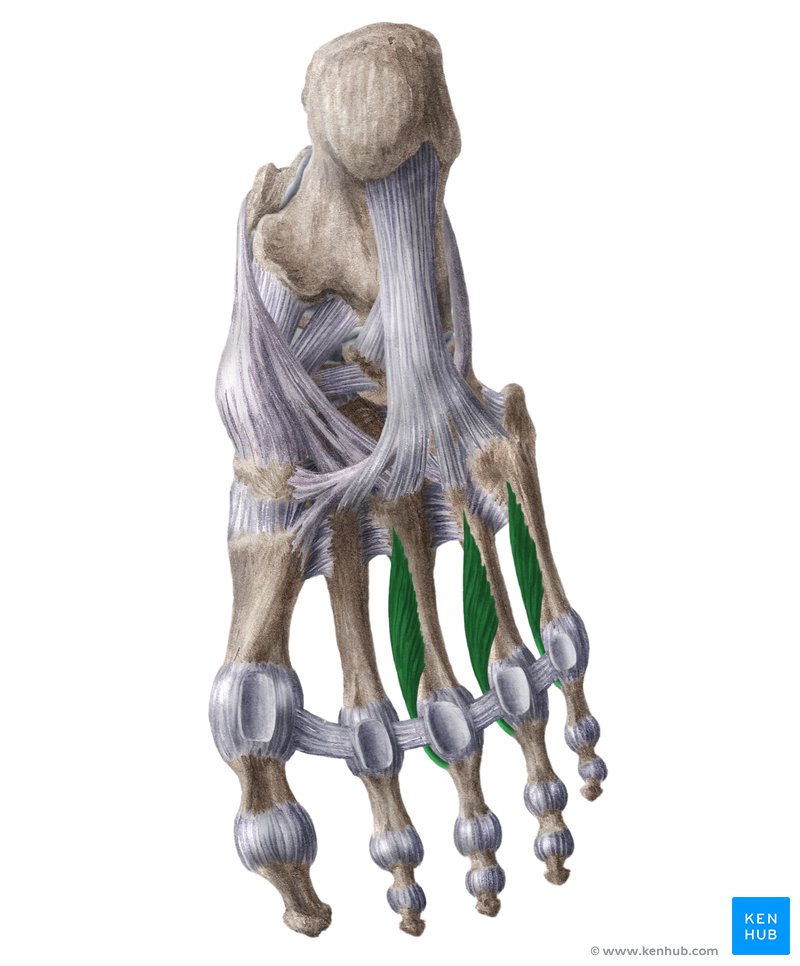 Plantar interossei are a group of three small muscles found in the central compartment of the sole of the foot. As the foot muscles can be divided either from lateral to medial into three groups or from superficial to deep into four layers, plantar interossei can be classified in two ways:
They can be considered as part of the central plantar muscle group with the flexor digitorum brevis, quadratus plantae, lumbricals and dorsal interossei.
Alternatively, they can be discussed as part of the fourth layer of plantar muscles (interosseous compartment), along with the dorsal interossei.
Plantar interossei are invested by the plantar interosseous fascia and accompanied by the dorsal interossei muscles. Plantar interossei are smaller than their dorsal counterparts and lie below the metatarsal bones.
This article will discuss the anatomy and function of plantar interossei muscles of the foot.
Key facts about the plantar interossei muscles
Origin
Medial aspects of metatarsal bones 3-5
Insertion
Medial bases of proximal phalanges and extensor expansion of digits 3-5
Action
Metatarsophalangeal joints 3-5: Toe flexion, toes adduction; 
Interphalangeal joints 3-5: Toes extension
Innervation
Lateral plantar nerve (S2-S3)
Blood supply
Lateral plantar artery
Clinical notes
Loss of function of the plantar (and dorsal) interossei will result in unopposed flexion of the toes. This is commonly described as a claw-toe deformity and is associated with denervation of the muscle. There are some denervation syndromes that should be considered when this deformity is seen.
One example is Charcot-Marie-Tooth disease, which is a hereditary sensorimotor neuropathy that affects the peripheral nervous system. It causes progressive muscular atrophy and sensory loss.
Plantar interossei muscles: want to learn more about it?
Our engaging videos, interactive quizzes, in-depth articles and HD atlas are here to get you top results faster.
What do you prefer to learn with?
"I would honestly say that Kenhub cut my study time in half." – Read more.
Kim Bengochea, Regis University, Denver

© Unless stated otherwise, all content, including illustrations are exclusive property of Kenhub GmbH, and are protected by German and international copyright laws. All rights reserved.