Extensor digitorum muscle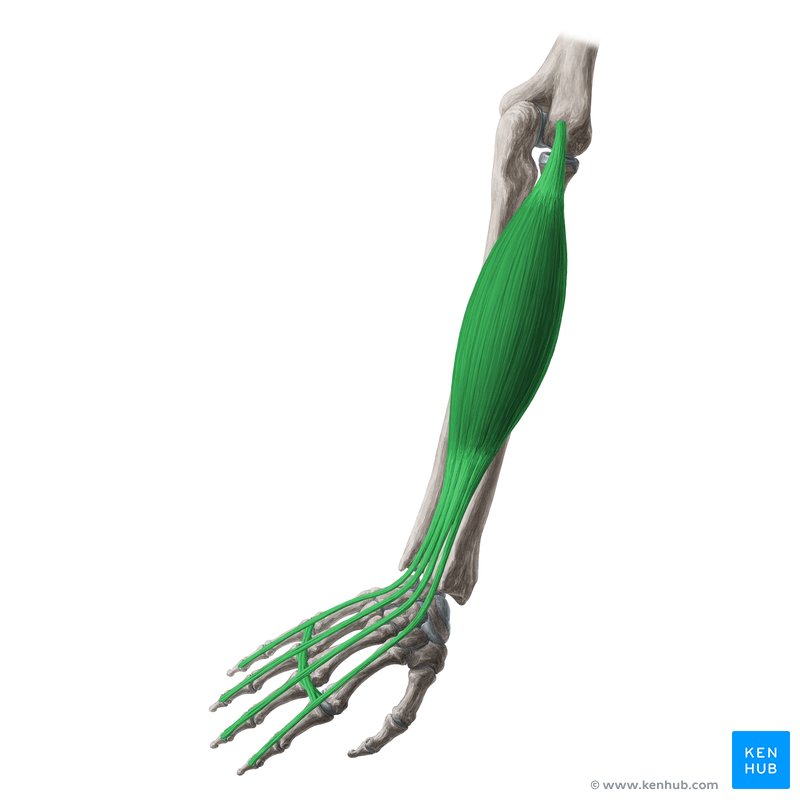 Extensor digitorum is a long muscle located in the posterior compartment of the forearm. Together with the extensor carpi ulnaris and extensor digiti minimi, extensor carpi radialis longus and brevis as well as the brachioradialis, it belongs to the group of superficial extensors of the forearm. These muscles can be easily palpated in the lateral aspect of the posterior forearm, especially during the extension of hand when they are contracted.
Extensor digitorum runs from the lateral epicondyle of humerus to the medial four phalanges of the hand. In this way, it generates the pull for the extension of the four medial fingers in their metacarpophalangeal and both interphalangeal joints. Extensor digitorum also participates in the extension of the wrist. 
Key facts about the extensor digitorum muscle

| | |
| --- | --- |
| Origin | Lateral epicondyle of humerus (common extensor tendon) |
| Insertion | Extensor expansions of digits 2-5 |
| Action | Metacarpophalangeal / Interphalangeal joints 2-5: Finger extension |
| Innervation | Posterior interosseous nerve (C7, C8) |
| Blood supply | Posterior interosseous artery, radial recurrent artery, anterior interosseous artery |
In this article, we will discuss the anatomy and function of extensor digitorum muscle.
Extensor digitorum muscle: want to learn more about it?
Our engaging videos, interactive quizzes, in-depth articles and HD atlas are here to get you top results faster.
What do you prefer to learn with?
"I would honestly say that Kenhub cut my study time in half." – Read more.
Kim Bengochea, Regis University, Denver

© Unless stated otherwise, all content, including illustrations are exclusive property of Kenhub GmbH, and are protected by German and international copyright laws. All rights reserved.