Fibularis (peroneus) longus muscle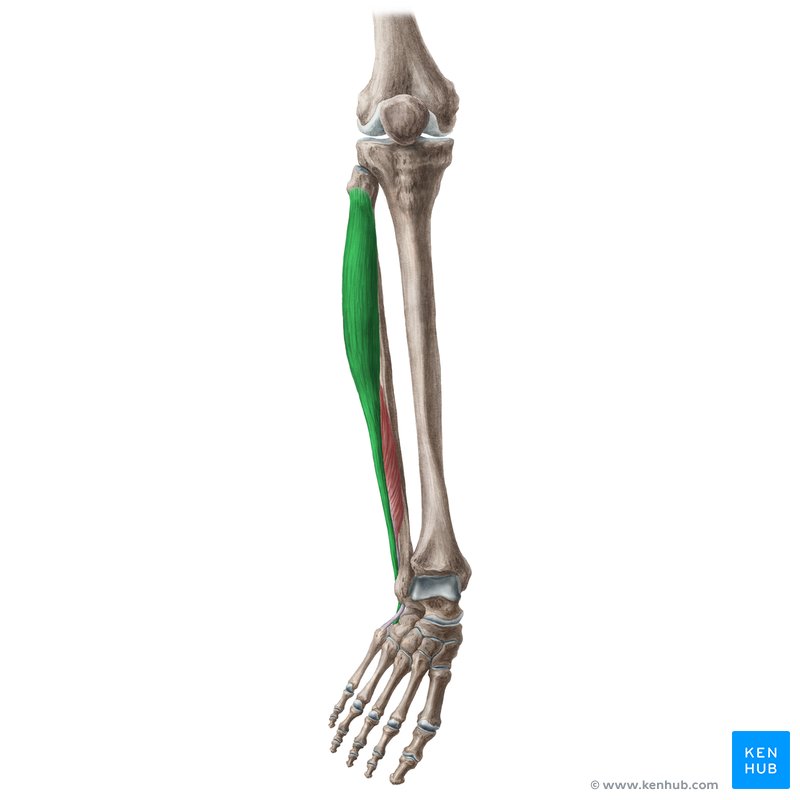 Fibularis (peroneus) longus is a long muscle located superficially in the lateral compartment of the leg, together with the fibularis brevis muscle. Fibularis longus spreads from the proximal aspect of the fibula to the medial cuneiform and the first metatarsal bones. 
The fibularis longus muscle is innervated by the superficial fibular nerve (L5, S1). The main function of this muscle is to produce the plantarflexion and eversion of the foot on the ankle joint.
In this article, we will discuss the anatomy and function of the muscle, as well as its clinical relevance. 
Key facts about the fibularis longus muscle
Origin
Head of fibula, proximal 2/3 of lateral surface of fibula, intermuscular septa

Insertion
Medial cuneiform bone, metatarsal bone 1
Action
Talocrural joint: Foot plantar flexion;
Subtalar joint: Foot eversion;
Supports longitudinal and transverse arches of foot

Innervation
Superficial fibular nerve (L5, S1)
Blood supply
Fibular artery
Clinical relations
Peroneal tenosynovitis
Peroneal tenosynovitis is a pathological condition affecting the common peroneal tedon, associated with fluid accumulation within the tedon sheath. Clinically, it presents with localized swelling and tenderness along the tendon sheath itself. Acute peroneal tenosynovitis is typically seen in athletes who resume their activity after a layoff. It can have a variety of causes, including:
Stress around the retromalleolar groove, peroneal tubercle or undersurface of the cuboid bone
Ankle inversion injuries
Lateral malleolar and calcaneal fractures
Tear of the calcaneofibular ligament
Superior peroneal retinaculum injuries
These types of injuries usually involve stripping of the superior peroneal retinaculum (SPR) from its distal fibular attachment and lateral dislocation of the peroneal tendons out of the retromalleolar groove. The acute forms manifest with echymosis, swelling and pain along the laterall malleolus. These injuries can have a variety of causes, including:
Sudden dorsiflexion of the foot with concomitant violent contraction of the peroneal muscles
Congenital foot deformities
Fractures of the distal tibia and calcaneus
Common peroneal/fibular nerve palsy
Common peroneal/fibular nerve palsy results in a loss of motor supply to the anterior and lateral compartments of the leg, as well as a loss of sensation to the anterior and lateral compartments of the leg, and dorsum of the foot. Isolated damage to the deep branch will affect the anterior compartment only, as well as sensation to the first dorsal web space of the foot. Impingement of the common fibular nerve commonly occurs following an overly tight cast of the leg, or tight clothing.
Fibularis (peroneus) longus muscle: want to learn more about it?
Our engaging videos, interactive quizzes, in-depth articles and HD atlas are here to get you top results faster.
What do you prefer to learn with?
"I would honestly say that Kenhub cut my study time in half." – Read more.
Kim Bengochea, Regis University, Denver

© Unless stated otherwise, all content, including illustrations are exclusive property of Kenhub GmbH, and are protected by German and international copyright laws. All rights reserved.