Posterior cricoarytenoid muscle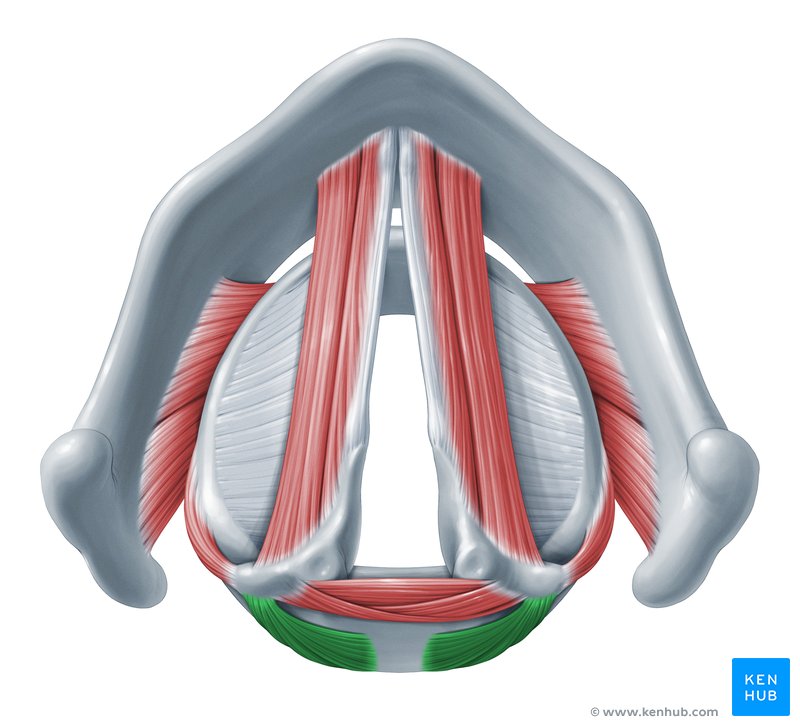 Posterior cricoarytenoid is a paired muscle that belongs to the group of intrinsic muscles of the larynx. Together with the other muscles from this group, it has a role in adjusting the length and tension of the vocal cords by which it modulates the process of phonation.
Posterior cricoarytenoid is the only laryngeal muscle with the capability of opening the true vocal folds, which is why it is considered to be a main respiratory muscle of the larynx.
Key facts about the posterior cricoarytenoid muscle

| | |
| --- | --- |
| Origin | Posterior surface of cricoid lamina |
| Insertion | Muscular process of arytenoid cartilage |
| Action | Abducts and lengthens vocal folds, opens glottis |
| Innervation | Inferior laryngeal nerve (of recurrent laryngeal nerve (CN X)) |
| Blood supply | Laryngeal branches of the superior and inferior thyroid arteries |
Posterior cricoarytenoid muscle: want to learn more about it?
Our engaging videos, interactive quizzes, in-depth articles and HD atlas are here to get you top results faster.
What do you prefer to learn with?
"I would honestly say that Kenhub cut my study time in half." – Read more.
Kim Bengochea, Regis University, Denver

© Unless stated otherwise, all content, including illustrations are exclusive property of Kenhub GmbH, and are protected by German and international copyright laws. All rights reserved.